Prime Minister Shri Narendra Modi International Travels to Inspire.
Prime Minister Shri Narendra Modi International Travels to various countries at this elder age. His tireless courage and meeting new peoples adopting new cultures will definitely inspire you. Travel can be incredibly beneficial, especially for senior citizens. Whether it's a day trip or a week-long vacation. Travel can be a life-changing experience in many ways. Taking a family vacation is a great way to connect with your loved ones and share once-in-a-lifetime experiences. As a Tour Guide this is a great motivation for all the Elders. Wishing you many happy and joyful travels.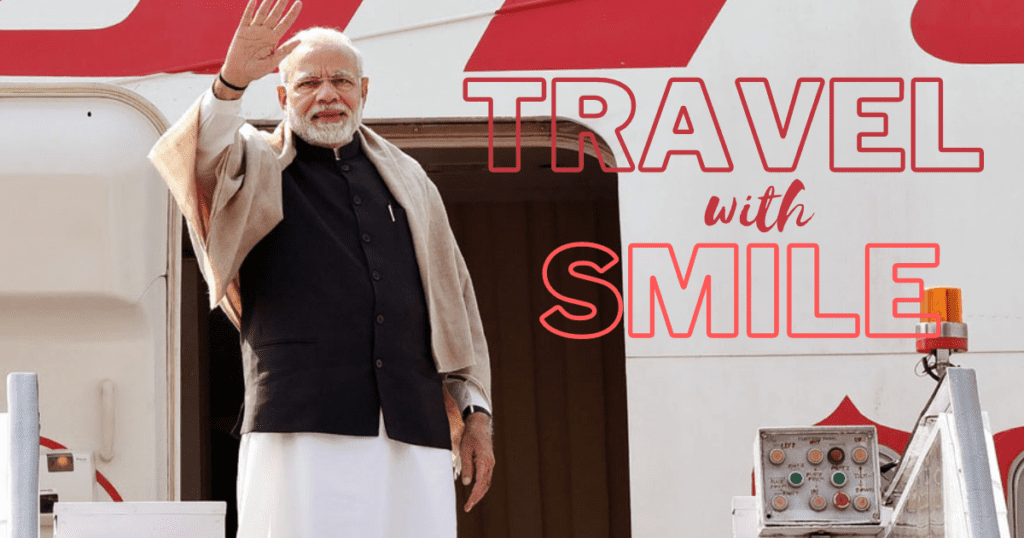 Every picture of our Prime Minister Shri Narendra Modi ji has a feeling of great pleasant and reliable happiness on the journey. "Wrinkles will only go where the smiles have been." – Jimmy Buffet
Shri Narendra Modi
Narendra Damodardas Modi born on 17 September 1950 is an Indian politician serving as the 14th and current Prime Minister of India since 2014. He is a member of Bharatiya Janata Party (BJP). Modi, born and brought up in Vadnagar in northeast Gujarat, has fond memories of helping his father at the tea stall at the Vadnagar railway station after school. At the age of 18, Modi was married to Jashuda Ben Chamanlal Modi. After leaving his parents' home, he traveled in northern India for two years, visiting several religious centers.
Shri Narendra Modi International Travels
As of November 2022, Shri Narendra Modi international visits are 110 covering 67 foreign countries in eight years, including visits to the United States to attend the United Nations General Assembly, his Neighborhood First and East Policies to Asian countries. is followed. From addressing mega diaspora rallies to signing historic deals to posing for photographs with world leaders.
Shri Narendra Modi International Travels and Policies
Modi's first foreign policy perspective came in 2013 during the selection of his party's prime ministerial candidate when he appeared on a Network 18 program called Think India, Samwad Manch. He mentioned the following points.
Improving relations with the immediate neighbors would be his priority as peace and stability in South Asia was essential to the implementation of his development agenda.
He vowed to introduce the concept of para-diplomacy in India, where each state and city would have the freedom to establish special relations with countries, union states or cities of their interest.
Barring a few key world powers with which India has strategic partnerships, bilateral trade will continue to dominate relations with most countries.
He also promised to have a "strong" foreign policy, including dealing with China. He asked the foreign ministry to focus more on trade deals rather than other geopolitical initiatives.
Soon after the formation of the new government, world leaders expressed their willingness to work with the Modi government to strengthen their ties with India as it would provide them with a larger market. All the five permanent members of the UN Security Council sent their envoys to India within the first 100 days of its inauguration, which is significant considering India's long-term bid for permanent membership in the UNSC. .
Shri Narendra Modi International Travels for Fitness
Elder age refers to the age that comes from old age. As a person grows up, he gains experience and matures. These multiple experiences help in understanding the ideas surrounding life and help people to act for the younger generation.
Studies have suggested that traveling can actually increase longevity and keep you active. It is also useful in combating loneliness in old age. But a little later in life, you can take a more casual approach to searching. Studies have suggested that traveling may actually increase longevity. The world has so much to offer that it is said that one life is not enough to know it all! Why stop traveling in the 'Golden Age' when this is the case? Plan your trip now! One of the best things about getting older is that you have a better idea of ​​what you want from travel.
"We are always the same age inside." – Gertrude Stein
Mr. Narendra Modi ji, after waking up in the morning, he first does his daily course and then does yoga, which helps him stay fit and well. He never forgets to do yoga at the beginning of the day. He also asked people to make yoga a part of their daily routine and said that it has numerous benefits.
Yoga is an known to be an ancient mental spiritual and physical practice that originated in India. The word 'yoga' is derived from Sanskrit and means joining or uniting, symbolizing the union of body and mind.
During his speech at the United Nations General Assembly on 27 September 2014, Prime Minister Narendra Modi presented his proposal for World Yoga Day for the first time. The draft resolution adopted by India had the support of 177 countries. With the global recognition and growing popularity of yoga, the United Nations declared 11 December 2014 with 21 June as International Yoga Day. The first World Day of Yoga was celebrated on 21st June 2015 across the world.
Narendra Modi International Travels Inspiring Social Skills
Modi returned to the US in 2016 for another official working visit, the third bilateral meeting between Modi and Obama. Both leaders go through the "deepening strategic partnership between the United States and India rooted in shared values ​​of freedom, democracy, universal human rights, tolerance and pluralism, equal opportunity for all citizens, and the rule of law." joint statement
The Indian leader had also addressed the US Congress during his visit in June 2016. After his address, he tweeted, "Honored to address a joint session of the US Congress."
The Indian leader made his fifth visit to the US in 2017 when Donald Trump took control of the country. Modi ji reached the White House for a 'working dinner'.
Trump and Modi met again in the US when the Indian leader visited the country in September 2019 to attend the 74th United Nations General Assembly in New York and the popular "Howdy, Modi" event in Houston, Texas.
He is now back in the US to face the UNGA for the first time since the pandemic. After holding bilateral meetings with several tech CEOs, Australia's Scott Morrison, US VP Kamala Harris and Japan's PM Yoshihide Suga, Modi met Joe Biden in the Oval Office of the White House.
US President Joe Biden welcomed the Indian leader to the Oval Office. In his signature style, Modi folded hands to welcome Biden, who then spread his arms to embrace the PM.
PM Modi visited US from 22nd to 25th September 2021. He personally attended the first Quad Leaders Summit, held important bilateral meetings and met with industry captains. He focused on several important issues while addressing the United Nations General Assembly.
"The great thing about new friends is that they bring new energy to your soul." – Shanna Rodriguez
Some people enjoy the idea of ​​traveling because it allows them to meet new people from all walks of life. Talking to new people and getting new perspectives will change your worldview and make it easier to engage in different topics of conversation. Travel really helps strengthen both effective communication and social skills as you are exposed to different cultures and viewpoints. The benefits you get from traveling can apply not only to your personal life but also to your work life.
Travel is when creativity comes into your everyday communication. When you travel to a new country, there are situations where you have to use not only verbal communication but also gestures and other non-verbal ways to express yourself. Whether you're asking for directions, buying groceries at the local market, or striking up a conversation with a local, be prepared to put your body language skills to use!
Narendra Modi International Travels stays out Comfort Zones

Stepping out of your comfort zone can be a challenge, and overcoming these challenges is like taking your mind to a cognitive boot camp!
Traveling is an ideal way to escape the ordinary. Plan a trip to a hill station. Take a walking tour of a historic city and learn about the stories that shaped it. Savor exotic foods you've only seen on TV. Your life well lived is full of new adventures travels.
Housing is another area where you can branch out. Many older travelers enjoy all-inclusive resorts. There are many unique ways to experience your destination. , you can try booking a hotel room or renting an RV to see the world by road. You can also book a stay at a heritage hotel or palace.
Narendra Modi International Travels for Mindful
When traveling, we are often inspired, present and in the moment, which brings us one step closer to achieving mindfulness. Travel brings a sense of isolation that we don't often get. Travel allows us to disconnect from people and even technology for a while and connect more with our mind and self, leading to inner peace.
Travelers step out of their dwellings and come into contact with otherworldly situations. We find ourselves more grateful for our lives and realize that what we have can be what others want. Appreciating every little thing in life is somehow the path to happiness. Travel changes our outlook towards life and people in a more positive way. It creates a positive attitude which helps us to overcome obstacles.
Narendra Modi International Travels enjoy Diversity
Traveling is more than just discovering new places. It also allows you to be more tolerant and open to new cultures and people. It's a great opportunity to connect with locals and other like-minded people from around the world. When you are ready to start a conversation with someone from a different background, the more you understand them and embrace diversity, the better your tolerance level will be. Travel teaches us to appreciate and value cultural diversity, traditions and sights.
Travel not only helps us accept cultural, social and ethnic differences, but also increases our tolerance for difficult situations and uncertainties. When we throw ourselves into unfamiliar or less developed terrain, we tend to be more receptive. Wherever we travel isn't always a bed of roses and things don't always go according to plan, but when we know that, we worry less and enjoy the trip as much as we want.
Narendra Modi International Travels encourages Happiness
Philosopher and Professor AC Grayling believes that travel is the key to expansion of the mind and spirit. This is because new experiences are important for creating new neural pathways in the brain. By rewiring your mind, you become more creative and receptive to new ideas. He believes that we educate ourselves by traveling and exposing ourselves to new ideas and people. According to neuroscientists, this is why traveling makes you healthier and happier.
Narendra Modi International Travels for Growth Opportunities
By exploring the world, you start thinking outside the box. Traveling the world can be full of fun and exciting. It is a firm belief that travel can make business more profitable. During the holidays your mind is free from stress and we are less depressed about anything. Also, at this point you become the person you really are which makes you happy and relaxed. For your information, let us tell you that a cheerful person has more chances of success in any field, which proves that traveling is good for anyone.
Prime Minister works for Brand India. Venture capitalists who meet him feel that they have to fund people in India because the growth story is in that country. At the same time, most FDI continues to be in India's services and capital-intensive industries, despite high levels of pressure to create jobs through manufacturing. FDI in India clearly has a lot of positive effects for India, Improves relationships.Get the best deals on weapons. India has international support. Modi has made a good impression on most of the world leaders and surely, if India is smart to back him, he will make it a prosperous country with lots of opportunities.
Narendra Modi International Travels are Motivation for Elders
Our Honorable Prime Minister Shri Narendra Modi's foreign trips his tireless efforts are a source of inspiration for our elders and the travel community and we will always continue to get motivation from him. Enjoy Traveling be Happy and stay Blessed.. Good Bye
Tagged:
Modi foreign visit
Modi international trips