Dilli Haat Delhi INA Market Restaurant Ticket Time Nearest Metro Station Reach
Dilli Haat Delhi INA Market, transports you to the magical world of Indian art and heritage presented through an enchanting panorama of handicrafts, cuisine and cultural activities. Here you find the best information about Dill Haat I.N.A. market restrorents entry ticket time and nearest metro station. Enjoy..
Dilli Haat Ina Plan
Dilli Haat INA is a popular market located in the Sarojini Nagar neighborhood of Delhi, India. It features a variety of stalls selling traditional handicrafts, clothing, and food from different parts of India. The market is open from 10:00 am to 10:00 pm every day, and there is no entry fee.
Upon arriving at Dilli Haat INA, you can explore the different stalls and browse the various products on offer. The market is divided into two sections – the indoor section, which features permanent stalls selling handicrafts, and the outdoor section, which has temporary stalls selling a variety of items.
In addition to shopping, Dilli Haat INA also has several food courts offering a range of Indian and international cuisines. You can enjoy a meal or a snack at one of the food courts while taking in the lively atmosphere of the market.
There are also cultural programs and performances held at Dilli Haat INA on weekends and holidays. These events provide an opportunity to experience the diverse cultural traditions of India, and are popular with both tourists and locals.
Dilli Haat Delhi is a famous market located in the capital of India, Dilli Haat, which was established by the government as a place for artisans to display and sell their handicrafts, is today also known as the cultural centre of the city. Delhi, which symbolizes the culture and lifestyle of the city. This market is especially famous for food, music, lifestyle and festivals. The bazaar is beautifully designed on 7 acres so that a large number of sellers and buyers can bargain here. Let us tell you that this market is also very popular among tourists coming to Delhi from all over the country. Apart from the main Dilli Haat I.N.A., Today Delhi is home to 3 such haats. INA was the first Delhi Haat to open in Delhi. Delhi Haats in Pritampura and Janakpuri.
Dilli Haat I.N.A. Delhi
If you want to know more about Dilli Haat Delhi I.N.A?. or planning to visit then read this article completely, here we are providing you complete information about Dilli Haat Delhi.
You can enjoy the taste and aroma of delicious food from different regions by visiting Dilli Haat. Food items from every region of India are available here in different varieties. The atmosphere of Delhi Hot Bazaar is very attractive as it caters to many things at one place. From food to handicrafts and many cultural activities, you can find a mix here too. Dilli Haat is a food and handicrafts market which can be called a treasure trove of food and handicrafts. Dilli Haat is designed in the traditional North Indian architectural style with brickwork and stone roofs. The complex has a large hall which organizes handloom and handicrafts exhibitions and demonstrations. It is also a place that sometimes organizes cultural events like folk dances, dramas etc. The market complex is spread over an area of 600 hectares and unlike other weekly local markets, Dilli Haat is open on all days of the week. These markets introduce shoppers to Indian handicrafts, which were considered extinct not long ago. For More Places to See in Delhi Best Delhi Tourist Guide.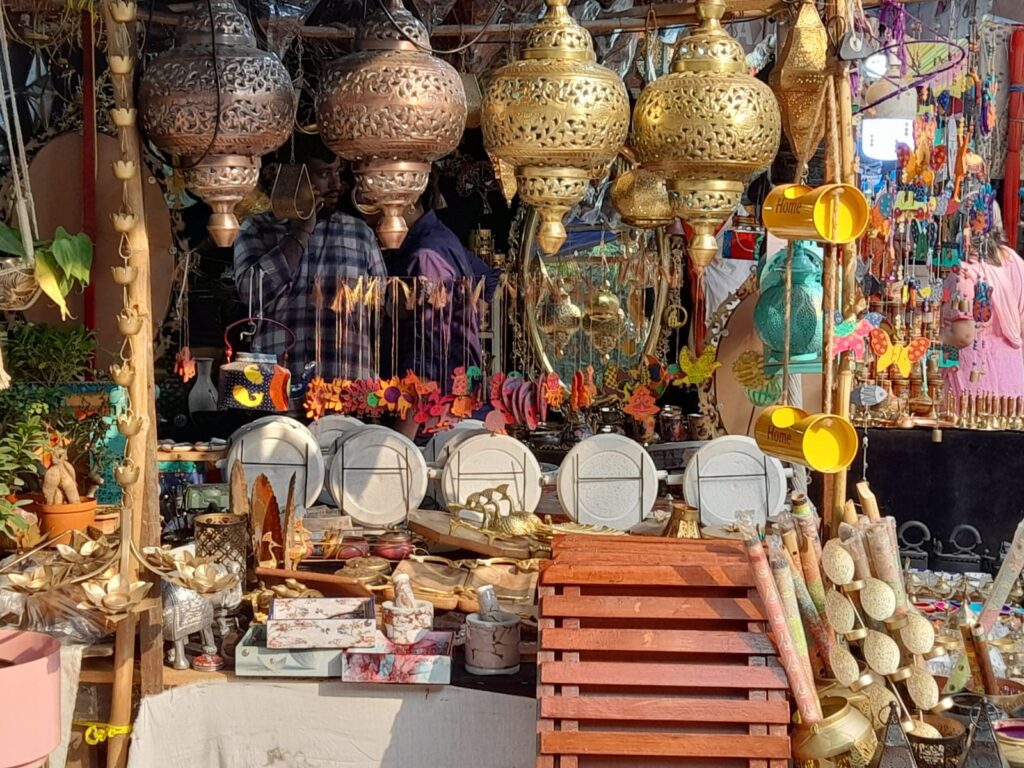 Dilli Haat Delhi: Things to do?
Recommended time: 2-3 hours
Near by Lodhi Garden To Visit.
1.Dilli Haat Delhi I.N.A. is a best place for shopping or a shopper's paradise. There are so many that even you might be confused as to what to buy from Dilli haat.
You can buy a wide range of items including ethnic wear, shawls, jewellery, wall decorations, ceramic and pottery crockery, furniture, lanterns, paintings and sculptures, antiques, organic food products, essential oils and much more.
Since these handicraft items come directly from the artisan, it not only ensures that the artisan is getting paid better but you also get the products at a better price as compared to the handicraft emporiums.
Note: that there is only one ATM at the entrance and the vendors do not have card machines, so it is advisable to carry liquid cash.
2. Food Pavilions at Dilli Haat Delhi I.N.A.: Watch India unite with food stalls from different states of the country. If you are wondering what you should eat at Dilli Haat, we recommend that you skip your regular staples and try something new for your palette. From the famous momos of Sikkim to the thokpas of Nagaland, there is a lot for your taste and taste.
Don't expect a fancy restaurant, but instead expect a more relaxed and casual outdoor environment.
3. Tarot Card Reading Dilli Haat Delhi I.N.A.: There is a stall where you will usually find a professional tarot card reader who can predict your future and advise you to make changes in your life accordingly.
4. Haath Mehndi and Hair Top in Dilli Haat Delhi I.N.A.: This is very popular among young girls and women. As you enter the Dilli Haat complex, you will see women sitting with threads, ready to tie your hair, or adorn your hands with their henna cones emblazoned with beautiful designs.
5. Cultural Activities: One can be surprised by the various unplanned cultural activities at Dilli Haat Delhi I.N.A. like flash mobs or Nukkad Natak, most of which are trying to convey a social message.
Dilli haat is the place where the culture of all the states come together in one open campus. This is the place where you can buy famous handicrafts of the state from across the country at reasonable prices. It allows local artisans and craftsmen to present, market and sell their handicraft items.
Secluded and charming, Delhi Haat is located opposite INA Bazar, in one of the most important commercial hubs of South Delhi. The 6 acres of land on which this sprawling complex is situated was spared as part of a restoration project and transformed into a luxurious Dream Plaza. Elaborate foundation works, small huts and huts with a village atmosphere make this place an attractive multi-centre.
Dilli Haat Delhi: Timings :
Dilli Haat I.N.A. is open all days of the week from 10.30 am to 10.00 pm.
Dilli Haat INA Entry Fee : Ticket:
The entrance fee for Dilli Haat are nominal and are as follows:
Adults: Rs.30
Children (upto 12 years of age): Rs.20
Foreigners: Rs.100
Dilli Haat I.N.A. NEAREST METRO STATION
Reaching Dilli Haat I.N.A. is very easy as it is very conveniently located in South Delhi. For Dilli Haat INA, the nearest metro station is INA metro station on Yellow Line of Delhi Metro. For Dilli Haat Pitampura, the nearest the metro station is Netaji Subhash Place (NSP) on Red Line and Pink Line of Delhi Metro. Gate no. 4
Dilli Haat I.N.A. is located near A.I.I.M.S./ Safdarjung Hospital opp. I.N.A. Market.
Dilli Haat Delhi I.N.A Famous for Shopping
Step inside the complex for an absolutely delightful experience by either buying unique ethnic items, relishing cuisines from different states or relaxing in the evening with the whole family. The term haat refers to a weekly market in rural, semi-urban and sometimes urban India.
Home Décor in Dilli Haat
Funky pillow covers (starting at Rs. 200), pot with ladybird and frog designs at Stall 89 (from Rs. 20), beautiful marble coasters with flower prints (Rs. 300) and stone candle/agarbatti stand (from Rs. 150) FP -10 is available at the stall. Apart from this, you will also like knife painting here, prices of such paintings start from 500 rupees. You must see these paintings to decorate the house.
Artisans who are registered with DC Handicrafts are eligible to be placed here. Stalls selling handicrafts are allotted to artisans from all corners of India's vast and diverse land on nominal payments of 15 days. This ensures that visitors get to buy authentic goods at prices that are not exorbitant due to high maintenance costs.
Dilli Haat INA Clothing
Speaking of Delhi Haat, how can we leave out the clothes here. Delhi is a paradise for haute ethnic wear. At the stall next to the food park, you can find cloths made of materials like indigo cotton ekt and ajrak, which cost Rs 200 per meter and Khadi cotton is priced at Rs 250 per meter. There are also several indigo sarees and you will even find several beautiful-sandar scarves. The price of the scarf here is Rs 220. Also, here you will find colorful and patterned dupattas for Rs 600. Ethnic Jacks (Rs 800) and Parju (Rs 500) also sell coffee here.
If you want to have only good and trendy clothes in your wardrobe then you should go to Dilli Haat. Here you will find a great collection of clothes. This is the reason why women from far and wide come here for shopping. Here you will find more handmade clothes. Hence they are a bit expensive. But it is good in quality. Here you will also find traditional Assamese clothing.
Dilli Haat INA Footwear
Outdoor shoes and slippers are required. If you also just want to shop for shoes this Sunday, you can visit Dilli Haat. Yes, shoes here will cost you a bit more than Sarojini, but the variety and quality you can get here is hard to find anywhere else. On the first right of the Dilli haat entrance you will find stunning kolhapuris and jatis for both men and women.
Dilli Haat INA Jewelry

If you are fond of jewelry then you can go to Dilli Haat. Here you will find the latest and most unique jewelry collection. Apart from this, there are some shops, where you will also find special jewelry of the states. If you want to buy something different, check out the shop here.
Hukka Cigar pipe at Dilli Haat
There is also a lot for hookah fans. At Dilli Haat you will find cigar pipes and wooden hooks for Rs 550 (small) and Rs 850 (large).
If you want to buy items made from genuine grass, you should visit INA's Dilli Haat. Here you will find a very good collection of handbags made of cowna. Kauna is a type of grass also known as water reed. The things made of it look very beautiful. This is the reason why people often prefer to buy products made from it. You can also wash these bags. This will make it like new again. Not only bags, you can also buy many things like lamps, baskets, bamboo glasses to decorate your home.
Dilli Haat Delhi INA Food and Restaurants.
Dilli Haat Delhi offers the atmosphere of a traditional rural haat or rural market, but is suited to more contemporary needs. An array of handicrafts, food and cultural activities are seen here. This food and craft market is a treasure trove of Indian culture, handicrafts and ethnic cuisine, a unique market located in the heart of the city, it constantly showcases the richness of Indian culture. You can also taste the unique flavors of delicious local cuisine from different regions of India, be it Chicken Momos Fruit Beer from Sikkim or Bamboo Garam Chicken from Nagaland, Kahwa and Kebabs from Jammu, Puran Poli or Gujarati Dhokla from Maharashtra. Awadhi Specialty Galuti Kabbabs and Utlte Tawe Ka Parantha, Rajasthani Missi Roti Bajre ki Roti khadi, Gatte, churma, Daal and Batti in Desi Ghee with Mirchi ka Pakaoda. Bihar ki Rasoi offers Litti Chokha. Try Mysore Masala Dosa. Food stalls provide you with a variety of food items served in an eco-friendly manner. Don't miss Mumbai ka Vada Pav.
Dilli Haat is probably the only place in Delhi that sells authentic regional cuisine in all Indian states under one roof. It has many eateries that serve delicious and sumptuous food. There are some must-try dishes at Dilli Haat.
Darbar-e Awadh: They serve delicious food of Awadh. The Glotty Kebabs, Nihari and Mutton Korma are absolutely delicious.
Odisha Cuisine: The food prepared here is mostly seafood, consisting of crabs and prawns. You can enjoy their famous Prawn Masala or Crab Sizzler.
Uttarakhand Cuisine: The specialty of this stall is Rhododendron, which is usually the sap of organic flowers. Other popular dishes include kafli (a dish made of rye and spinach), pahari dal and rice.
Hyderabadi Cuisine: Stall This is the most popular stall among Delhiites which is full of Hyderabadi Biryani prepared in mutton, chicken and even vegetables.
,
Mahak Cuisine: Visit this stall to taste Latti Chokha, the specialty of Bihar. Also try papdi chaat, golgappa etc.
Wazwan Food, The stall serves delicious wazwan aka Kashmiri food which includes licrista (meatballs in red chili sauce), gastabamad (mutton cooked in yogurt) and kahwa, a Kashmiri drink.
Maharashtra Stall: Needless to say this stall has some tempting flavors and varieties of Vada Pav, Kandi Vada, Pav Bhaji, Masala Bheel etc.
Nagaland Cuisin: The specialty of this dish is their various dips and chutneys which they serve with pork or fish. Try their Akhoni Chutney – a mixture of garlic and soya and Raja Mirchi Chutney which is considered to be the coldest in the whole world.
West Bengal: Visit this stall to try out different samples of Prawn Curry, Fish, Lentils and Rice along with various Mango Chutneys and Raita on Banana Leaves.
Assamese Stall: Visit this stall to taste some delicious Assamese delicacies made of potatoes, lentils and fish.
Lakshadweep: This dish consists of grilled fish and prawn masters served with a side salad and mint chutney. We suggest you try the fish fritters and coconut water.
Rajasthani Cuisine: Visit this stall to try the very famous Rajasthani thali consisting of delicious Onion Kachori and Bajra Roti and a variety of pulses and vegetables.
Dilli Haat INA Parking
There is limited parking available at Dilli Haat INA. The market has a small parking lot, but it can fill up quickly, especially on weekends and holidays. If the parking lot is full, you may have to park on the street or in a nearby paid parking lot. It is advisable to arrive early to ensure that you are able to find a parking spot.
Alternatively, you can also use public transportation to get to Dilli Haat INA. The market is easily accessible by bus, metro, or auto rickshaw from various parts of Delhi. This can be a convenient and economical option, especially if you are coming from a distance or if parking is difficult to find.
Dilli haat to Sarojini Nagar
Dilli Haat INA and Sarojini Nagar are located in close proximity to each other in the south western part of Delhi, India. The distance between the two places is approximately 2.5 kilometers, or 1.5 miles. The journey by car or auto rickshaw should take around 15-20 minutes, depending on traffic conditions.
To get from Dilli Haat INA to Sarojini Nagar, you can take a taxi or an auto rickshaw. It is also possible to take a bus or the metro, depending on your location and preference.
If you prefer to take a taxi or an auto rickshaw, you can simply flag one down on the street and ask to be taken to Sarojini Nagar. The fare will depend on the distance and the time of day, but it should not be too expensive.
If you would like to take the bus, you can look for a bus with "Sarojini Nagar" listed as a destination on the front. You can also use the Delhi Transport Corporation's website or app to plan your trip and find out which buses go to Sarojini Nagar from Dilli Haat INA.
If you would like to take the metro, you can take the Violet Line from INA metro station, which is located near Dilli Haat INA. Get off at the Sarojini Nagar metro station, which is the next stop on the line.
Dilli Haat INA is an amazing place that you definitely need to experience Enjoy with Family and Friends you'll always be coming back for more and more!
Near by: Hauz Khas Village Complex another Historical and a great place for You.
: Beautiful Lodhi Garden Where You Walk with Nature and History.
Wish you have a great time at Dilli Haat have Fun Experience in comments
Tagged:
delhi haat ina
delhi haat market
delhi haat opens today
delhi haat plan
delhi haat restaurents
delhi haat timings
dilli haat delhi
dilli haat shoping