Private Lodhi Garden Heritage Walk Over View
The enchanting Lodhi Garden Heritage Walk is an extraordinary journey through time and nature, beckoning both history aficionados and nature enthusiasts alike to uncover the hidden treasures of Delhi's past. Located in the heart of the bustling capital city, Delhi, Lodhi Garden is a sprawling green haven that boasts a remarkable blend of historical significance and natural splendor.
As you embark on the Lodhi Garden Heritage Walk, you'll be transported to a bygone era, where the footprints of Delhi Sultanate rulers Muhammad Shah and Sikandar Lodhi still echo through the magnificent structures and tombs that grace the garden. This lush oasis, lovingly preserved by the Archaeological Survey of India, spans nearly five centuries, showcasing the enduring heritage of Delhi.
This heritage walk through Lodhi Garden is a unique opportunity to delve into Delhi's rich history, with knowledgeable guide leading you through the historical monuments from three different dynasties that ruled Delhi: the Tughlaqs, Mughals, and the British. But the Lodhi Garden Heritage Walk is more than just a history lesson. It's a chance to immerse yourself in the serene ambiance, surrounded by thousands of trees of different species, a vibrant Rose Garden, and the captivating melodies of diverse bird species that call this green sanctuary home.
Join us on the Lodhi Garden Heritage Walk, where history, nature, and culture converge, offering an unforgettable experience in the heart of Delhi. Discover the stories of the past, the beauty of the present, and the promise of a harmonious future, all within the lush embrace of Lodhi Garden.
To ensure your comfort and satisfaction, this private tour offers a personalized experience, free from the rush of group tours. Stay refreshed with bottled water and treat your taste buds to the authentic flavors of Delhi's top street snacks at a local market.
Lodhi Garden Heritage Walk: Apart from the tombs of the two sultans, there are many other buildings worth seeing
Bada Gumbad, an imposing rubble dome erected by Sikandar Lodi in 1490, welcomes you to the complex. Nestled beside it is a three-domed mosque, an exquisite testament to the architectural prowess of the era. The Shining Dome, adorned with intricate blue tiles, is believed to be a mausoleum, an elegant addition by Ibrahim Lodi.
As you continue the walk, the 16th-century stone bridge, known as Athapula, gracefully emerges, boasting seven arches and supported by eight majestic pillars. The bridge serves as a reminder of Emperor Akbar's reign, a time when craftsmanship thrived.
The park itself is a symphony of nature and history, featuring a serene lake, a botanical haven in the form of a glasshouse, and the delightful National Bonsai Park. Moreover, a well-preserved British-era gateway still stands, providing a glimpse into the colonial past of Delhi.
In a nod to conservation, the New Delhi Municipal Council has placed QR codes throughout the garden, ensuring the protection of 100 tree varieties. The Lodhi Garden Heritage Walk not only offers a captivating insight into the city's heritage but also a serene communion with nature, making it a must-visit experience for history buffs and nature enthusiasts alike.
Lodhi Garden Heritage Walk: Athpulla Bridge
Athpula means "eight Pillar bridge". It was called so as it stood on 8 pillars forming seven arches. The central arch is the biggest one with subsequent arches becoming smaller, giving a beautiful concave shape to the bridge. A perfect place to have a photo with ducks old bridge and lake.
This was built, on the old course of a stream over, which connects with the river Yamuna. The water surrounding the bridge is an artificial water body. Well, though the youngest monument this bridge is still 400 years old, built during jalal ud deen Akbar's time by Nawab Bahadur over a canal that connected to the river Yamuna. What is noteworthy about this bridge is that this is one of the rare architectures in Delhi from Akbar's time. To the north of the garden are the remains of a stream which may once have run as far as the river Yamuna.
Lodhi Garden Heritage Walk : Sikandar Lodhi Tomb
As enters from gate no 4 you would see a fort-like wall with bastions minaret like corners. You have to go around it to reach the stair gate of Sikandar Lodi's mausoleum. Built in the early 16th century by his son Mohammed Ibrahim Lodi, inside this tomb surrounded by a beautiful garden in the an octagonal shape .This tomb resembles to a Mughal Nobel Adham Khan's tomb at Mehrauli, with exactly the same three archways on each of the eight sides.
Lodhi Garden was named after Sikander Lodhi With impressive architecture and impeccable natural beauty, the garden and the structures within it echo the history of the national capital with magnificent efforts. An architectural heritage of nearly 500 years and a serene green environment make Lodhi Garden heritage walk a major attraction in Delhi.,
The interior of the tomb mausoleum has a high dome, with a colorful painted ceiling, beam and the lintel also the entrances in a red sandstone. Arches inside have a geometrical pattern design in blue and green colour. The western wall gives an impression of being built as a mosque with a Mihrab like facing towards Mecca. The walls enclose a garden that surrounds the main tomb monument. The platform outside the entrance wall has two square canopies this is a nice photo point.
Lodhi Garden Walk for Morning Joggers:
the magnificent and eye-catching Lodhi Garden is like a paradise for of all ages, morning walk and joggers 2.1 Km Track Length. loop takes half hour to complete, yoga enthusiasts, family picnics and for the dwellers lives nearby, come for their morning strolls and daily exercises to the premises of the Lodhi garden. Once my grand father while walking in Company Bagh at old Delhi, told me about couples in Delhi started going to the garden, culture was started by English itself. Like Gora Saheb and Memsahib. Lodhi Garden is a Pleasure garden of the bureaucrats, rulers of Delhi. Here You can see, One who breathes silently in the morning, Young one's sits together during the day, Elders walks with a stick in the evening and Families enjoys a Picnic bring home food on holidays with their wife and children.
Lodhi garden is also a popular place for pre wedding, photoshoots. Lodhi Garden is unique with its greenery and picturesque monuments is quite a popular with Bollywood film makers with movies like Chak de, Fanaa, Fukrey, Munna Michale.
Earlier this area was of two villages named Khairpur which lies on the outskirts of Delhi. When the British Government wanted a nice Royal Garden like Hyde Park at London, they displaced and threw the villagers of and landscaped the area into a beautiful garden. The powerless villagers displaced for the fancies of the powerful It's the same everywhere,
There are pillars outside the gate no. 6 with the name of lady Vicereine of India "The Lady Willington Park" April 9, 1936. Finally, after India got Independence, the name was changed to Lodhi garden, to better associates with the history. And named after the Lodhi dynasty whose remains still adorn it.
Lord and Lady Willington in their Royal Carriage. If you talk about Lady Willingdon Park, many people will not recognize the original name of Lodhi Garden. But this place is as deep in history as it is in nature. With structures from the late Sultanate and Mughal periods, the place is a perfect blend of Indo-Islamic architecture. Join us to learn about the perfect blend of history and nature.
Lodhi garden as we see it today was designed and landscaped an American architect by J. A. Stein- and Garret Eckbo who lived in India for almost half of his life and also established a and a Bonsai Garden and a glasshouse in the garden. a rose garden and duck pond and a home for almost 30 species of birds too. He is also the architect of most of the buildings in the Lodhi estate area like the India International Centre, UN office etc giving the area its name as 'Steinabad'
Lodhi Garden walk: Sheesh Gumbad
Move a little ahead in Lodhi Garden Heritage Walk and you would see a Tomb called as Sheesh Gumbad. Is a square tomb from the Lodi era. Sheesh-Gumbad was so-called because its outer finish with blue enamelled glazed tiles used in its construction gave the impression of being a mirror dome. Few of these tiles survive now. A family seems to be buried in the tomb, Inside have few graves, whose was buried not clearly identified either an unknown assume that these must be Nobel family of Sikandar Lodi's court or Bahlul Lodhi the founder of the Lodhi dynasty itself. Which is fairly well preserved but is totally ignored inside. The Shish Gumbad is Believed by historians to have been constructed between Year 1489-1517 by Sultan Ibrahim Lodhi.
Lodhi Garden Walk: Bada Gumbad
This complex, As you enter Bara Gumbad, you suddenly are hit by the sheer height of the dome. Which sets on a raised platform, is largest and finest Lodhi-era monuments in Delhi. is called as Bada Gumbad complex. Its imposing domed structure is believed to have been a gateway to the mosque, was built in 1494, as there's no grave in side establishing it as a tomb. Amazing intricate decorative details on both the buildings. On the corner of the mosque, seems a minaret. The Bara Gumbad Mosque is the most pleasant discovery of this Lodhi garden walk with nature and history.
Opposite the mosque is an arched pavilion that was a guesthouse known as Mehman Khana. This is the most pleasant discovery of Lodhi garden walk. there is also a residence surrounding a central courtyard, where the remains of a water tank can be seen probably for ablutions. Between the mosque and guesthouse there are some graves that might be belong to a later period.
This mosque with three domes and five arches has a beautiful engraving of geometric designs and Arabic verses in the off-white color. It is a riot of incised plasterwork. It also has some of the beautiful Squinches that one can see in the Delhi monuments. The interior of this mosque is pretty well and making it worth visit.
Lodhi Garden Heritage Walk: Mohammad Shah's tomb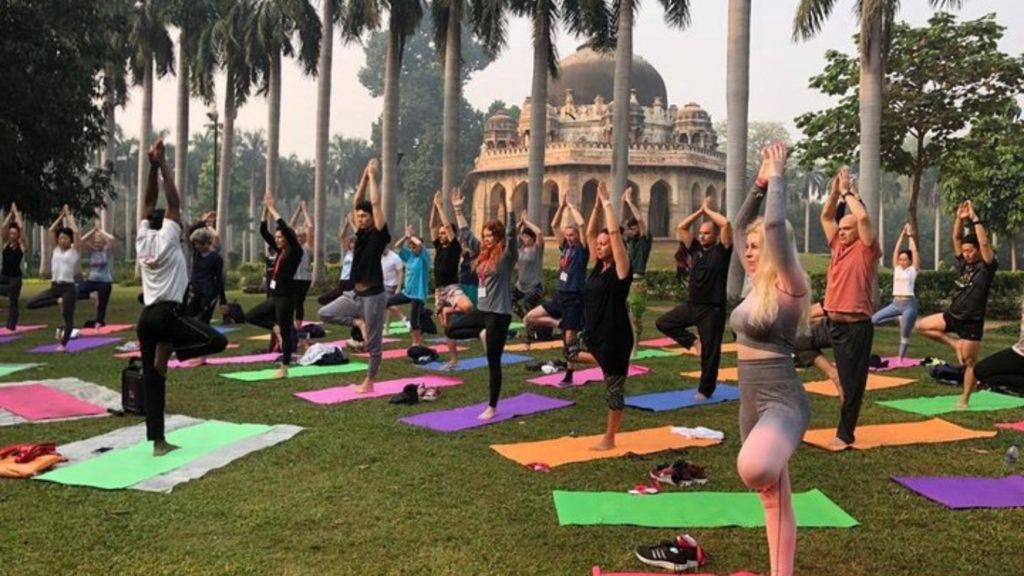 Lodhi Garden Heritage Walk goes towards the weather office gate, you would see another majestic octagonal monument, with peculiar and ornate Chhatris or canopies all around the octagonal structure. These Chhatris make this tomb a typically grandeur, of that era. This is the Mohammad Shah of the Sayyid dynasty. It is the biggest tomb structure in Lodhi garden. The ceiling has some elaborate circular painting in blue and red color in a star-like pattern. This tomb is a very photogenic, as it is on a higher mound and is absolutely symmetrical. Tomb is illuminated at night looks more beautiful.
Here and there you would see some grave on platform. It would almost feel as if you have come to meet them all who lay buried here for the future generations, cast in stone and carrying an imprint of their times. The monuments show the importance given to people after they died, in their lifetimes that were way smaller than the life of their tombs, if they got the same reverence and gratitude.
Lodhi Garden Walk: Nestled in the heart of bustling Delhi, it's a lush haven, a breath of fresh air amid the city's hustle and bustle. Not just a park, it's a living testament to Delhi's history, a cherished retreat for locals, and a captivating spot for tourists. Here, young couples create memories, Instagrammers capture its picturesque beauty, and history enthusiasts uncover its rich past. Lodhi Garden effortlessly combines nature and history, making it a must-visit for couples and travelers alike, beckoning with its timeless charm and allure.
Lodhi Garden Heritage Walk : Turret
The Kos Minar [ Mile Post] built during Sultan Sher Shah Suri's reigns. Sultan has a great interest in building roads in his sultanate for caravans and traders. One can find them all along the Grand Trunk Road which runs from Amritsar to Kolkata which still survives today.
Lodhi garden Walk : Trees, Birds and Butterflies.
A garden is a delight to the eyes and soul. While walking in the Lodhi garden in addition to the monuments absorbing the history, enjoy the nature a variety of birds lives here and a lot more who visits during winters. If you do not know much about the birds, there are elaborate boards to explain the various varieties of the birds that you can see here in the garden. These silent spectators, trees and plants spread throughout the park to admires you. Never underestimate the healing power of a quite place in the garden.
Lodhi Garden Heritage Walk near by: Art District
The evening air is getting chilly folks, and the thought of a fresh and comfortable morning walk on the city streets makes us jump for joy. Well, talking about walking, we miss this magical place called Lodhi Art District, a place you don't want to walk! India's first open-air art district, Lodhi Art District, located between Khanna Market and Meher Chand Market in Lodhi Colony, this place is not just about murals and art, it's about starting a dialogue. . Take photos and fill your feed or organize photo shoots or explore art.
Lodhi Garden Walk: Timing, Entry fee, Nearest Metro Station, How to Reach
| | |
| --- | --- |
| Location | Lodhi Estate, New Delhi |
| Type | Public Park |
| Formerly Known as | Lady Willingdon Park |
| Origins | 1444 CE |
| Area | 90 acres |
| Timings | 5:00 am to 8:00 pm (April to September); 6:00 am to 8:00 pm (October to March) |
| Entry Fee | Free and ample free parking |
| Still/Video Camera | Free |
| Nearest Metro Station | Jorbagh Metro Station and Khan Market, Delhi Metro Station |
Lodhi Garden Heritage Walk: Travel Tips
The entry is free. Carry a water bottle with you. Toilets are at the entry gates. You can bring your own food.
The visitor's timings are 5:00 AM to 8:00 PM from April to September. During the winter months of October to March, the timing is 6:00 AM to 8:00 PM. Open on all days of the week.
You need at least an hour and half to see the garden properly. If architecture and birding interests you, you can easily spend half a day there.
The closest Metro Station is Jor Bagh on Yellow Line. Khan Market on Violet line You need to walk for about 10 minutes or take an auto rickshaw from there.
"In the heart of Delhi's bustling streets, Lodhi Garden stands as a sanctuary where heritage whispers, history echoes, and nature flourishes."
I hope You Enjoy a Heritage Walk at Lodhi Garden…..Thank You: I really Appreciate Your Time