Old Delhi Heritage Walk Jama Masjid Red Fort and Rikshaw Tour
Welcome to Old Delhi Heritage Walk with Jama Masjid Red Fort and Rickshaw Tour,Explore Old Delhi's rich heritage with our Jama Masjid, Red Fort & Rickshaw Tour. Dive into history at Jama Masjid, marvel at the grandeur of Red Fort, and then hop on a rickshaw for an exhilarating ride through the bustling streets. Engage with locals, taste street food, and uncover hidden gems. This tour isn't just about monuments; it's a celebration of local life, culture, and flavors. Immerse yourself in Delhi's soul, where history meets modernity. let the sights and sounds transport you to another era.
Step into a world of old-world charm and join us on the Old Delhi Heritage Walk, where you'll be transported back in time. Listen to fascinating anecdotes and tales of the bygone era as we meander through the narrow and convoluted streets of Old Delhi City. Let the city's magic enchant you as you stroll through the streets, taking in the sights and sounds of Old Delhi's glorious past.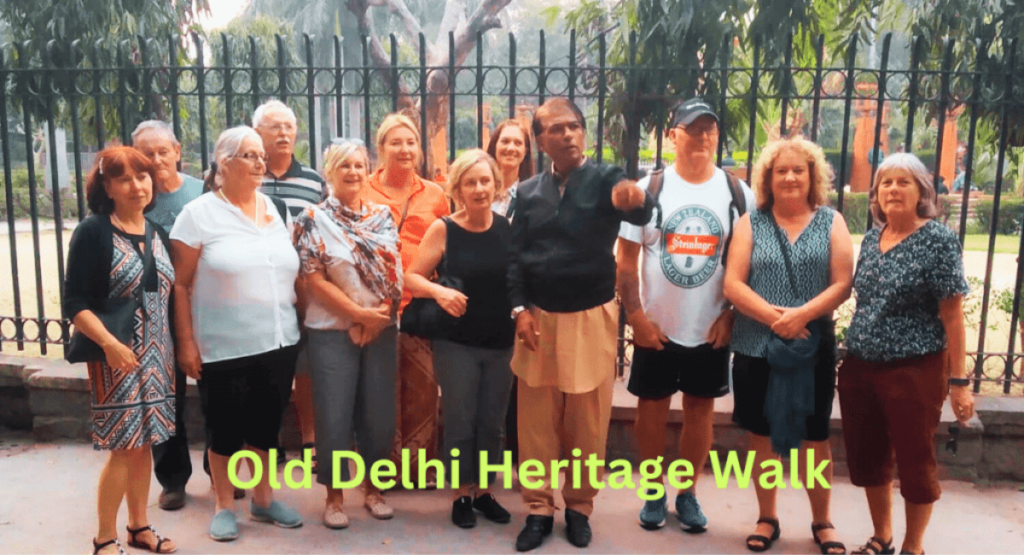 Old Delhi Heritage Walk: Over View
Old Delhi Heritage Walk takes you right into the heart of the old city. Stroll with your guide take photos through the bustling streets of Chandni Chowk and visit the largest mosque Jama Masjid and the majestic Red Fort. You can also taste some street food favorites and hop on a rickshaw for a short trip up to the Spice Market. Surely you will enjoy the old Delhi walk. Where the memories of the past live in harmony with the "Shor o Gul" of today. Old Delhi Walking Tour will give you a chance to feel and hear the city through the eyes of business caravans and travelers who have come for centuries.
Enjoy Old Delhi Heritage Walk With Red Fort Jama Masjid and Rikshaw Ride: 4500/ Per Person
Old Delhi Heritage Walk Timing: 4 Hours As desired, subject to availability.
Meeting Point: Lal Mandir/ Red Fort. Guided Tour: Storytelling Experience.
Inclusions Old Delhi Heritage Walk Unforgettable Adventure:
1. Enjoy the flavors: Start with a delicious local breakfast or lunch (for afternoon tours) and sample some of Old Delhi's street food dishes, safely served by our expert guides.
2. Heritage and Market Exploration: Immerse yourself in the rich heritage and bustling markets of the Old Delhi Heritage Walk. Wander its historic streets full of stories and treasures.
3. Connect with the locals: Get involved in local activities, interact with friendly residents and get a taste of authentic Old Delhi life.
4. Rickshaw Ride: Experience the heartbeat of the Old Delhi with an exciting cycle and battery rickshaw ride on its vibrant streets.
5. Discover Hidden Gems: Discover hidden gems off the beaten path, adding a touch of intrigue to your Old Delhi Heritage Walk trip.
6. Aroma of the Spice Market: Visit the mesmerizing Khari Baoli Old Delhi Spice Market, where fragrant spices fill the air.
7. Spiritual Peace: Explore the ancient temples and enjoy the spiritual atmosphere during your Old Delhi Heritage Walk.
8. Iconic Sites: Enjoy the the Red Fort and Jama Masjid tour with Your Guide from inside during your Old Delhi Heritage Walk.
9. Personal Storyteller: Your English-speaking local friend, storyteller and photographer will accompany you, ensuring an enriching Old Delhi Heritage Walk experience.
10. Memory Lane: Receive a complimentary online photo album to cherish the memories of your remarkable Old Delhi Heritage Walk Tour!
Get ready for an extraordinary exploration of the essence of Old Delhi through the Old Delhi Heritage Walk.
Distance: about 2.9 kms.
Old Delhi Walk Tour Time : Early mornings are the best if you wish to avoid the noise and crowd. However, if you are coming to see the noise and the hustle bustle, anytime in the day.
Who can come : All who can brave the climb up to the steps of Jama Masjid.
What to wear and carry :
• Clothing appropriate for religious sites. Avoid wearing shorts. knees and shoulders must be covered at all places of worship. Carry a Camera.
• Walking shoes Comfortable walking shoes/slippers are recommended. Shoes and slippers need to be removed on all places of worship. They will be safely stored for you.
Old Delhi Heritage Walk: Walking Tour of Chandni Chowk
Chandni Chowk is a historic market street in Old Delhi, that was founded by the Mughal Emperor Shah Jahan in the mid-17th century. The name "Chandni Chowk" means "Moonlit Square" in Hindi, and the street was originally designed to be a wide, open space that was flooded with moonlight at night. The street was lined with many beautiful havelis (traditional mansions) and was a popular spot for evening strolls. Over time, the havelis were replaced with shops and stalls, and Chandni Chowk became a busy market street. Today, Chandni Chowk is a vibrant and lively place that is known for its shopping and street food.
Old Delhi Heritage Walk: Discover the Majestic Red Fort
The Red Fort is a must-visit destination during the Old Delhi Heritage Walk. This stunning fort is situated on the banks of the Yamuna River and boasts a unique asymmetrical boundary wall that includes the old Salimgarh Fort. The fort was completed in 1648 under the supervision of Shah Jahan and is a testament to the pinnacle of Mughal creativity. The fort also served as the site of important historical events, including the proclamation of the First War of Indian Independence in 1857. Visiting the Red Fort is a journey back in time to the Mughal era and an experience not to be missed during the Old Delhi Heritage Walk.
Also See:The Beauty and Grandeur of Red Fort Delhi Walk
Old Delhi Heritage Walk: Uncover the Stories of Jama Masjid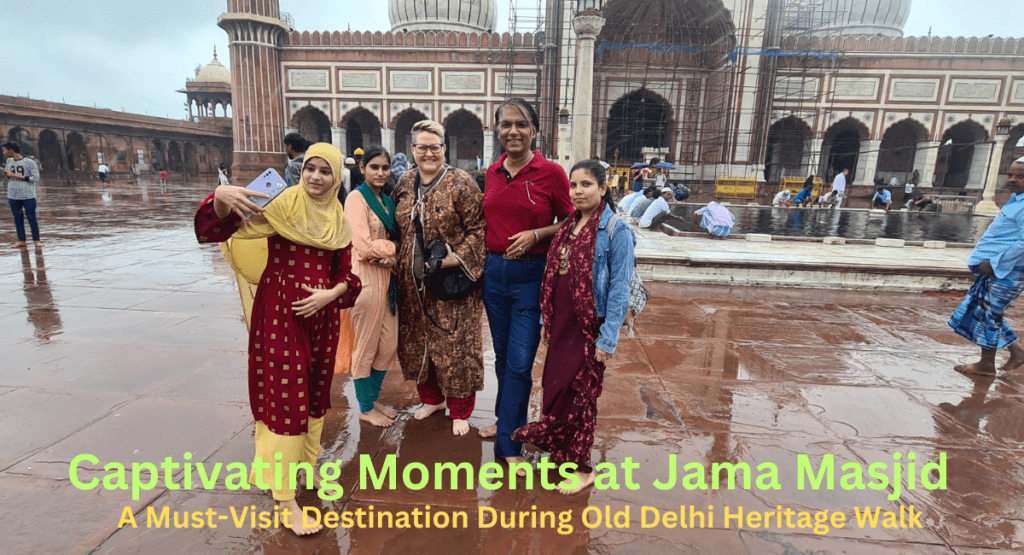 Jama Masjid, located in the heart of Old Delhi, is a must-visit destination during the Old Delhi Heritage Walk. The mosque's rich history and architecture are sure to leave visitors in awe. From the stunning white marble domes to the intricate carvings on the red sandstone walls, every corner of this mosque has a story to tell. Climbing the minaret offers panoramic views of the surrounding area, including the bustling streets of Old Delhi. The interesting stories and historical significance of Jama Masjid make it a must-visit destination for anyone exploring Old Delhi walk.
A Must-Visit Gem on the Old Delhi Heritage Walk: Jama Masjid Old Delhi
Old Delhi Heritage walk: through the Narrow Lane
Old Delhi Heritage Walk, where you will explore the narrow lanes and markets of the bygone Mughal era. Our first stop is the famous Dariba Kalan or the Silver Market, where Mughal Emperor Shah Jahan's daughters used to shop for jewellery. It is now a bustling market that sells a wide range of pearls, precious stones, and sweets.
Next up is the Kinnari Bazar, also known as the Wedding Market. Here, you can find everything you need for your special day, from ornate wedding dresses to traditional groom's attire. This market caters to all communities and religions, reflecting India's colorful and diverse culture.
Finally, we will visit the Naughar Heritage Haveli, built in the early nineteenth century. This haveli showcases intricate sandstone façades and doors, along with exquisite glass work. Built around a central courtyard, it features high ceilings and arched ornate entrance doors. Parathe Wali Gali (Street of Parathas): This street is famous for making delicious stuffed parathas. Come and experience the traditional charm of this haveli at Old Delhi Heritage Walk.
See Also: Mehrauli Archeological Park Walk to Explore Heritage of Delhi Sultanate Era
Old Delhi Heritage Walk: Rikshaw Tour Sit Relax and Enjoy.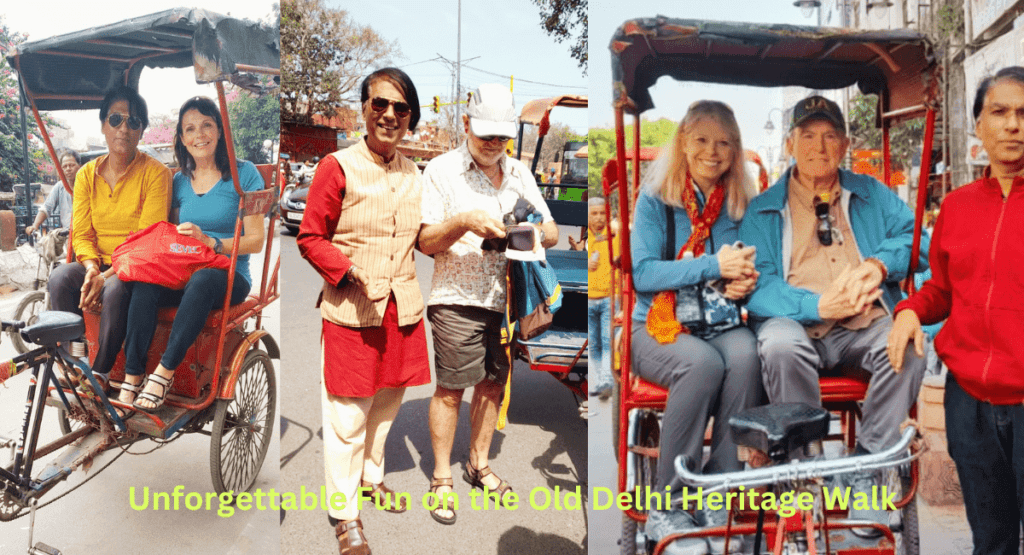 Explore Old Delhi's Rich Heritage on a Fun-Filled Rickshaw Tour: Taking a rickshaw ride through Old Delhi can be a fun and unique way to explore the neighborhood's rich heritage. Rickshaws are small, three-wheeled vehicles that are driven by pedaling, offering a comfortable and eco-friendly ride. A rickshaw tour through Old Delhi's heritage walk allows you to see the sights and soak up the vibrant atmosphere of the area. From authentic Indian spices to the bustling streets of Khari Baoli, there's so much to experience. Hop off and visit the famous Chandni Chowk bazaar, and pass through the 17th century Jewelry Street, Dariba Kalan. Don't miss the splendid market of traditional Indian wedding accessories at Kinaari Bazaar, and enjoy the stunning beauty of the havelis on the way.
Also See: Lodhi Garden Walk with Nature and History.
Old Delhi Heritage Walk: Through Temples.
As you embark on the Old Delhi Heritage Walk, you'll come across several magnificent temples that are steeped in history and spirituality. One of the most prominent ones is the Shri Digambar Jain Lal Mandir, which is the oldest Jain temple in Delhi. This massive temple is located in the historical Chandni Chowk area, directly across from the Red Fort. Its grand architecture is awe-inspiring, and the temple is also home to a small hospital for birds. (Bird Hospital)
Another notable temple that you'll encounter on the Old Delhi Heritage Walk is the Gauri Shankar Mandir, which is an ancient temple dedicated to Lord Shiva. This temple is famous for its unique lingam, which is made of an 800-year-old brown marble stone that's shaped like a phallus. It's believed to be one of the oldest Shiva lingams in the world and attracts a large number of devotees.
The Old Delhi Heritage Walk offers a glimpse into the rich cultural and spiritual heritage of the city, and the ancient temples that you'll encounter are a testament to that. These temples are not just places of worship, but also serve as important landmarks
Also See: Hauz Khas Walk with the Nature and Heritage with Delhi Tour Guide
Old Delhi Heritage Walk: Enjoy the Enchanting Havelis
Take a step back in time and explore the beauty of old havelis on the Old Delhi Heritage Walk. These traditional mansions are an integral part of the city's history and culture, and visiting them is a must-do activity for any heritage enthusiast. From the beautifully restored Haveli Dharampura, which now serves as a cultural center, to the intricate carvings and frescoes of Haveli Sair-e-Gul Faroshan, there's so much to discover. And don't miss the Haveli of Mirza Ghalib, the home of the famous Urdu poet, which has been transformed into a museum showcasing his unique artwork, waiting to tell their stories, so join the Old Delhi walk and discover their beauty.
Also See Tughlakabad Fort Walk with Delhi Tour Guide
Old Delhi Heritage walk: Paranthe Wali Gali
Old Delhi Heritage walk: Enjoy Largest Spice Market in Asia
As part of the Old Delhi Heritage Walk, one of the most exciting stops is the spice market in Khari Baoli. The market is a sensory delight, with the pungent aroma of exotic spices filling the air. You'll witness a bustling trade as vendors sell everything from saffron to cinnamon, cardamom to cloves. One of the most iconic stops on the Old Delhi Heritage Walk is the spice market located in Khari Baoli, near Fatehpuri Masjid. This market is a paradise for spice lovers, as it's one of the largest wholesale spice markets in Asia. The spice market is a sensory delight, with vibrant colors and exotic aromas filling the air. The shops here offer a wide range of dry fruits, spices, and other gourmet delights, making it as heavens for foodie's. The spice market is a photographer's paradise, Come and enjoy the hustle and bustle of this legendary market on the Old Delhi Heritage Walk.
Old Delhi Heritage Walk: Enjoy Street Food
Embark on an Old Delhi Food Heritage Walk and indulge in a mouth-watering experience of the local cuisine. The vibrant streets of Old Delhi are a treasure trove of street food delights, serving up an array of spicy, tangy and sweet treats. Take your pick from the popular chaat, including aloo chaat and gol gappa, or try the delicious kachori, stuffed with a spicy mixture of lentils or spices. Don't miss the chance to savor the traditional paratha, stuffed with a variety of fillings, and jalebi, the spiral-shaped syrupy dessert. The biryani, a fragrant rice dish cooked with spices and meat or vegetables, is a must-try. Explore the hidden food gems and lesser-known stalls on this food heritage walk, and you'll leave with a satisfied stomach and a deeper appreciation for Old Delhi's food culture.
Indulge your taste buds in a tantalizing adventure with Old Delhi heritage walk's spicy street food! Take a bite of the succulent and aromatic Seekh kebabs, perfectly grilled on skewers and served with a refreshing mint chutney or yogurt. Dare to try the fiery Chicken curry, a savory stew of tender chicken pieces, mixed with a blend of spices and enriched with coconut milk, leaving your palate tingling with delight. For those craving for an extra punch, savor the zesty Mutton curry, a juicy goat meat stew, packed with flavors and served with slices of onions, rice or flatbread.
Old Delhi Food Walk: Uncovering the Best Street Food Walk in Delhi with Tour Guide.
Want something more fishy? Dive into the Fish curry, a spicy stew of fish pieces combined with a blend of spices and coconut milk, leaving a lasting impression on your taste buds. And for all the seafood lovers, don't miss out on the Prawn curry, a mouthwatering stew of juicy prawns, blended with a unique blend of spices and coconut milk, served with rice or flatbread.
But wait, there's more! With a wide variety of other delicious non-veg street foods, Old Delhi has something for everyone. Explore the lesser-known stalls and vendors, and embark on a gastronomic journey that will leave you craving for more. So come and experience the bustling and flavorful streets of Old Delhi, where every nook and corner offers an explosion of flavors and aromas that will leave you wanting more.
At the end of the heritage walk, you will have a greater appreciation for the rich history and culture of Old Delhi and a deeper understanding of the unique character of this vibrant neighborhood.
Old Delhi Heritage Walk: How to Reach-Parking
For Old Delhi Heritage walk reach by metro, you can take the Delhi Metro Red Line and get off at the Kashmiri Gate Metro Station. From there, you can walk or take a short ride in a rickshaw to reach Red Fort. Alternatively, you can also take the Yellow Line and get off at the Chandni Chowk Station, which is also located in the Old Delhi area.
Paid parking options in Old Delhi: Red Fort Parking, Municipal Corporation of Delhi (MCD) Parking, and Private Parking Lots. It is important to research parking options in advance to find the best option for your needs and budget.
Tagged:
Chandni chowk walk
Jama Masjid guide
Old Delhi Chandni Chowk Tour
old delhi food walk
old delhi rikshaw tour
Old Delhi Spice Market
purani delhi ki sair
Red Fort walk
spice market walk