Old Delhi Heritage walk with Red Fort Jama Masjid and rickshaw tour at Chandni chowk.
Old Delhi Heritage Walk Over View
You are warmly welcome to the historic city of Delhi. Let Sahib/ Madame take you to an interesting tour of this beautiful city. Enjoy the sight and aroma of the Heritage Walk of Shahjahanabad, the Seventh Capital city of Delhi, with Harry. Surely you will enjoy the tour of this old Delhi. Where the memories of the past live in harmony with the Shor o Gul of today. A tour of Old Delhi will give you a chance to feel and hear the city through the eyes of business caravans and travelers who have come for centuries. And I promise that this trip of yours will prove to be a memorable one. To know about this walled city of the Mughal Sultanate period and its old interesting architecture, you will get a chance to see many kuchas and havelis. Old Delhi is a wall built in 1638 known as Shahjahanabad when Shah Jahan decided to move the Mughal capital from Agra. Old Delhi is the perfect combination of food, architecture, history with a touch of the true essence of Delhi. Enjoy Your Old Delhi Heritage Walk with Best Delhi Tour Guide
Old Delhi Heritage Walk Rikshaw ride just sit back, relax and enjoy.
With Harry at Old Delhi Heritage Walk, you will enjoy listening to interesting anecdotes and tales of the bygone era as you walk through the narrow and convoluted streets of Old Delhi City. Surely you will enjoy it a lot. In the morning when this city wakes up from sleep, you will see the crowd at the tea shops eating breakfast. The sound of a bell coming from a temple nearby, mixes with the sound of the mosque and introduces you to a new music. If you go through all this, then the Chandni Chowk market slowly starts waking up as if you earn respect and the peaceful Digambar Jain Temple . A small hospital for birds in the temple premises. Walking through the streets of Chandni Chowk market, seeing the historical buildings on both sides, they will take you back to the bygone era.
Old Delhi! It was once full of elegant mosques and gardens, along with mansions of nobles and members of the royal court. Despite being overcrowded and dilapidated today, it still serves as the symbolic heart of metropolitan Delhi. It is still the best place for people watching and enjoying some great authentic food!! Walking through the streets of Old Delhi, You saw houses with big doors, big latches, blue walls and many 100-year-old windows.
Old Delhi Heritage Walk in the Chandani Chowk Bazaar.
The original Chandni Chowk, Old Delhi was built by the Mughal Emperor Shah Jahan in the 17th century, Chandni Chowk is still steeped in history and is home to many iconic historical monuments such as the Red Fort, Jama Masjid, Lal Jain Temple and Gurdwara Sis Ganj Sahib. Located in Old Delhi, Chandni Chowk starts from the Lahori Darwaza and goes through the Red Fort to the Fatehpuri Masjid. Today, apart from its historical importance, a half-moon shaped square, was located in front of the city town hall and its reflection was used to shine in the Chandni Jal Kund in front of it. A shallow water channel was created from the Yamuna, which ran through a straight road currently known as Chandni Chowk Bazar, with streets and shops on either side of the channel. This street had three bazaars. [3] Chandni Chowk, or Moonlight Square, and its three bazaars were designed and established by Princess Jahanara Begum, Shah Jahan's favorite daughter, in 1650 AD. Originally containing 1,560 shops, the market was 40 yards wide and 1,520 yards long. [4] A square-shaped market was magnified by the presence of a pool in the center of the complex. The pool shimmered in the moonlight, a feature that was responsible for its name. [5] The shops were originally built in a half-moon-shaped pattern, which are now lost. The market was famous for its silver traders, who have also contributed to the name "Silver Street" [6] as silver is called Chandi in Hindi, a slight variation of which makes Chandni.
Some particularly famous shops in Chandni Chowk apart from its historical importance, are Suneja Sons for paper items and near Mehr Chand and Khari Baoli for dry fruits. The market is also a foodie's dream come true as Chandni Chowk is famous for its street food like Chaat, Parathas and Dahi Bhallas.

The old bazaars of this city speak for themselves. Chandni Chowk is one of the oldest and most famous markets of Delhi. Chandni Chowk is famous for being one of the largest wholesale markets of Delhi and attracts many buyers on a daily basis.
Check out the never-ending Jewelers Market in Dariba Kalan, one of the largest wedding accessories market in Nari Bazaar. You will be surprised to see the wholesale market of Katra Neel, Nai Sadak, Fatehpuri Masjid issues, hall sale market of gold bullion market.
The old havelis of the rich manabdars of this city tell their own stories. Havelis like Begum Samru, Chuna Ma, Namak Haram Nau Ghara, want to talk to you.
Old Delhi Heritage Walk through Temples.
The historical ancient temples of this city are known for their many beliefs and blessings. Old temples like Gauri Shankar Mandir, Digambar Jain Temple, as such Mano takes your steps with his own pull. The historical ancient temples of this city are known for their many beliefs and blessings. Old temples like Gauri Shankar Temple, Digambar Jain Temple, as if Mano takes your footsteps on his own.
Old Delhi Heritage walk see Old Havelis
The old havelis of the rich manabdars of this city tell their own stories. Havelis like Begum Samru, Chuna Ma, Namak Haram Nau Ghara, want to talk to you.
Chuna Mal ki Haveli
Mirza Ghalib Haveli
Old Delhi Heritage walk visit Red Fort.
The fort is situated on the banks of the Yamuna River, which fed the moat around most of the walls. Construction began on 13 May 1639 in the holy month of Muharram. Under the supervision of Shah Jahan, it was completed on 6 April 1648. Unlike other Mughal forts, the Red Fort's boundary wall is asymmetrical to contain the old Salimgarh Fort.
Its planning and aesthetics represent the culmination of the Mughal creativity prevalent during the reign of Shah Jahan. His successor Aurangzeb added the Pearl Mosque to the emperor's private quarters, building barbicans in front of the two main gates to make the palace entrance more curved.
The Red Fort marks the apex of the Mughal period. It is easily one of the most sophisticated forts built in the world to fulfill the dreams of the Mughal court. Built with local stones and in a simple design, Shahjahanabad had fourteen gates. It took nine years and three months to build the Red Fort. The cost was an astonishing six million rupees.
Old Delhi Heritage walk visit Jama Masjid.
Old Delhi Heritage walk through the Narrow Lanes
Dariba Kalan (Silver Market): The daughters of Mughal emperor Shah Jahan were very fond of jewellery. The emperor started a whole market for him – Dariba Kalan! Apart from silver, a wide range of pearls and precious stones were displayed in the shops of Dariba Kalan. It also becomes famous for halwai (sweets-seller). Here you can enjoy some of the best delicious Indian sweets in the city. And we assure you that Indian sweets are really people enticing. Please leave behind your calorie counter for the day to enjoy sweets.
Kinnari Bazar (Wedding Market): It has shops for those who want to buy their wedding dress, be it the groom or the groom. It caters to the colorfully ornate Indian wedding market of all communities and religions.
Naughar Heritage Haveli: Situated in the Kinari Bazar of Chandni Chowk and built in the early nineteenth century, this haveli is of immense architectural merit. It shows exquisite craftsmanship in its sandstone façades and doors. The haveli still retains its traditional charm. Built around a central courtyard, the haveli in the Naughar (Nine Houses) features rooms with high ceilings, arched ornate entrance doors and exquisite glass work.
Old Delhi Heritage walk Paranthe Wali Gali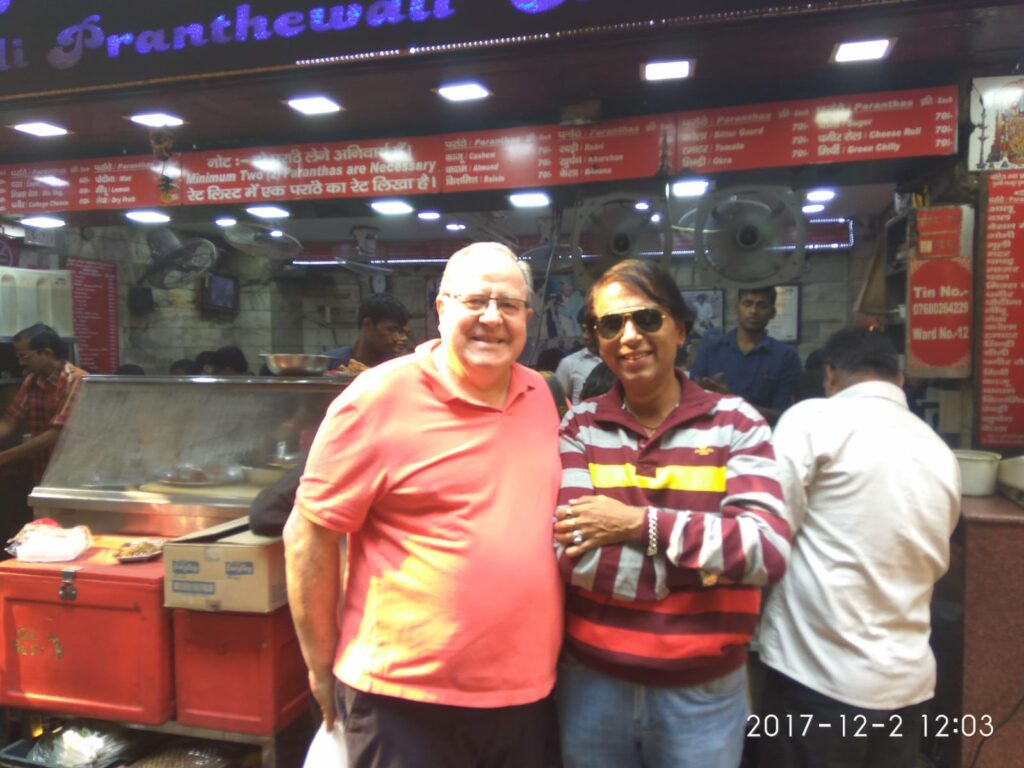 Parathe Wali Gali (Street of Parathas): This street is famous for making delicious stuffed parathas. Paratha is an Indian flat bread that is eaten with lots of pickles and curd. This street is still famous for its traditional North Indian cuisine. Apart from Parathas, there are many more dishes – Nagori Halwa, Kachori, Chole Rice and more!
Old Delhi Heritage walk Enjoy Spice Market
Khari Baoli (Brackish Water Well): Khari Baoli is one of the largest wholesale spice markets in Asia. It has some of the busiest and most smelly streets you will ever pass, be prepared for a little sneeze! The dry fruits and spice shops found here are a gourmet's delight. Along with almonds, cashews, turmeric, cardamom and more, this street is also famous for thandai (milk-based soft drink with rose petals).
Old Delhi Heritage walk for Street Food
Golden, pungent, spicy, creamy, tangy or sweet, Old Delhi's street food is aptly celebrated, history books mention it, guide books praise it, bloggers and food columnists rave about it. fill up. But as a migrant who is terrified of going into the maze around Chandni Chowk, how do you find it? And more importantly, how do you know that among the myriad of vendors with their plethora of dental samosas, chaats, pakoras and sweets, you can be guaranteed not to have a case of galloping? Surekha shepherds you through dazzling displays of embroidered ribbons, beads of every color, glittering silk, shimmering silver and even feathered boas in the crowded streets around Chandni Chowk. At intervals, you stop to sample snacks from reliable stalls. And it's a lot of fun – Surekha bubbling with energy and enthusiasm – plus a lot of attention to group safety in the hustle and bustle of the streets and alleys. She proudly says that none of her street food walks have got Delhi Belly, a truly impressive record. Finally we will dive into a tempting array of succulent kebabs, kormas, butter chicken and delicious rice pudding in and around the historic lanes of Jama Masjid, Delhi's largest mosque. From there, we will proceed to our final stop at the more than a century old Kulfi shop to enjoy different flavors of Kulfi or the Indian version of ice cream.
From the noises emanating from the loudspeakers of the mosque, the 'tring' sound of the rickshaw wala's bell, from traffic jams to the smell of food emanating from every nook and corner, it is Old Delhi for me.
Marghat Wale Hanuman ji Temple
This ancient temple is located in Jamuna Bazaar near old Loha Pul must visit on Old Delhi Heritage Walk.
The history of this temple is that when Lord Hanuman was carrying
Sanjivani Boti mountain for Lakshmanji to Lanka, he stayed for some time at this place in Delhi. The name of this temple is Marghat wale Baba Hanuman Mandir because when Hanuman was carrying the mountain, he saw the river Yamuna flowing from below and Hanumanji wanted to rest on the bank of Yamunaji for some time. But when Hanuman came down, he saw that there was a crematorium here, and by coming down there, the demons got angry. Hanuman's presence here at that time liberated all the souls. Along with this, when Lord Hanuman had darshan of Maa Yamuna ji, Yamuna ji also told Hanuman ji that I will come to see you every year and you are here. There will be a mighty temple.
Every Tuesday and Saturday thousands of devotees visit Marghat wale Baba Hanuman Mandir and pray to Hanumanji to improve their bad luck.
Old Delhi Heritage walk Memories
This Harley Davidson were like flying machines was one of the fondest moments of nostalgia today. To tow Driver sahib with love and draw reality like the shocks of life. It starts from Fountain Chandni Chowk to Palika Bazaar at Cannought Place. flying in clouds of black diesel smoke passes through, under the mustache of Hakim Harkrishna Lal Dariya Ganj, bowing down to Minto Bridge, saluting Minto Bridge, and mix into the crowed of New delhi trafic and finally reaches Palika Bazar. Like the patience of Delhiites, Take as many passengers as it can, just need the space to breathe.
Old Chandni chowk.
Old pictures of Chandani Chowk often catch the eye. There are waves of stories in the ocean of memories. This picture of Chandni Chowk is like a river of nostalgia. I had heard a story from an elder, like this. That in front of this Ghanta Ghar [Clock Tower], there was a statue of Queen Victoria, of England. who is now in the art school. Malika's eyes were on the ground in some surprise. Often people used to talk about it. Time passed, in 1950, during the earthquake, this clock tower building collapsed and came apart on the ground and right in front of the eyes of the Queen of England. It is as if the creator of the statue has deliberately made this incident while waiting for Malika's eyes. Trams were popular mode of transport unto late sixties.
Old Time Ghantewala Sweets
"Chandni Chowk cannot be imagined without Ghantiwala," he said.
Ghantawala Shahi Halwai, famous for its delicious sweets and savory products, was located in Chandni Chowk and was established in 1790. One of the oldest confectioners in India. Shop served sweets made of pure desi ghee for 214 years and served food to Presidents and Prime Ministers of India from Pandit Nehru to Rajiv Gandhi. We have proudly maintained and developed the quality of our sweets all these years. The shop was awarded as India's best confectionery by Dr. Rajendra Prasad, the first President of India.
This Sweet shop was named by the Mughal Emperor Shah Alam II. In the form of a royal confectioner's bell. As told by owners great-grandfather, it was so named when the king used to visit the royal shop, he ate sweets while his elephant rang the bell on its trunk after drinking milk at our shop. Seeing this epic scene, the king added 'Ghantewala' to the name of this shop.
Tagged:
Chandni chowk walk
Jama Masjid guide
old delhi food walk
old delhi heritage walk
old delhi rikshaw tour
purani delhi ki sair
Red Fort walk
spice market walk