Tughlakabad Fort History Tour Guide: You see the scattered ruins of a fort passing through Badarpur Mehrauli Road in South Delhi. Half broken sloping walls, high bastions and broken arches. What you see are the remains of the Tughlaqabad Fort, around which an entire city was once built and settled. Due to time, weeds and bushes have grown in the cracks and crevices of the stones. Once upon a time, Tughlaqabad meant a fortified city for the Sultans, Amirs and Jagirs, an impregnable fort that remained safe from enemy attacks at all times. But fate had something else in store. This is the story of power, ambition and ego of great rulers.
Embark on a captivating journey through time as you visit Tughlakabad Fort with a Delhi tour guide. This remarkable fort, steeped in history and legends, stands as a testament to the dreams and ambitions of Ghazi Malik Let your imagination wander among the remains of the city divided into three parts – its bustling streets, the royal citadel surmounted by the Bijai-Mandal Tower , and palace areas that once housed royal residences. As you explore the Tughlaqabad Fort guided by your Delhi tour guide, you will discover that every stone has a story to tell, every corner has a secret to uncover.
Delhi Tour Guide For Must Visit Places to Visit
Tughlakabad Fort: Nearest Metro Station
Sarita Vihar Metro Station on Violet Line is 2.1 km from Tughlakabad Fort
Govind Puri Metro Station on Violet Line 3 Km from Tughlakabad Fort
Tughlakabad Fort: History
Tughlaqabad Fort was built in 1321 by Ghiyasuddin Tughlaq, the first ruler of the Tughlaq dynasty. Tughlaq's name was Ghazi Malik and he started off as a governor during the reign of Alauddin Khilji. According to popular legend, when Mubarak Khilji ascended the throne of his father, Ghazi Malik suggested the construction of a fortified city during his reign.
Ghazi Malik was a vassal of Khilji Sultan who occupied Delhi. Once, while patrolling the Qutub Minar with his master, he proposed to build a fort on a hill in the southern part of Delhi. The Sultan jokingly said that Ghazi Malik, whenever you take over the throne of Delhi, build your fort here on that day. It just happened that way. Later on, the chess pieces of fate turned in such a way that God proved his master's words to be true. Because Ghazi Malik ousted the Khilji Sultans from the throne of the Delhi Sultanate in 1321 and assumed the title of Ghiyasuddin Tughlaq, some historians believe that this was a coup plot by Ghazi Malik, who later ruled the region. Foundation of Tughlaq dynasty laid. He immediately began building the city he had once dreamed of, including a beautiful and luxurious palace to protect against enemies.
In those days, the morale of the Mongols was high and the route to Delhi Sultanate via Khyber Pass via Lahore had been laid by their horses. Tughlaq wanted to build a fort that could protect the Delhi Sultanate, which was impregnable. So he employed workers to plan a fort with high and lofty walls, so that the enemy could be identified and attacked from a distance. The fort was part of a larger city, with a palace area for the royal family to live in, as well as houses on the shore. A dam was built to stop the naturally flowing stream and canal water flowing from Mehrauli Shamshi pond and convert it into a lake. Apart from being a reservoir, this lake must also have been acting as a barrier for the incoming enemies.
See Qutub Minar History and Architecture Near by Places to Visit
Tughlakabad Fort Delhi: Architecture
Tughlaqabad Fort still has several impressive and massive stone forts that surround the irregular ground plan of the city. The ruins and sloping city walls are a regular feature of the monuments of the Tughlaq dynasty. They are approximately 10–15 meters high, with battlement walls, chhatris and round turrets up to two storeys high. The city reportedly once had 52 gates and only 13 exist in modern times. According to reports, there were seven rainwater tanks in the then fortified city.
The Tughlaqabad Fort has three parts, i.e. its vast city area, with houses built in a rectangular grid between the gates and the fort, with Bejai Mandal at the highest point. There are also the remains of several halls and a long underground passage. In the immediate area of the palace are the residences of the royal family, an underground passage still exists under the tower. In recent times, a large part of it is inaccessible due to the dense vegetation around the city. A large part is occupied by numerous settlements, especially towards the lakes. South of the city A beautiful water lake was built around the tomb of Ghiyasuddin Tughlaq. Was. This tomb is connected to the fort by a high causeway. The remains of Adilabad Fort can be seen towards the south-east corner and it was built many years later by Muhammad bin Tughlaq.
This is a secret passage of Tughlaqabad Fort which was excavated in the 1990s and revealed a huge passage with warehouse and a hidden secret door and exit. This hidden path leads to a small hole in the outer part of the fort wall, which looks exactly like a drain from outside. I tried to find the hole from outside the fort but failed.
Tughlakabad Fort: Ghiyasuddin Tughlak's Tomb
Tomb of Ghiyasuddin Tughlaq – a magnificent example of architecture steeped in history and tales of intrigue. Ghiyasuddin Tughlaq occupied the throne of Delhi Sultan for only four years from 1320 to 1324. By all accounts he was a just and capable ruler. Who has rarely resorted to bloodshed. However, his death is a story shrouded in mysterious circumstances.

The fortress-like tomb of the Sultan of Delhi is much more than a grand mausoleum. The tomb of Ghiyasuddin Tughlaq, who ruled the Delhi Sultanate from 1320 to 1325, is located near the Great Fort of Tughlaqabad. A section of the old path still connects the massive fort and the emperor's smaller fort-like mausoleum, located on top of a small hill. The massive red sandstone and marble mausoleum stands at the center of a pentagonal fortified complex, replete with bastions and battlements. This tomb is built in the typical Tughlaq architectural style. The single-domed mausoleum has a square base and walls of sandstone. The huge white marble dome rests on an octagonal drum and is decorated with a unique lotus finial. Although devoid of any ornamentation, the inlay of white marble on red sandstone forms an attractive feature. In appearance it looks more like a palace than a graveyard. This tomb was built by Ghiyasuddin Tughlaq himself and he was unaware of the unfortunate death that awaited him. Tughlaq died suddenly in 1325 while returning to Delhi after capturing Bengal. He was attending a reception given by his eldest son Muhammad bin Tughlaq at Afghanpur (present-day Bihar) when the pandal suddenly collapsed, killing the ruler and his other companions. The tomb has three arched doors, and on the fourth side – the west side – there is an arch. Inside the mausoleum are the tombs of Ghiyasuddin Tughlaq, his wife Begum Makhdooma Jahan and their son Prince Muhammad bin Tughlaq.
Tughlakabad Fort: Ibn Battuta His documentary evidence
We have documentary evidence in which Ibn Battuta described the palace of Tughlaqabad in 1332. There was a special palace near the Tughlaqabad fort whose tiles he had plated with gold, so that when the sun rose it looked magnificent. Shine with light and dazzling brilliance." He amassed a wealth of wealth in the city and is said to have built a tank and poured molten gold into it until it became a solid block.
Tughlakabad Fort: Curse by Sufi Saint
It is said that Tughlaq loved this dream city so much that he ordered every laborer in the Delhi Empire to work on its construction. It is said that at the same time the city and the fort were being constructed, the Sufi saint Nizamuddin Auliya was constructing a staircase at his residence. Since everyone was busy in the construction of the fort, he was not able to find laborers to build his stepwell. Therefore, laborers worked on the fort during the day, and constructed the stepwell at night. When Tughlaq came to know that Nizamuddin Auliya was employing his labourers, he became angry. In a fit of anger, he cut off the oil supply so that no lamps could be lit for work at night.
Another popular legend says that Tughlaq was in Bengal when he came to know about the laborers. He vows to take revenge on Yuvraj upon his return. In reply Saheb said "Hunuz Delhi Door Ast" Tughlakabad Fort History Curse (Delhi is still far away). It is said that in this manner, enraged mystic saint Nizamuddin had converted the water from his well into oil. He cursed the city of Tughlaqabad, saying "Ya Rahe Ajar Ya Bees Gujjar", which translates to "It will remain desolate or be taken over by herdsmen". While returning Tughlaq died suddenly when a pavilion built in his honor fell on him and his young son.
Visiting the Dargah of Hazrat Nizamuddin Auliya makes you feel relaxed and peaceful.
TUGHLAKABAD FORT BAOLI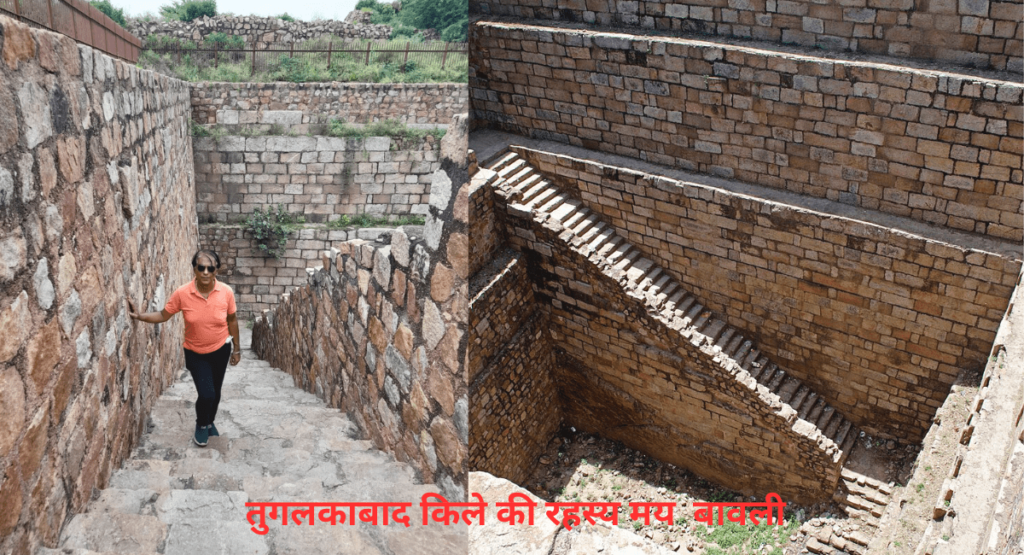 Sultan Ghiyasuddin Tughlaq, keeping in mind the need of water in Tughlaqabad Fort and the city, ordered the construction of several stepwells, only two of which can be seen in the fort. Today they are also known as the Eastern and Western Baoli, both of which date back to the 14th century architecture. East Bowli, known as Purani Bowli, can be reached by descending 30-steps.
Tughlakabad Fort Delhi: Information
Information about Tughlaqabad Fort
The tomb of Ghiyasuddin Tughlaq is connected to the southern outpost of the fort by a causeway. The elevated causeway is up to 600 feet long and supported by 27 arches, passing through an artificial lake. After passing through an ancient Peepal tree, the Ghiyasuddin Tughlaq tomb complex has an entrance gate made of red sandstone leading to stairs. This mausoleum is a domed tomb with square shaped roofs and sloping walls. The sides are of smooth red sandstone and surrounded by carved panels and marble arched borders. The building has a beautifully shaped dome on an octagonal drum which is covered with white marble and slate slabs.
Inside the mausoleum, you will find three tombs, namely the central tomb of the emperor himself and two others, believed to be those of his son Muhammad bin Tughlaq and his wife. There is another octagonal mausoleum of similar design with a small marble dome and arched doorways with carved sandstone and marble slabs. According to the inscription, the remains of Zafar Khan are present in this tomb.
Adilbad Fort: Near Tughlakabad Fort
Adilabad Fort stands silently in the south-eastern part of Tughlaqabad in Delhi and was connected to Tughlaqabad Fort a few years later by a kilometer long causeway. The fort was built by Sultan Muhammad bin Tughlaq, son of Sultan Ghiyasuddin Tughlaq, it was designed in imitation of Tughlaq's fort, and has archaic architecture with large sloping walls with bare surfaces, it has crenellations and There is a curved arch with nothing in it.
Historically, Muhammad bin Tughlaq was also fond of beautiful forts and spent much of his time planning the beauty of his newly founded city of Tughlaqabad. Like his father, he continued building the fort and later expanded his city on vast acres of land, including lush green fields and spaces, which were not used by Alauddin Khilji, the previous ruler of the Khilji dynasty. Sri Qila, 'Tughlaqabad city and the Qutb complex at Mehrauli in Delhi which formed the new 'Jahan Panah' city of the Sultan and his family.
Adilabad Fort was a very small fort compared to the magnificent Tughlaqabad Fort. Which housed the royal family and royal courtiers of the Turkish dynasty along with some administrative halls. Courts and courts used to be held here.
Tughlakabad Fort: Advice by Delhi Tour Guide
When setting out on a trip to Tughlaqabad Fort, be prepared to step into a realm of scattered ruins and raw history. Exploring this barren beauty is best enjoyed with a fellow adventurer as you traverse its mysterious paths. Choose comfortable, light shoes that are ideal for walking, allowing you to walk gently on its ancient stones. Don't forget to carry a bottle of water, ensuring you stay refreshed as you unravel the mysteries woven into the fabric of this intriguing fort.
Tughlakabad Fort: Ticket
Ticket for Tughlakabad Fort is Rs 25/ Cash
Ticket for Tughlakabad Fort 300/ forigen nationals
Tughlakabad Fort: Timing
8 Am to 6 Pm Best Time to visit in the morning Time. As Tughlakabad Fort is an abandoned Area