Welcome to the mesmerizing world of the Red Fort, a beacon of Mughal grandeur and historical significance. As your Red Fort tour guide, let's embark on a journey through time, unraveling the rich tapestry of Red Fort history and exploring its architectural marvels. Built under the visionary supervision of Emperor Shah Jahan, the Red Fort stands as a testament to the opulence and brilliance of Mughal architecture. The intricate designs of Diwan-i-Khas and Diwan-i-Am, the lush gardens, and the stunning Light and Sound Show narrate tales of a bygone era. Discover the allure of the UNESCO World Heritage Site, where every wall echoes the footsteps of history.
Things to See at Red Fort Tour Guide
Experience the grandeur of Delhi's history at the iconic Red Fort, also known as Lal Qila, a treasure trove of captivating stories and breathtaking architecture. But the adventure doesn't end there! As you step into the historic grounds, our expert Red Fort tour guide transforms your visit into an immersive journey through time.
Wander through the splendid palaces, where each structure whispers tales of the Mughal era. The Delhi Gate welcomes you with open arms, and the Lahore Gate unfolds into the vibrant Meena Bazaar. Here, you'll be enchanted by traditional Indian handicrafts and tempted by local delicacies.
Capture the essence of your adventure with photography, videos, and Instagram reels, making your memories as timeless as the fort itself. The journey isn't just about history; it's about savoring the vibrancy of Delhi.
Embrace the opportunity to indulge in shopping, sample delightful Delhi street food, and relax in the serene gardens. Our tour is crafted not just for sightseeing but for experiencing the heartbeat of Delhi. Let the Red Fort be more than a destination; let it be an unforgettable expedition into the soul of India.
Red Fort Tour Guide an Overview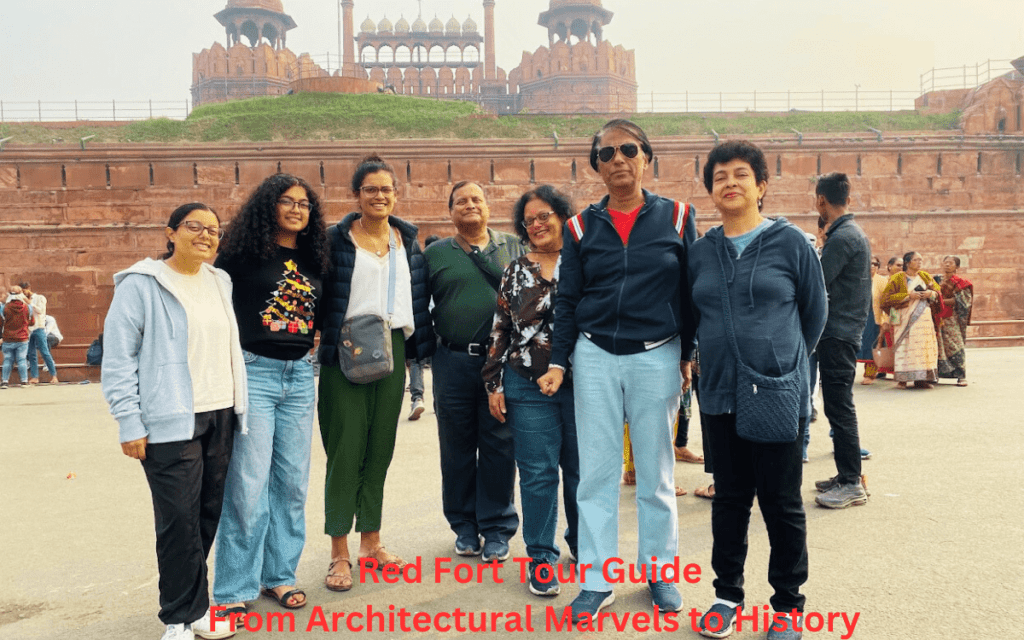 Embark on a captivating journey through the enchanting realms of the Red Fort, guided by our seasoned Red Fort tour guide. As we rendezvous at the parking lot, the adventure begins. The majestic Delhi Gate welcomes us, setting the tone for the historical odyssey that awaits. Passing through the formidable Lahore Gate, we step into the Meena Bazaar, a vibrant spectacle of Mughal craftsmanship. The grandeur of the Red Fort becomes even more pronounced when you imagine standing near the ramparts where India's Independence Day ceremony unfolds each year on 15th August. It's a momentous spot where the tricolor flutters, marking the culmination of a journey towards freedom and a reminder of the nation's rich history.
Led by our knowledgeable guide, we traverse the narrow lanes, capturing Instagram-worthy moments at every turn. The rhythmic beats from Naubat Khana infuse the air with a sense of regality, signaling the start of our immersive exploration.
Diwan-e-Aam and Rang Mahal unfold before us, adorned with tales of Mughal grandeur. Mumtaz Mahal, with its poignant narrative, becomes a living testament to love and legacy. The private chambers of Diwan-e-Khas and Khas Mahal offer a glimpse into the opulent lives of the Mughal elite.
A tranquil interlude awaits at the Hayat Baksh Garden, a moment to absorb the richness of our surroundings. Our journey continues through Zafar Mahal, where a tea break becomes an opportunity to discuss the fascinating transition from Mughal rule to the British Empire.
At this juncture, we make a delightful stop for light snacks and masala tea. As we savor the flavors, our discussions delve into the anecdotes of Mughal rulers and the unique architectural marvels that dot the landscape. This intermission adds a touch of conviviality to our historical sojourn.
The grand finale at Asad Burj presents panoramic views, a fitting conclusion to a day steeped in history and culture. With our expert Red Fort tour guide as your storyteller, each step becomes a chapter in the saga of Delhi's majestic past. As the sun sets over the red sandstone, you're left with not just memories but a profound connection to the rich heritage of the Red Fort. This tour is not merely a visit; it's an immersive experience, an exploration of India's regal history brought to life by our passionate guide.
Inclusive Red Fort Tour Experience
Complimentary Red Fort Ticket: Gain seamless entry to the historical splendor.
Refreshing Water Bottle: Stay hydrated during your exploration.
Light Tea and Snacks: Recharge with a delightful break during your visit.
Delhi's Odyssey: A Guided Tour Through Time and Tales
Red Fort Timings and Ticket
Entry Fee: INR 50 (Indian citizens) and INR 550 (foreign nationals) Timings: 7.30 Am to 6 Pm
Red Fort Nearest Metro Station How to Reach
an enriching journey through Delhi's historical tapestry with the Red Fort Tour Guide. Begin your exploration at the Chandni Chowk metro station, conveniently connected via the Yellow Line. From there, your guide can facilitate various transport options, be it an autorickshaw or taxi, ensuring a direct route to the fort. If you prefer public transport, regular DTC buses on this route offer a local experience. For a more personalized journey, consider the convenience of Uber, dropping you off seamlessly at the Red Fort's parking area. Whether you're a solo adventurer or part of a group, the expert guidance of the Red Fort Tour Guide promises a captivating experience, unveiling the monument's rich history and architectural splendor.
Explore Old Delhi with Harry Your Red Fort Tour Guide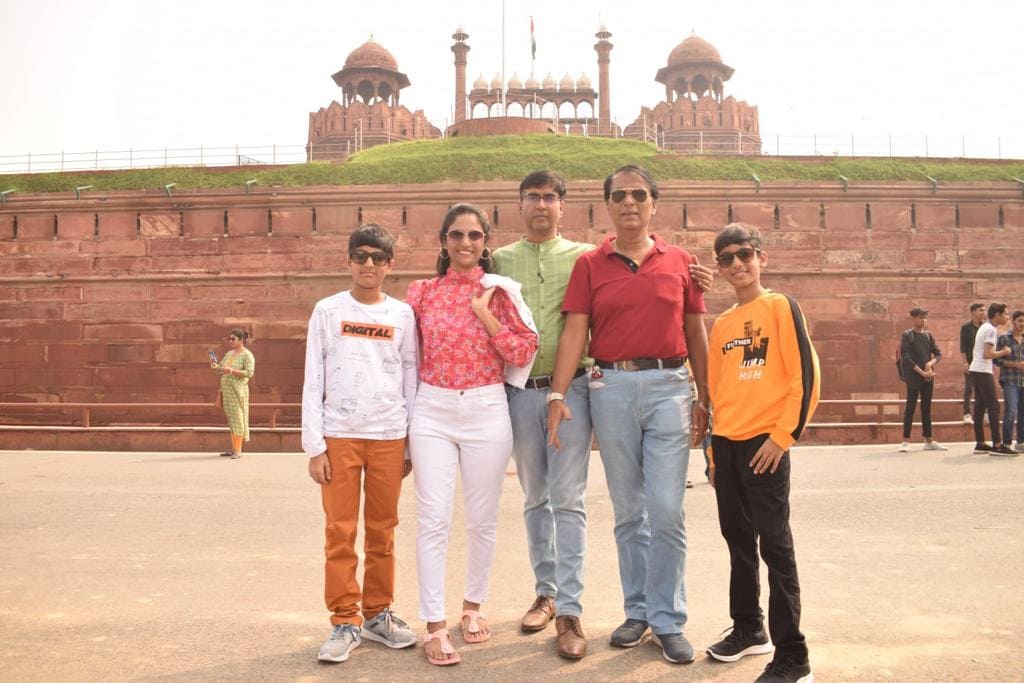 Exploring the Red Fort with Harry, our dedicated Red Fort tour guide, was nothing short of extraordinary. His storytelling prowess brought each palace to life, making the historical journey truly enchanting. A fantastic companion, Harry not only shared the rich history but also made the experience memorable. We highly recommend anyone seeking the best tour to utilize the expertise of a Red Fort tour guide, ensuring an immersive and insightful exploration of this iconic monument.
Red Fort Tale Spun by Harry as Your Expert Storyteller
Exploring the Red Fort with Harry was an absolute delight! From the grandeur of the fort to the vibrant Meena Bazaar, every step was a journey into history and culture. Harry's stories, including the fascinating tales akin to Alibaba, added a unique charm to the experience. She didn't just guide us; she painted vivid pictures with her words. The shopping spree at Meena Bazaar was a cherry on top, and Harry's insights into the diverse offerings made it an unforgettable day. If you're looking for more than just a tour guide, but a storyteller who brings history to life, Harry is the perfect choice. Highly recommended
Regal Revelations: A Red Fort Tour Guide Experience with Harry
Harry was not just our Red Fort tour guide; she was a fantastic companion on foot. Her excellent knowledge of the historical details and her ability to answer all our queries made the entire tour an enriching experience. We felt like we were walking through history with a friend who knew the city inside out. Harry's guidance turned a simple tour into a captivating exploration. If you're in Old Delhi and want a guide who not only walks you through the sites but also walks the extra mile with knowledge and warmth, Harry is your go-to person. Highly recommend her for an unforgettable Old Delhi journey
Heritage Unveiled: Old Delhi Heritage Walk with Harry
Exploring Zafar Mahal with Red Fort Tour Guide
on the Red Fort tour with Harry was a journey filled with fascinating insights. As we explored Zafar Mahal nestled in the serene Hayat Baksh Garden, Harry's vivid descriptions brought to life the opulent existence of royal ladies. Zafar Mahal, a creation of Bahadur Shah, unfolded as a pleasure pavilion, resonating with tales of leisure and cultural indulgence. Harry's narrative skillfully unveiled the historical significance of this architectural gem, portraying it not merely as a structure but as a vibrant musical gazebo echoing with the melodies of bygone eras. With Harry as our guide, each corner of Red Fort became a doorway to a rich tapestry of history, where the past reverberated with charm and cultural resonance.
Red Fort Royalty: Explore with Your Red Fort Tour Guide
We started our journey with our Red Fort tour guide at Old Delhi, after a mesmerizing tour of the Jama Masjid was like having a Khadim of the Mughal Dynasty by our side. Harry's narration transported us through time, unraveling the opulent lives of emperors and the grandeur of the Red Castle. Every palace, every story came alive under her guidance, making it a tour filled with awe and admiration. It felt like walking through the corridors of history with a true custodian of knowledge. For an immersive exploration of the Mughal legacy, we highly recommend Harry as your Red Fort tour guide, a storyteller par excellence
Red Fort Tour Guide Your Cultural Ambassador
Hats off to Harry for providing an exceptional tour of the Red Fort! As a foreign visitor, I was fortunate to have Harry as my guide. His in-depth knowledge and passion for history and culture made my Red Fort experience truly memorable. Harry's storytelling brought the rich history of the Red Fort and Old Delhi to life, helping me better understand the nuances and significance of this iconic landmark. His insights, cultural anecdotes, and friendly demeanor made the tour not just informative but also enjoyable. I highly recommend Harry as the best Red Fort tour guide for anyone keen on delving into the fascinating history and culture of this incredible site and Old Delhi as a whole.
Soulful Serenity: A Journey Through Jama Masjid's Spiritual Embrace with Harry
Red Fort's Light and Sound Show: Red Fort Tour Guide (7 Pm Hindi 8 Pm English)
Enhance your Red Fort experience with a captivating Light and Sound Show, a journey through time narrated by a Red Fort Tour Guide! As the sun dips below the horizon, this grand fortress transforms into a magnificent stage, setting the scene for an enchanting hour-long spectacle of lights and sounds. Held daily, except for Mondays, within the historic Red Fort's walls, this show breathes life into the tales of the Mughal era through a spellbinding interplay of light and sound effects.
Choose between Hindi and English, ensuring the show suits your language preference. It's a perfect opportunity to immerse yourself in the captivating history of the Red Fort, as your guide unravels the secrets and mysteries concealed within these ancient walls. Let history come alive in a truly unique way as you explore this architectural gem with a Red Fort Tour Guide.
In conclusion, the Red Fort stands as a silent witness to centuries of history, its mighty walls echoing tales of triumphs, challenges, and cultural richness. To truly unravel the layers of this historical tapestry, a seasoned Red Fort Tour Guide is not just a choice; it is a necessity. The fort's grandeur is not just in its architecture but in the stories it holds within. Every step guided by an expert unveils a new chapter, making the past come alive. Whether you're a history enthusiast or a casual visitor, a Red Fort Guide transforms your experience into a captivating journey through time, ensuring that the legacy and significance of this iconic monument are felt and understood.

Red Fort Tour Guide
Light and Sound show please check : 01123277705