Delhi Temple Tour: Famous Temples in Delhi
Temples in Delhi Tour Guide warm welcomes you to embark on a divine journey through the Famous temples in Delhi. Immerse yourself in the mystical ambiance of these temples, where serenity and devotion intertwine. Prepare to experience an unparalleled sense of spiritual bliss that awaits you within these sacred temples of Delhi. Temple Tour Guide is dedicated to illuminating your path and leading you to the hidden spiritual gems nestled within the heart of Delhi. Temple tour guide promises to a transformative and enlightening experience, leaving you with a profound connection to the spiritual heritage of Delhi.
List of Famous Temples in Delhi: Embark on a Spiritual Journey with Delhi Tour Guide
Temples in Delhi are not only architectural marvels but also offer a soulful and blissful experience. Temple Tour Guide accompany you on this spiritual journey, where you can find peace, seek blessings, and marvel at the rich cultural heritage of these sacred places. A temple tour guide can provide valuable information about the temple's history, architecture and rituals.
Best Delhi Tour Guide for Old and New Delhi Tour
1. Akashardham Famous Temple in Delhi
The Akshardham temple complex is one of the most magnificent temples in Delhi, a remarkable feat of architecture and art that is a testament to India's rich cultural heritage. Spread over a sprawling land, the temple complex is an embodiment of Indian art, culture, and spirituality. The beauty of the temple architecture is amazing, with intricate carvings, detailed sculptures, and exquisite designs that captivate the eye. The exquisite craftsmanship of the temple reflects the passion and dedication of the artisans who created it, and the result is a work of art that stands the test of time. Swaminarayan Akshardham came into existence as a result of Shri Yogi ji Maharaj's desire to build a temple complex in Delhi. He proposed the idea around 1968 and developed it in 2005.
As a guide for temples in Delhi, it is highly recommend adding the Akshardham temple complex to your itinerary while exploring the city's famous temples. The beauty and grandeur of the temple's magnificent architecture, combined with the rich cultural and spiritual experience it offers, make it a must-visit temples in Delhi. This temple offers interesting insights into temple history, art and culture. Various exhibits within the complex provide visitors with an in-depth understanding of India's cultural and spiritual heritage, and multimedia shows and dioramas are a feast for the senses.
During your visit to the Temple complex, make sure you take your time and explore all it exhibition and cultural show. The temple's architecture, intricate carvings, and beautifully landscaped gardens are a feast for the eyes, and a testament to the exquisite craftsmanship of India's artisans.
Visit to the Akshardham temple complex is an enriching and enlightening experience that offers something for everyone. Whether you are interested in architecture, art, or spirituality, the temple complex is sure to leave a lasting impression on your mind and soul.
Timings: 8.30 to 9.00 in the evening. Entry closes at 6 pm. Temple is closed on Monday
2. Bangla Sahib Discover the Spiritual Bliss at Temples in Delhi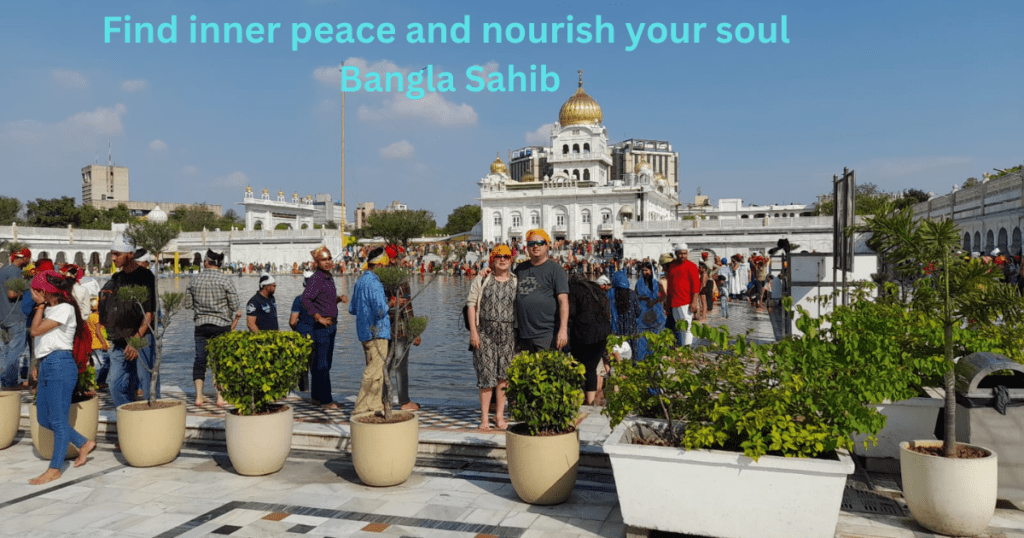 Banala Sahib is one of the most famous temples in Delhi and a significant place of worship for the Sikh community. It is believed that Guru Tegh Bahadur Sahib, the ninth Guru of the Sikhs, stayed at this place during his visit to Delhi. Bangla Sahib is a Sikh temple situated near Connaught Place, and its magnificent architecture is a sight to behold. Visitors can witness the rich history and culture of Sikhism by exploring the temple and its surroundings. The main attraction of the temple is the holy Sarovar, a serene pool of water, where devotees take a dip to seek blessings. Langar, a communal meal served to all visitors, is a unique feature of this temple in Delhi, where everyone is welcome to share a meal regardless of their caste, creed or religion. The atmosphere of the temple is spiritual and peaceful, and visitors can take a break from the hustle and bustle of city life.
Timings: All Day best time to visit morning or evening.
3. Lotus Temple a Spiritual Gem of Temples in Delhi
The Lotus Temple is one of the most stunning and a unique temples in Delhi. Its architectural design is shaped like a lotus flower, with 27 petals made of pure white marble. The temple is surrounded by nine ponds, which not only add to the beauty of the temple but also help keep the temperature inside the temple cool. The Lotus Temple is a Bahá'í House of Worship, and visitors of all religions are welcome to come and experience the serenity and peacefulness of the temple. It is a must-visit for anyone exploring the temples in Delhi, and a great place to take some time to reflect and rejuvenate.
The Lotus Temple is one of the famous temples. As a temple tour guide, highly recommend adding this architectural marvel Temple tour in Delhi. The temple's unique lotus-shaped design, set amidst serene landscaped gardens, is a sight to behold. The temple's interior is just as captivating, with its spacious prayer hall and high-ceilinged central dome. visiting Lotus temple is a soulful and enriching experience that leaves a lasting impression on the mind and spirit.
4. Kilkaari Baba Bhairav Nath an Ancient Temples in Delhi
If you're looking to explore the diverse temples in Delhi with a tour guide, a visit to the Bhairon Mandir is a must-add to your itinerary. This unique Hindu temple, located in the backside of Old Fort in Pragati Maidan, offers an intriguing experience for devotees. Built by the Pandavas themselves, the temple is known for its distinct practice of offering alcohol to the deity, which takes place in a separate wing called Kilkari Bhairav Temple. The other wing, Dudhiya Bhairav Temple, is where milk is the primary offering. Keep in mind that alcohol is not available for purchase on the temple premises or nearby, so visitors must bring their own if they wish to offer it. A visit to Bhairon Mandir is sure to be an unforgettable experience. It is important to note that the temple has no shops selling alcohol inside the premises or anywhere near, so if you wish to offer alcohol, please purchase it before arriving at the temple. Near By Humayun"s Tomb a world Heritage Site.
5. Uttara Swami Malai Mandir Hill Top Temples in Delhi
Malai Mandir, also known as Uttara Swami Malai Mandir, is a beautiful South Indian temple located in the city of Delhi. It is one of the famous temples in Delhi where Hindu devotees from Tamil, Telugu, Kannada and Malayali states come to worship. The temple is dedicated to Lord Swaminatha, also known as Lord Murugan, and has an interesting history. The name of the temple is derived from its location on top of a small hill ('Malai' is Tamil for hill). According to legend, Lord Swaminath appeared in the dream of one of his devotees and indicated that his abode would be a small hillock amidst bushes. Thus the Malay Mandir was established in 1961. The main temple dedicated to Lord Swaminatha, also known as the Garbha Griha (sanctum sanctorum), is situated atop a small hill in the tradition of building Murugan temples on an elevation. Its structure is inspired by the Chola style of South Indian temple architecture.
Unique temple in Delhi built in the Pandya and Pallava styles of southern temple architecture, as well as other smaller temples. All the temples are beautifully designed with vibrant colours, making it a pleasant sight to behold.
Read Meditation on Travelling.
6. Mahabodhi a Soulful Temple in Delhi
Located adjacent to the majestic Birla Temple, this tranquil Buddhist temples in Delhi is a hidden gem that should not be missed during your visit. Under the guidance and teachings of the Maha Bodhi Society of India, this temple holds great spiritual significance among the followers of Buddhism in Delhi. Stepping into the temple, one can feel a sense of calmness and inner peace. The beautifully designed interiors with intricate artwork and carvings create an aura of serenity and harmony. The temple's central shrine is adorned with a magnificent statue of Lord Buddha, exuding a divine presence that touches the hearts of the devotees. If you are interested in delving deeper into the teachings of Buddhism, this temple also houses a center for discipleship. You can spend some time in meditation, seeking enlightenment, or simply pay your respects to the gurus.
7. Bade Hanuman Ji Temple in Delhi
Bade Hanuman ji is a famous temple in Delhi, which is a must-visit attraction while traveling through the Delhi Metro's Blue Line. The 108-feet tall statue of Lord Hanuman is land mark temple in Delhi, which you can be see from both Karol Bagh and Jhandewalan metro stations. The temple is especially crowded with devotees on Tuesdays as it is considered Lord Hanuman's day. Apart from the impressive red saffron statue of Lord Shri Hanuman, the main entrance of the temple is also very unique. It is built in the shape of the deity's mouth, and after passing through it, you reach the sanctum sanctorum of the temple. The flagged Hanuman Temple is just one of the many beautiful temples in Delhi that you can visit during your trip to the city.
If you are planning to visit the temples of Delhi, then do so during the evening aarti as a special spectacle takes place at that time, which is a magnificent and spectacular sight in itself.
8. Gauri Shankar a Spiritual Splendor Temple in Delhi
Gauri Shankar Temple, located in the heart of Chandni Chowk, is a must-visit destination for spiritual seekers on a Old Delhi walk. Dedicated to Lord Shiva and Parvati, this magnificent temple was built by a maratha soldier who took a vow to construct it if he came through his sufferings during the war. Today, it has become an important place for all Hindu devotees, especially those who have faith in Lord Shiva. As you enter the temple premises, you will be surrounded by a sense of tranquility and devotion. The 800-year-old brown Lingam, encased in a marble representation of a female organ, is a sight to behold. It is said to represent a cosmic pillar, the center of the universe or life, and is surrounded by silver snakes, adding to its spiritual aura.
To truly immerse yourself in the temple's spiritual atmosphere. The temple is decorated and well-lit, creating a picturesque and awe-inspiring experience for visitors. Although the temple can be crowded on Mondays, which is considered the day of Lord Shiva, a temple tour guide can help you navigate the crowds and enhance your spiritual experience at this significant temple among the many temples in Delhi.
9. Birla Mandir A Must-Visit Temple in Delhi
Welcome to the famous Temples in Delhi with Tour Guide, where you can explore the beautiful and famous Lakshmi Narayan Temple, also known as Birla Mandir. Built in the early 1930s by BD Birla, this multi-storied temple is a major attraction in Delhi.Birla Mandir, is one of the must-visit temples in Delhi. The temple complex covers 6.27 acres and is adorned with shrines, fountains, and beautiful Hindu and nationalist sculptures. It's a major attraction in Delhi, during Janmashtami and Diwali festivals. The temple is open to all people, all castes and races, without any discrimination or barriers, you'll find the shrines of Lord Vishnu and Goddess Lakshmi, along with stunning wall paintings and carvings. The temple complex also includes other temples dedicated to Hindu deities like Lord Shiva, Goddess Durga, Hanumanji, and Ganeshji. Additionally, the temple houses Geeta Bhavan, Krishna Mandir, Sai Baba temple, and Panchmukhi Shivalia in Vatika. With its beautiful architecture and serene garden adorned with shrines, fountains, and sculptures, this temple is a must-visit destination in Delhi.
Timings: 6 AM 2PM 4 PM 8 PM
Also See Famous Sufi Dargah in Delhi For Blessings
10. Hanuman Mandir Temples in Delhi at C.P.
Hanuman Mandir is a famous Hindu temple located in the heart of Delhi's bustling commercial and financial district of Connaught Place. The temple is dedicated to Lord Hanuman, the monkey god, and is one of the oldest and most revered temples in the city. According to popular belief, this temple in Delhi was built during the era of Mahabharata. Later, Maharaja Jai Singh renovated it into its present form.
However, while you are exploring the temple, don't forget to take a look at the roof above you. You will find beautiful images of Lord Rama on it, which makes the whole temple more real and magnificent. The magnificent architecture of the temple and the intricate carvings on the walls and pillars are testament to the skill and craftsmanship of the artisans of yesteryear. The calm and peaceful atmosphere of the temple is a welcome respite from the hustle and bustle of the busy city, making it a must-see for anyone visiting Delhi's temples.
Visit: Gurdwara Bangla Sahib sikh Temple is Nearby.
11. Ladakh Buddhist Vihara Temple in Delhi
The Ladakh Buddhist Vihara is a must-see for anyone interested in exploring the diverse range of temples in Delhi. Its peaceful atmosphere and interesting history make it a perfect place to find inner peace and learn more about Buddhism. This Buddhist temple in Delhi is a testament to India's secular values, and its peaceful surroundings are perfect for achieving inner peace. The temple is situated on the banks of the river Yamuna, which only adds to its serene atmosphere. As soon as you step inside the brightly colored building, you will be taken home with a sense of joy. In the center of the monastery, a large Buddha statue stands tall, welcoming people of all castes and religions. To enhance your experience of the temple, you can hire a tour guide who can tell you about the history and significance of the temple. Also provide you with fascinating insights into the Buddhist religion and the symbolism behind the giant Buddha statue, making your visit to the temple even more enriching and meaningful.
While exploring the Ladakh Buddhist Vihar, don't forget to spin the prayer wheels, which are considered auspicious by devout Buddhists. These prayer wheels are believed to radiate positive energy and bring good fortune to those who spin them. Visit Majnu ka Tilla Gurudwara and Mini Tibet nearby.
12. Iscon Temple in Delhi
If you're looking to explore temples in Delhi, then the ISKCON temple should be at the top of your list. The ISKCON Temple in Delhi, also known as Sri Sri Radha Parthasarathi Mandir, is one of the largest temple complexes in the entire country and a popular attraction for both locals and tourists alike. This temple complex is dedicated to the worship of the deities of Krishna and Radharani, which is part of the Vaishnava sect of Hinduism. In addition to the idol worship arrangements, the temple complex also houses a Vedic cultural center that includes animatronics, art galleries, and more. One of the main attractions of the cultural center is the largest printed version of the Bhagavad Gita, which is considered one of the most important Hindu religious scriptures.
The ISKCON temple in Delhi is also a popular choice for those looking to get married in a temple. The evening aarti held at the temple is a must-see for anyone visiting the temple, as the pious flames and chants will surely stir the religious person in you. Visit Nearby Lotus Temple The Bhai;s House
Timings: Morning 5.00 Am till 9.00. Remains closed between 1.00 to 4.00 Pm.
13. Sai Baba Temple in Delhi
If you're exploring temples in Delhi, then make sure to add Sai Baba Mandir to your list. Located on Lodhi Road, this temple is dedicated to the worship of Sai Baba, who believed in the presence of just one god. Despite its relatively simple structure, this old and quaint temple has been visited by people from far and wide, who all share the view that it has a tranquil and peaceful atmosphere.
Whether you choose to take a stroll around the temple or simply sit in front of the large idol of Sai Baba in the hall, spending a couple of hours at this shrine can leave you feeling calm and at peace with yourself. Keep in mind that Thursday is considered the day of Sai Baba, so the temple is usually crowded on this day. If you want to avoid the crowds and experience the tranquility of the temple, it's best to plan your visit accordingly. Don't miss out on visiting this serene temple while exploring the temples in Delhi.
Visit Near by: Lodhi Garden.
14. Jogmaya Temple in Delhi
Delhi is a city of many cultures, religions, castes and creeds, and has many temples worth visiting. One such unique temple is Yogamaya Temple, the only temple in Delhi dedicated to Yogamaya, the mother of all creation. Believed to have withstood the test of time for the past 5000 years despite many attempts to sabotage it, this temple is a must-visit for its historical significance and architectural beauty. In the month of October, you can enjoy the Festival of Flower Seer, the only occasion when the entire temple is decorated with fresh flowers and comes alive with a burst of colors. Delhi's temples are a great way to get blessed and explore the city's rich cultural heritage. So, make sure to add Yogmaya Temple to your list of temples in Delhi. Visit nearby: Adam Khan's Tomb known as Bhul Bulaian.
15. Shri Jagannath Temple in Delhi
Temples in Delhi; A white replica of the spectacular Shri Jagannath Temple of Puri, it is one of the most important temples for the Oriya community. The temple has great cultural significance, with Lord Jagannath as its main deity. Visit the temple during Rath Yatra festival and see it come alive with prayers, mantras and hundreds of devotees. The temple premises also have smaller shrines dedicated to other deities like Lord Shiva, Lord Ganesha and Goddess Lakshmi.
The aroma of fresh flowers, the sound of bells and chants greet you as you enter the temple. The peace and tranquility within the temple makes it a perfect place to meditate and find peace. The temple's intricate carvings and architecture add to its beauty and are a must-see for those interested in Indian temple architecture. If you are interested in exploring the rich culture of Delhi and its diverse communities, visit these beautiful temples in Delhi and witness the spirituality and devotion that fills these holy places.
Also See Hauz Khas Village Walk
16. Kalka Ji Temple in Delhi
Built in the year 176, this historic temple is among the oldest and most revered temples in Delhi. Dedicated to the Hindu Goddess Kali or Adishakti, the temple is considered highly sacred by devotees and has a rich history and cultural significance. People from all over Delhi and beyond often come here to pay their gratitude and seek blessings after the fulfilment of their wishes. Despite being a popular destination, the temple maintains its spiritual ambiance, and the serene atmosphere inside the temple can help you attain peace of mind. The temple is mostly crowded on weekends, so it is recommended to visit the temple on weekdays to avoid crowds. However, if you want to witness the temple all lit up, visit during Navratri, a nine-day festival dedicated to the Goddess Durga, which is celebrated with great fervor and enthusiasm. Make sure to add this historic temple to your list of must-visit temples in Delhi.
17. Chattarpur Temple in Delhi
Chattarpur temple, dedicated to Goddess Katyayani, is a spiritual gem among the famous temples in Delhi. The temple is constructed entirely from marble, with intricate jaali work on every facet. The complex also boasts temples dedicated to Lord Rama, Lord Ganesha, and Lord Shiva, built in both South and North Indian styles of temple architecture
The temple is especially popular during the nine-day Navratri festival, with over a million people thronging the temple for a glimpse or Darshan of the Goddess Katyayani. The temple is also home to various idols, including the idol of Sankatmochan Hanuman, Shri Ram with his divine consort Sita on one side and brother Lakshman on the other, and Shree Radha Krishna. Chattarpur temple is undoubtedly one of the most sought-after places of worship in Delhi and North India, offering a spiritual and touristic experience that is sure to leave a lasting impression on visitors.
Visitors can park their vehicles in the free parking lot in the Dharamshala complex across the road from the main temple entrance. Upon entering the main temple complex, visitors can explore various temples, including the temple of Lord Shiva and Maa Parvati, the Ram Darbar, and an imposing statue of Lord Hanuman. The floodlights offer a majestic view of the entire area during evening hours, making it an unforgettable experience. Make sure to add this temple to your list of must-visit temples in Delhi. Visit world heritage site Qutub Minar Near by.
Nearest Metro Station: Chhatarpur on Yellow Line. Temple opens at 6 AM. Contact: +91-011-26802925
18. Dada Bari Jain Temple in Delhi
the magnificent temple devoted to Dādā Guru Manidhari Jinachandra Sūri ji is definitely worth a visit. Built in white marble, the temple's square structure boasts of richly carved pillars and brackets, and is surrounded by a corridor with small idols of Tirthankaras in each cell. As you enter the temple complex through a semi-circular arched gateway made of marble, you'll first come across a verandah followed by the main temple. One of the most striking features of this temple is its back wall, which is entirely carved with stories and characters from the Jain religion. The temple houses small shrines of various Jain Tirthankars placed in a very aesthetic way. The roof is supported by columns joined with bracket type raking struts, with spires built on horizontal courses with successively diminishing squares, laid diagonally to reach each other, and topped with Amalaka crowned with Kalasha.
Also See Mehrauli Archeological Park Walk
19. Shiv Murti Discovering the Wonders of Temples in Delhi
Located on the outskirts of Delhi, the towering statue of the lord of destruction is a sight to behold for all those travelling to and from Gurgaon via NH-8. The sheer scale of this iconic structure is breathtaking – so much so that it once caused an airplane to take a detour! As you approach the site, you'll be struck by the grandeur and majesty of this towering masterpiece. The grounds surrounding the statue are expansive and well-maintained, making it an ideal spot for a leisurely stroll or quiet contemplation. As you make your way towards the entrance, you'll pass a single stall on your right selling a variety of offerings, from fragrant flowers and incense sticks to traditional prayer books and religious artifacts. This serene and peaceful environment offers a welcome respite from the hustle and bustle of city life, allowing you to connect with your spiritual side in a truly awe-inspiring setting. Whether you're a devout believer or simply a curious tourist, this iconic statue and the temples in Delhi are sure to leave a lasting impression on all who visit.
Also See Best Places to Visit in Delhi with Tour Guide.
20. Gufa Wala a Famous Temples in Delhi
If you're looking to explore offbeat and unique temples in Delhi, the Gufa Wala Temple in Preet Vihar is a must-visit. This spiritual haven attracts devotees of all ages, from children to elders. The temple features huge idols of Shri Hanuman and Shri Ganesh, as well as a zigzag and thrilling way to reach from one idol to another.
Shiva devotees flock to the temple on Mondays for darshan of Lord Shiva. The Maa Vaishno cave is one of the major attractions of the temple, and the best time to see the amazing view is in the evening. Photography is allowed in the outer premises of the temple. Don't miss the chance to discover the hidden gems of temples in Delhi with Tour guide.
The most convenient way to reach the temple is to get down at the Preet Vihar Metro station on the Blue Line. Temple Visiting time:
5:00 AM – 12:00 PM, 5:00 PM – 9.00 PM Cave: 7:00 AM – 12:00 PM, 5:00 PM – 9.00 PM
Also See: Hidden Places to Visit in Delhi.
21. Digamber Jain an Old Temple in Delhi
If you are looking for a spiritual and cultural experience in the heart of Old Delhi, a visit to the Digambara Jainlal Temple at Chandni Chowk is a must. One of the oldest and most revered Jain temples in Delhi, this magnificent structure dates back to the 17th century and is known for its magnificent architecture and rich history.
22. Marghat Wale Hanuman Temple in Delhi
If you're seeking spiritual solace and divine blessings, a visit to the Marghat Wale Hanuman Mandir in Delhi is a must-do. This ancient temple is dedicated to Lord Hanuman and is known for its powerful and wish-fulfilling capabilities. It is believed that praying at this temple can help devotees overcome obstacles, bring success and prosperity, and fulfill their deepest wishes.
The temple's serene and tranquil ambiance provides a respite from the hustle and bustle of the city, allowing devotees to connect with the divine and seek inner peace. Marghat Wale Hanuman Mandir is easily accessible and attracts thousands of devoties . Whether you're seeking divine blessings or simply want to experience the spiritual energy of this ancient temple, a visit to the Marghat Wale Hanuman Mandir promises to be a deeply fulfilling and wish-fulfilling experience.
Visiting temples in Delhi is to explore the city's rich cultural heritage and spiritual significance. Delhi is home to a vast number of temples, each with its own unique history, architecture, and traditions. Visiting these temples not only provides an opportunity to seek blessings and spiritual enlightenment but also allows visitors to learn more about the city's diverse religious and cultural traditions. Additionally, the peaceful and serene atmosphere of the temples provides a much-needed break from the hustle and bustle of city life, making it an ideal place for relaxation and introspection.

Delhi Tour Guide
Tagged:
ain temples in Delhi
Akashardham Temple
Bangla sahib
Delhi Temples
Delhi tour guide
Delhi's religious places
famous temples in Delhi
Hindu temples in Delhi
lotus temple
Sacred temples to visit in Delhi
Sikh temples in Delhi
Spiritual sites in Delhi
Temples in Delhi
Temples with historical significance in Delhi