Walk at Hauz Khas Village is a fascinating destination that seamlessly blends the old world charm with modernity. A walk through the vibrant lanes of the Hauz Khas village takes you on a journey back in time to the 13th century, when the area was first occupied by Sultan Alauddin Khalji and a beautiful water lake (reservoir) was excavated, giving the place its name. Experience the best of Hauz Khas Village Walk takes you through the narrow lanes of the Hauz Khas village, past medieval structures such as an Islamic seminary, a mosque, a tomb, and pavilions, all hidden behind modern-day establishments like designer labels, trendy cafes, and quirky restaurants.
Hauz Khas Village Fort History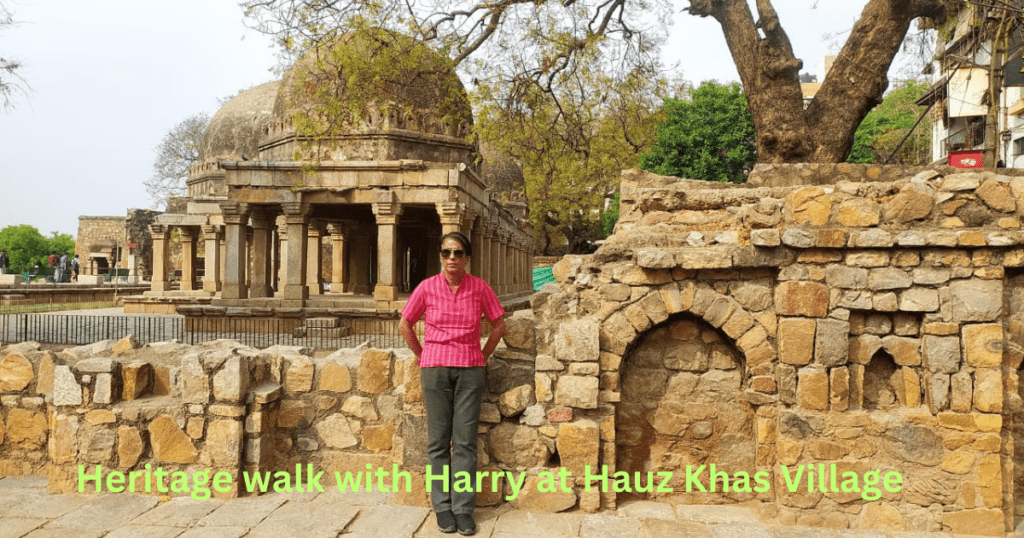 Hauz Khas Complex which consists of the Hauz Khas Lake or Royal Tank, a mosque and a tomb, all from the time of the Khalji dynasty. The umbrella-like architecture at the Hauz Khas complex are believed to be the graveyards of madrasa teachers. As you walk, you'll hear fascinating stories and anecdotes about the lives of the people who lived here centuries ago. It's a unique opportunity to experience the blend of old and new that defines Hauz Khas Village Walk, is a must-visit destination for anyone interested in architecture, culture, and history.
Hauz Khas Village Walk: A Blend of History Through Time
Embark on a journey through time with the Hauz Khas Village Walk, a guided tour that takes you through the fascinating history of this ancient village in the heart of South Delhi. The walk starts at the Hauz Khas Fort, a stunning structure that sits amidst a well-manicured park and a reservoir. The fort was built in the 14th century by Sultan Firuz Shah Tughlaq, who also developed the surrounding area into a small village.
As you explore the village, you'll come across a number of domed structures that house the tombs of Delhi Sultanate rulers from the 14th to 16th centuries. One of the most prominent structures is Hauz-i-Alai, a reservoir that was built during the reign of Sultan Alauddin Khilji in 1295 AD. This reservoir was designed to supply water to the nearby city of Siri and also served as a place for the public to gather and relax.
The village of Hauz Khas became a hub of education during the 14th century, attracting scholars and intellectuals from all over the region. Many historic structures were built during this time, including a madrasa (Islamic school) and a mosque, which still stand today. The Hauz Khas Village Walk takes you through historic monuments from the era of Delhi sultanate and narrow, colorful and vibrant village streets where you can enjoy listening to interesting stories. the Hauz Khas Village Walk is a must visit for anyone interested in the rich history and culture of Delhi. This guided walk provides a unique insight into the city's past that you'll never forget.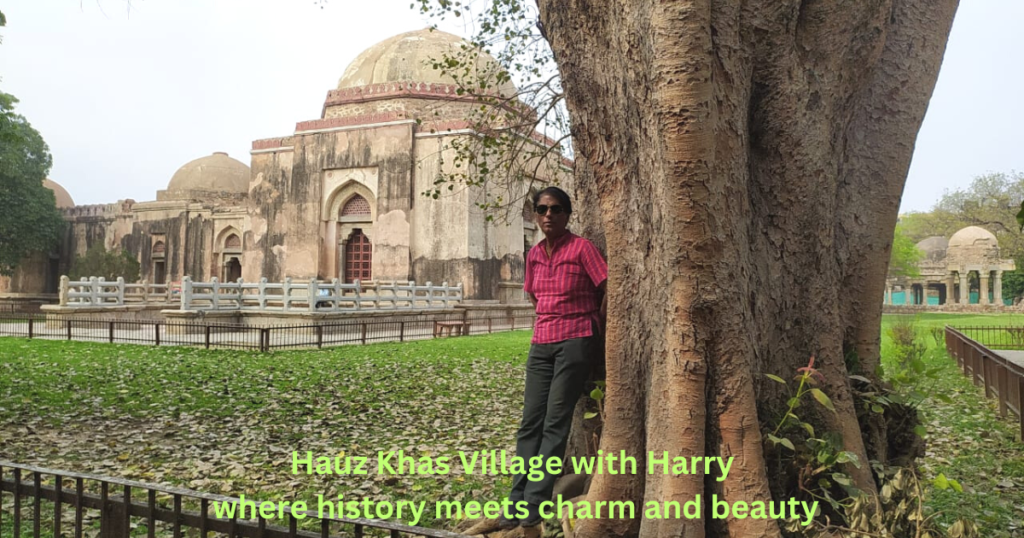 Over time, the village fell into disrepair, and it was not until the 1980s that the area was revived as a cultural and commercial hub. Today, Hauz Khas Village is home to numerous restaurants, boutiques, art galleries, and other attractions. However, the area's rich history is still visible in the many historic structures that dot the neighborhood, making it a fascinating destination for anyone interested in Delhi's past.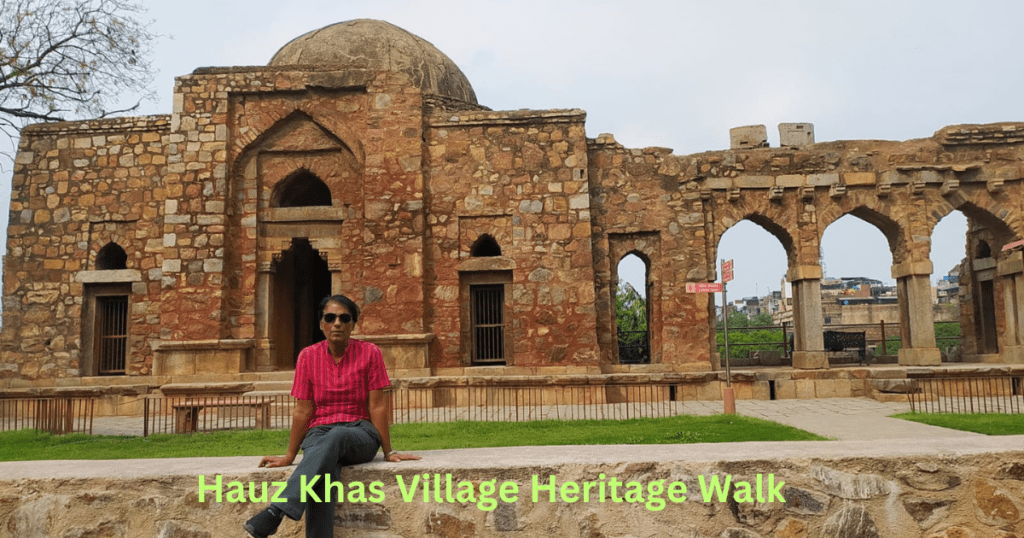 The tomb of Feroz Shah Tughluq, the famous ruler of the Tughluq dynasty, is at the end of the road. Hauz Khas, which translates to "Royal Lake" in English, is the name of the lake that is now part of the sprawling Hauz Khas Village complex. Hauz Kkas village is located around Deer Park complex. The lake is surrounded by a mosque, a mausoleum and a Madrasa. Delhi Tour Guide.
Hauz Khas Village Walk Overview
The Hauz Khas Village Walk is a 3-hour private walking tour in south Delhi that takes you through the Hauz Khas heritage park and urban village. The tour includes a visit to the famous Deer Park, where you can watch free-roaming deer, peacocks, and rabbits. You will also get to explore the 13th-century monuments near Hauz Khas Lake, and take a walk of the Hauz Khas Fort and the village. The walk ends with the visit to the hip and happening of Hauz Khas village streets, which has trendy shops, boutiques, creative studios, restaurants, and cafes. The includes complimentary snacks, an experienced tour guide, and hotel pickup and drop-off. The walk begins at the Hauz Khas Metro Station, Gate No. 3, and ends at the same location. This Hauz Khas village walk is perfect for history lovers and anyone who wants to explore the urban village of Hauz Khas.
Hauz Khas village All You Need to Know
In Persian, Hauz Khas is derived from two words meaning 'house' = tank and Khas = 'shahi' meaning the royal water tank around which the entire structure is built.
Hauz Khas monument complex is also called the Little Fort of "Chotta Qilla"
Hauz Khas Village, affectionately called HKV or Urban Village of Delhi, is an Islamic seminary or seminary established in 1352, which houses the most impressive mosque of multiple sizes, the tomb of Feroz Shah and his There are domes built around. Here are the pavilions. A water tank. The construction can be traced back to the Delhi Sultanate in the 13th century.
The Delhi Tourism Department organizes a light and sound show every evening that illustrates the historical stories behind the complex.
If all goes well, India's first night bazaar may also be here soon – "Eco Night Bazaar". There will be arrangement of organic food grains, rare plant seeds, handmade paper products, cultural festivals/folk dances/drama and an open air theatre.
The Indian National Trust for Art and Cultural Heritage organizes "Heritage Walks" every year where people pay a certain amount to participate in crowd awareness and enlightenment about cultural and heritage sites.
Hauz Khas Village Restaurants Pubs Cafes Night Life
Hauz Khas Village is the perfect destination for couples looking for a romantic place in Delhi. The village offers a unique blend of history, culture, food, nightlife and art. A foodie's paradise, the village offers a wide range of options from traditional Indian cuisine to international cuisine. The relaxed atmosphere of the Village Restaurant makes it a perfect place for a romantic dinner.
At night, the village comes alive with its vibrant nightlife, offering numerous bars, pubs and clubs to choose from. Whether you want to dance the night away or enjoy a drink with friends, you'll find something to suit your taste in Hauz Khas Village. The village is also a great place to shop for unique and handmade items such as clothing, jewelry, home décor, and gifts. Visitors can explore several contemporary art galleries that showcase the works of established artists from India and abroad. The village also has a rich history and culture, and visitors can explore ancient monuments such as Hauz Khas Complex, Hauz Khas Fort and Hauz Khas Lake, and learn about the rich heritage of the village. Hauz Khas Village is also famous for its cozy and lively cafes that provide a relaxed atmosphere and a great place to hang out with friends and family. Visitors can explore the village's vibrant street art and participate in a variety of events such as dances, concerts, cultural shows, exhibitions and workshops. The village also offers food tours, which are a great way to experience delicious local cuisine and sample a variety of flavors.
Hauz Khas village is popular among the youth of Delhi Hauz Khas is a special and wonderful place that you must experience once and you will always keep coming back for more!
Hauz Khas Village Fort Cafés
Make the most of this happening hangout experience. Village retains its old charm. It's the perfect way to give yourself a day to explore. Browse art galleries and antique shops, sip cappuccinos while sauntering through atmospheric ruins, gaze at the tranquil waters of Hauz Khas Lake and feel the vibe of Delhi's most vibrant 'HKVs', teeming with art. Known for its electrifying nightlife with cafes and bars. Pub galleries, and boutiques. It has an infectious energy, and you can find many live events organized by the café during the weekend, from stand-up comedy to live jazz. The present condition of Hauz Khas Village retains its old charm and is one of the most romantic place in the city.
Hauz Khas Village Best Restaurants & Cafes
With many pubs Restaurants Cafes and Bars in the Hauz Khas Village area, it is visited by hundreds of youngsters every day and is a party paradise. The old Delhi Sultanate village has become a paradise for party lovers and night life in Delhi. "Hauz Khas Society" is the most sought place in Hauz Khas village. It showcases all the major sporting events and has an impressive menu. Summer House Cafe is another popular cafe with indoor, outdoor and rooftop arrangements. Rasta is another impressive cafe with live music dance parties and electronic performances every night. Imperfecto, Rabbit Hole, High5 Cafe & Bar, Rehab Gastropub, Levels and Out of the Box are some of the other places you can enjoy.
Hauz Khas has a wide and exquisite range of food from Himalayan to Continental. The first floor is filled with colorful pubs, bright restaurants and cafes. Yeti is a small and cozy place with the best of Himalayan and Tibetan food on the menu. Matchbox, Alibaba Q, Lord of the Drinks Meadow, Capsule by Hinglish, Beer Cafe, Farrow Cottage, Summer House Cafe, Calan Sky Bar, Chemistry and Theobroma are other popular options in the area.
Hauz Khas has a wide and exquisite range of food from Himalayan to Continental. The first floor is filled with colorful pubs, bright restaurants and cafes. Yeti is a small and cozy place with the best of Himalayan and Tibetan food on the menu. Matchbox, Alibaba Q, Lord of the Drinks Meadow, Capsule by Hinglish, Beer Cafe, Farrow Cottage, Summer House Cafe, Calan Sky Bar, Chemistry and Theobroma are other popular options in the area.
Social Hauz Khas Village
One of the most visited and popular sites in Hauz Khas Village is Hauz Khas Village Social, commonly known as "Social Offline". Hauz Khas Social is one of the most visited places to visit in Village. This is called social offline. This space is designed as a working space. Which is a perfect mix of many offices and cafes. Village Social consists of a two-storied building with the lower floor serving as a casual hangout facility. The top floor is the best place for freelancers.
After 6pm the place turns into a pub with social youth. The young man is dancing loudly. The best food is available at "Hauz Khas Social". Dishes here include Mutton Dhansk, Khema Pao, Beeda Roti, Chili Aloo, Toaster Mountain and Death Wing. It is the most crowded here. You may have to wait a little longer to get a table.
Dadi Poti and Veera Tomb at Hauz Khas Village Walk
On the path to Hauz Khas Village, the 'Dadi-Poti ke Maqbara', or the tombs of grandmother and granddaughter, stand as captivating relics. A must-see during your Hauz Khas Village Walk, these medieval structures near Sri Aurobindo Market are hard to miss. The granddaughter's tomb, erected between 1321 and 1414 in the Tughlaq era, contrasts the grandmother's tomb from 1451 to 1526 during the Lodi period. Adorned with Quranic verses, they add historical charm. Illuminated in vibrant hues at night, these tombs provide a welcoming sight, enriching your Hauz Khas exploration with an intriguing touch of antiquity.
Hauz Khas Village Nearest Metro Station & How to Reach
If you are a metro person, there is a metro station at Hauz Khas and also at Green Park on the Yellow Line. You can take an Auto Rikshaw on sharing up to Hauz Khas Village Parking.
Take a taxi from anywhere in Delhi city to reach the prominent destination of Hauz Khas Village. If you choose to reach here by bus, the nearest bus stop from here is called Haus Khas on Aurobindo Marg.
Discovering the Serenity of Deer Park: A Must-Visit Destination During Your Hauz Khas Village Walk
Deer Park is a lush green oasis in the heart of bustling Hauz Khas Village, offering a peaceful escape from the city's chaos. This beautifully manicured garden is home to over 200 deer, making it a unique experience for visitors. Take a stroll through the park during your Hauz Khas Village walk and enjoy the tranquility of the surroundings while admiring the natural beauty of the park.
A deer park is located near Hauz Khas village which is a popular weekend picnic spot for families. The park is known as AN Jha Deer Park after its founder Adityanath Jha. This green hub has many attractions like duck park, rabbit enclosure, picnic spots in its premises making it an ideal destination for families. You can also see walkers and joggers who visit this park daily to enjoy the fresh air. It is one of the largest green areas in Delhi as Deer Park is connected to District Park and Rose Garden.
Dear Park hours are 5:00 am to 8:00 pm in summer and 5:00 am to 7:00 pm in winter. Deer Park popularly known as the "Lungs of Delhi". the park is a common favorite among Delhiites looking to escape the city's pollution and dust. There is a respite.
Also try Dilli Haat INA for more restaurants shopping and fun.
Q1. Why Hauz Khas Village is famous?
A. Hauz Khas Village is a famous complex in South Delhi which is essentially Famous for its designer boutiques, specialty restaurants. This Hauz Khas village better known as HKV. Hauz Khas Village has a Madarsa, mosque and a tomb of Delhi Sultan Feroz Shah surrounded by a lush green garden and lake.
You Really Enjoy Hauz Khas Village and Want to Come again. Share Your Fun Experiences.