A Guide: Best Couple Places in Delhi for Romance
Delhi is the perfect destination to celebrate love and create memories that will last a lifetime. Our guide to the top couple places in Delhi offers something for everyone, with a focus on respectful, elegant, and heartwarming experiences. From beautiful serene gardens to historic monuments elegant malls and cafes or a sunset walks either blissful temples, there's a world of romance waiting to be explore. Whether you're looking for a quiet escape for a cool evening excitement, each of these places promises a time filled with love, passion. So why wait? Treat yourself and your partner to a journey of the heart in Delhi, and let us help you celebrate your love in the most unforgettable way. As a Tour Guide in Delhi from the last Twenty Years. Here I am sharing Best Couple Places in Delhi.
How to Propose a Girl? Couple Places in Delhi on Valentine's Day
There are many ways to propose to your partner, and the best way will depend on your relationship and what you appreciate about your partner. However, here are some tips and ideas to consider. Remember, the most important thing is that the proposal should show your love and commitment to your partner. So take the time to visit to Couple Places in Delhi.
Make it more personal: Think about what is special and unique about your relationship and try to incorporate that into your proposal. It could be a Couple Places in Delhi, a shared hobby or interest, or a personal joke that only the two of you can understand.
Be thoughtful: Plan ahead and think through the details. Make sure everything from the time to the location (a romantic couple place in Delhi) is correct. A place that is meaningful to both of you.
Always be honest: Speak from the heart and tell your partner how much you love them and why you want to spend the rest of your life with them. Hold her hand and look deep into her eyes so she knows you are sincere. Then, speak from your heart and express your love.
Try Be creative: You don't have to stick to traditional methods of proposal. Think out of the box and come up with something that is truly unique and memorable for both of you. Wear a smart outfit that she complimented you earlier, so you look hot.
Wow a Surprise: If you can, try to trick your partner and surprise him with the proposal. It will make your moment more special at Best Couple Places in Delhi. You both want to remember this magical moment, so capture it with a camera. Tell your photographer or a friend how to take photos.

Get help from friends and family: If you want to include your partner's loved ones in the proposal, ask them to help you plan or participate in the proposal. It will make the moment more special and memorable for your partner. Let her parents know you plan to propose before popping the question. Her parents will really appreciate it if you tell them that you love their daughter and are planning to propose. Plus, they may be able to give you some insight into what would suit their daughter.
Consider a specific theme. If your partner has a favorite movie, book, chocolate or a mobile phone consider incorporating that into the proposal. This can be a fun way to make the proposal more personal and meaningful. Invite her out for a beautiful event so she gets lovely dressed up.
Make it a romantic getaway. Consider proposing during a romantic vacation or weekend getaway. This will make the moment more special and give both of you time to celebrate and enjoy the moment together. Be flexibleb Life happens, so be prepared to go with the flow. Don't rush into a proposal just because the sun is about to set on the couple places in Delhi, wait until the moment really feels right.
Propose with a special gift: Consider proposing with a special gift that represents your love and commitment, such as a piece of jewelry, ask her to show you rings that she likes. Be sure to hide the ring somewhere she won't be able to find it. you don't want to spoil the surprise. A special book, or a heartfelt letter.
Make it fun and memorable: Proposing should be a fun and exciting event not only for you but also for your partner. Therefore, don't be afraid to add some humor, fun, or a touch of adventure to the proposal. The most romantic proposals come from the heart, so focus on the little things.
Ultimately the most important thing is that you are genuine, sincere, and heartfelt in your offer. Get down on one knee before you ask her to marry you. Look into her eyes and ask her to be your wife. Be prepared for smiles and tears. Remember, a proposal is not the end goal, but the beginning of your journey together.
little more. Happy Valentine's Day Greetings.
Couple Places in Delhi for Love & Blessings: Bangla Sahib
Gurudwara Bangla Sahib is a Sikh temple and a popular tourist located near Connaught place at New Delhi. Bangla Sahib is a must visit by couples Places in Delhi for a divine blessings. Its a beautiful white marble temple complex with a large reservoir called sarovar.
Couple Places in Delhi for Dua: Nizamuddin Auliya dargah
Hazrat Nizamuddin Auliya is still spreading the light of guidance and satisfaction in the hearts and minds of the people. The message of love, peace and humanity is still given to everyone. Dargah Nizamuddin,
is a treasures of the Sufis are shared for the good of humanity. People from different parts of the world comes for Blessing so its a couples places in Delhi. for spiritual understanding. He came in the form of empty utensils and went back with knowledge and spirituality.
Couple Places in Delhi: Hauz Khas Village and Deer Park
Hauz Khas Fort is a one perfect couple places in Delhi to celebrate Valentine's. Spectacular outdoor seating amidst Deer Park makes it one of its kind in South Delhi. There's nothing like the open meadows amidst the deer park of Hauz Khas, if you are looking for a relaxed atmosphere, a genuine feel and great food. This is one of the most inspiring and romantic place to visit in Delhi. Many couples come here to spend some quality time. Many couples also prefer Hauz Khas for pre-wedding shoots, while many come here to enjoy some drinks with crazy music in the urban district. Hauz Khas Village is a hotspot for everything and is one of them. The most beautiful cafes in Delhi that provide a respite from the hustle and bustle. Hauz Khas Village Where Nature And History Merge together. Propose while watching the perfect sunset.

Couples in Delhi: Lodhi Garden and Monuments
The gardens have tombs of the Mughal emperors include the tomb of Muhammad Shah, the tomb of Sikandar Lodi, the Sheesha Gumbad and the Bada Gumbad and the architecture of their period. which serve as a mausoleum. Moreover, the twelve domes in the park are the popular couple places in Delhi to enjoy an intimate picnic. Lush and well-manicured gardens add to the charm of this historical attraction.
A relaxing afternoon at the ancient ruins of Lodhi Gardens amidst beautiful flower beds and beautiful views is just what you need after a busy day with your wife. Being the best park for couples in Delhi, couples can spend time chatting or simply relax in the sprawling lush green lawns and enjoy the tranquility of the gardens. Lodhi Garden is a nature's Paradise. Propose at the moment that your love is overwhelmed.
Couple Places in Delhi: Buddha Garden
On the outskirts of Delhi is an area called Dhola Kuan, where the forest area begins. Paradise in this area is the famous Buddha Garden which is considered as one of the best places to visit in Delhi for couples.
With well-kept and well-maintained the Buddha garden, attractions like ponds, Buddha statues, and walkways, the calm and serene atmosphere, and the presence of ducks attract everyone who visits here. During the changing seasons the lush green landscape takes on many hues, making this place a beauty worth couple places in Delhi for spending a Valentines day. Kneel down and purpose as you both are in the center of the gardens, surrounded by Merry Gold flowers in every direction.
Qutub Minar is Best Family and Couples Places in Delhi
Qutub Minar Complex is one of the best couple places in Delhi. Who love to explore the rich heritage of the city. This UNESCO World Heritage Site is a complex of magnificent looking ruined tombs and monuments built by the Sultans of Mehrauli.
The complex houses the famous Qutub Minar architecture which has a unique spiral staircase of 379 steps. Other prominent structures within the complex include the Iron Pillar, the Alai Minaret, and the Tomb of Altamish. During the winter months the Qutub festival of Indian classical music and dance takes place in the complex.
Couple Places in Delhi: Mehrauli Archaeological Park
The Mehrauli Archaeological Park, adjacent to the Qutb Minar complex, is situated on 200 acres of land in Mehroli. Within the park there are more than 20 historically important monuments in the beautiful gardens, that reflect the prosperous kingdom period in the ancient city of Mehrauli. The monuments here vary from Rajput style to Indo-Islamic architecture. Each structure tells an untold story of a bygone era. Garden has a rocky landscape with trees is a silent couple places in Delhi.
Couple Places in Delhi: Humayun's Tomb and Garden
Humayun's Tomb is a grand mausoleum built in memory of the Mughal Emperor Humayun. Made of red sandstone and white marble, this 47 meter high and 91 meter wide mausoleum is a UNESCO World Heritage Site. Complex has lush green gardens with fountains and water canals is a romantic couple places in Delhi. Proposed while Standing at the top of this magnificent tomb, at sunset for a breathtakingly blue sky view of the city. The tomb was built by queen Bega Begum, the Persian wife of Humayun and hence the monument is a perfect blend of love and power. Today, Humayun's Tomb is undoubtedly one of the most historical places to visit in Delhi for couples who love to delve deep into Indian history.
Couple Places in Delhi: Ridge Road North Campus
Perfect for a heritage tour in Delhi, Ridge Road in the North Campus has many historic structures surrounded by romantic trees in the garden, and has been part of some of the most important events in the past. The Ridge area has become a favorite among couples places in Delhi. Due to the expansion of the Aravalli, there is a waterfall in an area known as the Ridge, which is where the British prepared for their siege of Delhi after the 1857 Mutiny. With stunning green beauty and a serene lake, Ridge and Road is one of the best places to visit in Delhi by collage folks..
Couple Places in Delhi: Garden of Five Senses
Romantically Themed Garden of Five Senses is Located near Saket, this couple places in Delhi is one of the best places to spend some quality time with your significant other amidst the lush greenery. A perfect combination of gardens, bamboo groves and water ponds makes the whole environment so mysterious and a romantic place in Delhi. Share a small picnic Propose next to the Sun flowers and propose under the clear blue sky.
A truly romantic setting, the Garden of Five Senses is said to appeal to all human senses. Touch, smell, hear and see your surroundings. And regarding the sense of taste, there are various festivals and cultural events that are organized throughout the year to cater to the experience of everyone.
Couples Places in Delhi: Connaught Place for Cafes and Walk
Connaught Place is one of the most beautiful tourist places in Delhi. The entire Connaught exemplifies the Georgian architectural style. There are shops selling pastries, confectionery, homemade Swiss chocolate. Connaught Place is a popular couple place in Delhi. Sitting in Central Park just enjoying each other's company. Walk at Janpath Market C.P.
Despite the crowd and noise couple places in Delhi, it cannot be denied that this place is alive and vibrant with beautiful handicraft shops and delicious food from across the country. Though you might miss out on privacy here, you couple will have the time of your life tasting different cuisines and just chatting.
Couples Places in Delhi: Champa Gali for Cafes
Delhi never fails to present a lovely surprise. So if you're looking to chase away the Monday blues or compete for Taco Tuesday or just want to be a cute local who takes twee pics and posts them on your Instagram. Champa Gali is a fledgling place is fast gaining popularity not only for its raucous cafes, but also for its Parisian streets and fabulous labyrinthine setting. The place offers a rustic old-world charm and is a combination of its Betsy Cafeteria, coffee shop, art gallery, and a few organic knick-knack stores. The once haunted area of Saidla Jab near Saket has been revived and is now decorated with tinsel lights, cultural decorations, fancy thematic settings and small seating areas that will surely make you feel like 'Midnight in Paris'. Streets and alleys. A perfect Romantic Place in Delhi.
Couples Places in Delhi: Dhan Mill Complex Cafes
Dhanmill, once a warehouse and granary, is now one of the most aesthetically vibrant, chic places for Delhiites to shop, dine and discover art from the best artists and designers. Dhan Mill Complex is the perfect destination for couple places in Delhi, those who understand culture, creativity and luxury, and naturally.
P.V.R. Complex and Park is Friends & Couple Places in Delhi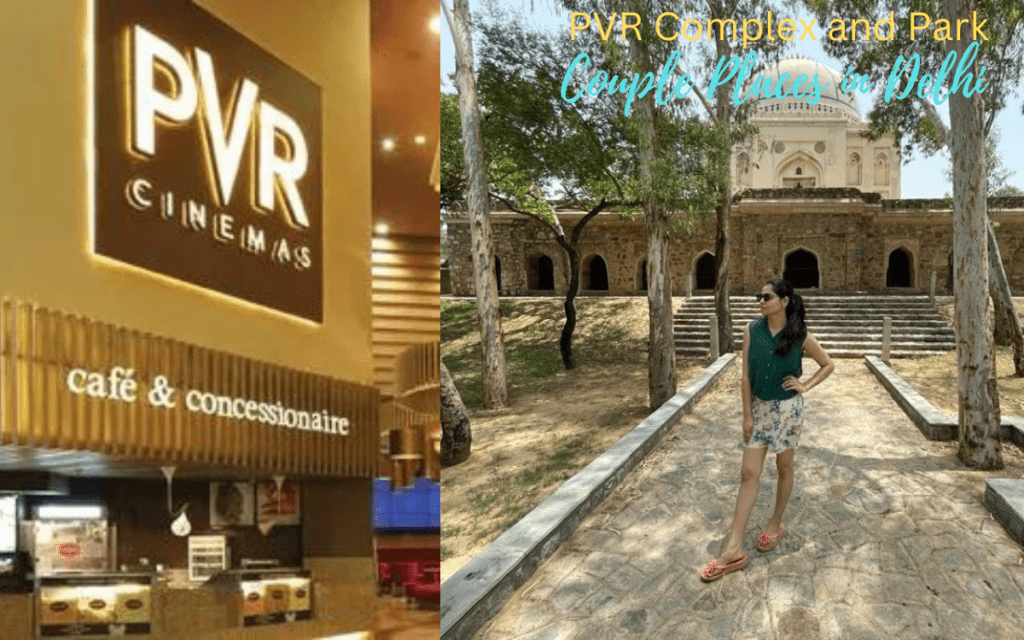 The first PVR in Vasant vihar with single screen and large setting capacity. is a cheap and best couple place in Delhi. Having almost all food outlets like mc Donald, pizza hut, south Indian food etc. Price is very affordable here as compared to other PVR. There is a beautiful garden and a historic tomb close by is a best place to hangout with friends and a couple places in Delhi.
Couples Places in Delhi: Dilli Haat INA for Gifting and Food
Are you in a new relationship? Well, then head to Dilli Haat INA with your partner to celebrate Valentine's Day. Dilli Haat INA is a vibrant couple place in Delhi to visit on Valentine's Day. You can enjoy music and entertaining games. If you are looking to buy Valentine's Day gifts for your partner, then there are a lot of stalls here. You can also enjoy delicious food at Dil Haat. Don't miss, the open space that allows you to spend some quality time with each other.
Couple Places in Delhi: Majnu ka Tilla/ Mini Tibet Restaurants
Majnu Ka Tila in Delhi. It is known for its historical and cultural importance as well as for being the settlement of Tibetan refugees. If you're looking for Couple Places in Delhi ideas for Valentine's Day. Popular among college students and tourists, it houses Tibetan restaurants, a monastery and small clothing shops. You might consider going out on a special date, or giving your loved one a thoughtful gift. Majnu Ka TIlla is a serene retreat, a hill-like market place, a place of worship in the hustle and bustle of Delhi's life. This place is warm and cozy. You can definitely enjoy good food at reasonable prices.
Biking Together find a Best Couple Places in Delhi
Biking together can also be a bonding experience, a great way to celebrate Valentine's Day. Not only is it a fun and active way to spend time together, but it also allows you to enjoy nature and the beauty of the outdoors. You can plan a scenic route through new couples places in Delhi. It can also be a great opportunity to have meaningful conversations and spend quality time. You can also plan a picnic at a romantic place in Delhi, it will be a great way to spend time together away from the daily hustle and bustle. Overall, riding a bike on Valentine's Day is something else.
Delhi is full of romantic locations but choosing few Couple places in Delhi to propose on Valentine's Day.
Q1. Where can I go on a romantic date in Delhi?
A. Best Places for a Romantic Date in Delhi are 1. Lodhi Garden, 2. Buddha Jayanti Park, 3. Dear Park, 4.Connaught Place 5. Garden of Five Senses, 6. Hauz Khas Village, 7. Dilli Haat INA. 8. Majnu ka Tilla.
Tagged:
Best Places for Couples in Delhi
Best Places To Visit In Delhi For Couples
couple places in Delhi
Places to celebrate Valentines
Private places for Couples in Delhi
Romantic Places in Delhi
Stay with GirlFriend in Delhi
Valentine Places in Delhi 2023