Delhi Tour Guide Welcomes you, Delhi the vibrant capital city of India, where history, culture, and modernity blend harmoniously. Delhi Tour Guide, takes you the Best Places to Visit in Delhi for an unforgettable and delightful experiences. Delhi Tour Package, unfolds its narrative with Travel Tips, Best Time to Visit Delhi. An alluring blend of rich heritage, vibrant culture, and timelessness romance. Wishing You a Wonderful Time..
Delhi Tour Guide: Best Price guaranteed INR-1500 Per Person
Experience the magic of Delhi with our expert Delhi Tour Guide
Duration: 8 hours
Price: Only 1500 INR per person
Highlights:

Explore the lively chaos of Chandni Chowk
Savor local street food delights
Visit the grand Jama Masjid
Explore the elegant Humayun's Tomb
Admire the towering Qutub Minar

Additional Adventure:
Enjoy a rickshaw tour through the historic lanes of Old Delhi
Knowledgeable Guide: Our guide will be your companion, sharing insights and local recommendations to make your day memorable.
Immersive Experience: This tour combines culinary delights, cultural heritage, and the charm of Old Delhi, promising a day you won't forget.
Old and New Delhi Full Day Tour 3500 Per Person
Duration: Full Day (8 hours)
Package Inclusions:

Airconditioned Car with Tour Guide
Skilled Driver+ Parking
Rickshaw Tour
Bottle of Water
Street Food Snacks and Masala Tea

Cost: INR 3500 Per Person
Highlights:

Explore Chandni Chowk's bustling lanes and savor street food
Visit the magnificent Jama Masjid
Marvel at the architectural elegance of Humayun's Tomb, Qutub Minar, Lotus Temple
Experience the charm of Old Delhi with a rickshaw tour
New Delhi Drive Pass and Photo stop at India Gate and Rashtrpati Bhawan

Guided Insights: Our knowledgeable guide will share stories and local secrets throughout the journey. It's an immersive experience that combines culinary delights, cultural heritage, and the charm of Old Delhi in one unforgettable adventure.
Excludes: Entrance fees to The Monuments, Tips Gratuity
Get ready to enjoy the wonders of Delhi, as we embark on an unforgettable journey through this captivating city. Delhi Tour Guide: Delhi Tour Map. Delhi Tour Guide on Face book: Go With Harry LinkedIn: Delhi Tour Guide-Harry
Harry is an exceptional Delhi tour guide! We opted for the package, and it turned out to be the best decision. From exploring historical sites to savoring local flavors, Harry curated an unforgettable experience. Her deep knowledge, friendly demeanor, and well-planned itinerary made our Delhi tour truly enjoyable. We felt like we got to know the heart of the city. If you're looking for a top-notch guide and a comprehensive tour package, Harry is the one to choose. Thank you for making our Delhi exploration so memorable
Harry is an outstanding Delhi tour guide! Our experience with Harry was nothing short of fantastic. Not only did we have a blast, but we also gained a wealth of knowledge about Delhi. Harry's passion for the city and its history is contagious. He made every moment enjoyable, and his insights into the local culture and history were enlightening. We laughed, we learned, and we explored the hidden gems of Delhi together. Harry's personalized tour exceeded our expectations, and we left with unforgettable memories. If you're looking for a guide who can make your Delhi tour both fun and educational, Harry is the perfect choice! Thank you, Harry, for a remarkable experience… Barry Oram
Private Delhi Tour Guide:
Enjoy Delhi Like Never Before
Delhi Tour guide are often one of the first to greet tourists and the last to say goodbye. Its role is to enhance the experience of our visitors and to become India's ambassador as a tourist destination. Delhi Tour Guide, will Show you the Best Places to Visit in Delhi. His interesting stories will transport you back into the time. You will Enjoy more time and save money. Best Delhi Tour Guide will show you the most popular places what tourists always dreamt of visiting. There is something about it that will instantly make Tourists fall in love with the city.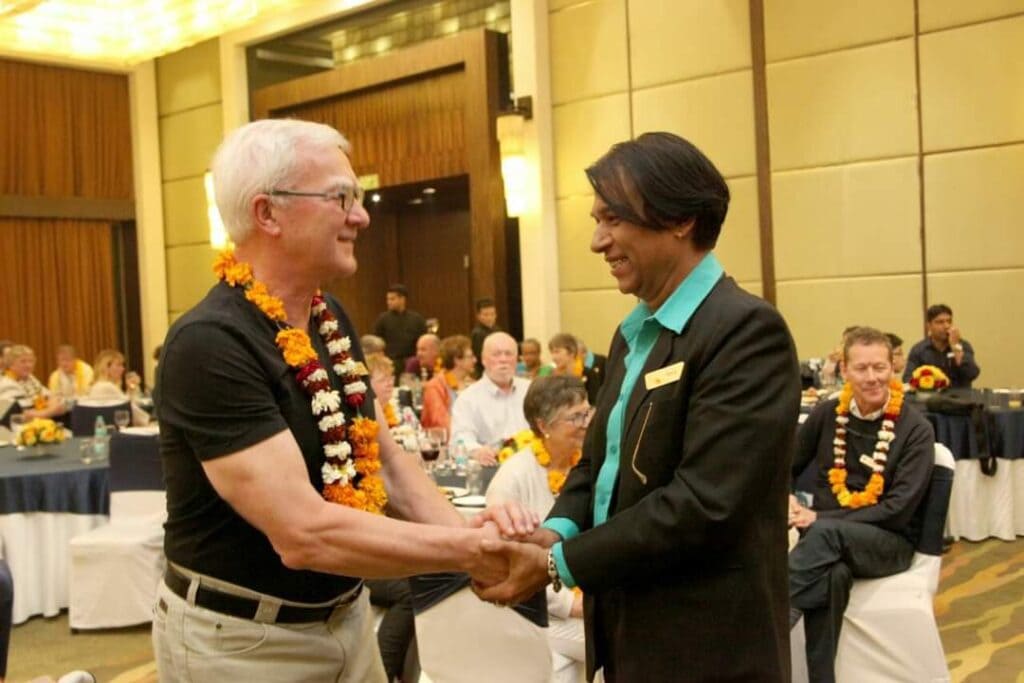 Thanks Giving by the Tour Leader is the best reward
Dear Harry,
I would like to take a moment to express my sincere gratitude for the wonderful Delhi tour you provided for our group. Your knowledge of the city's history, culture and cuisine was truly impressive, and your enthusiasm to share it with us made the experience even more enjoyable. Your attention to detail in planning and organizing the itinerary ensured that we made the most of our time in Delhi, and your flexibility and willingness to accommodate our requests made us feel well taken care of. From stunning temples to bustling bazaars, historical monuments to delicious food, every aspect of the tour was memorable and enriching. Thank you for making it such a memorable and enjoyable experience.
Your professionalism, expertise and warm personality truly make you the perfect tour leader for us. We feel fortunate to have you as our guide and look forward to future tours with you.
Once again, thanks Delhi Tour Guide for everything.
Best Time to Visit Delhi
The Delhi Tour Guide suggests that the best time to visit Delhi is from mid September to end March when the weather is most favorable. During this period, the city's attractions are best enjoyed as the cool and pleasant climate sets the perfect ambiance for exploration. However, the Delhi Tour Guide advises avoiding some weeks in late November to January due to fog, for a delightful experience, February and March offer great weather in Delhi during this period, with blooming flowers enhancing its charm, becomes an incredible experience. Delhi Daily Weather.
Delhi Tour Guide: Travel Tips
When traveling to Delhi, these essential travel tips will enhance your experience and ensure a memorable journey. First and foremost, go with an open mind, embracing the city's rich diversity and culture. Choose a well-located accommodation in Delhi, as staying in a good area will ease your exploration. Remember that Delhi offers more than just Old Delhi; take advantage of Delhi tours to discover the city's hidden gems. Don't hesitate to sightsee alone, as Delhi is a safe place for solo travelers. To get around like a local, use the efficient Metro system. Maintain awareness at the airport and during your travels to safeguard your belongings. Dress decently and appropriately, respecting the local culture and traditions. While exploring Best places to visit in Delhi. Immerse yourself in the authentic Delhi experience. By following these tips, your trip to Delhi will be filled with delightful discoveries and unforgettable memories.
If you are planning to visit Delhi, the best Delhi tour guide who can take you on a journey to explore every nook and cranny of the city. With his in-depth knowledge of Delhi's rich history, culture, and architecture, he can make your visit a memorable one.
Delhi Tour Guide for Women Travelers
Delhi Tour Guide is your ideal companion for exploring Delhi as a female solo traveler. As a female solo traveler, we understand your unique needs and interests. With a strong commitment to your safety and empowerment, they offer customized itineraries that cater to your interests and preferences. Experience Delhi's rich history, authentic cuisine, and vibrant culture with a knowledgeable and dedicated guide, will ensure your comfort and making your experience unforgettable.
Professional Expertise: Harry is a highly trained and licensed Delhi Tour Guide with 20 years of intensive experience. He holds the highest qualification in tourist guiding and is licensed by the Ministry of Tourism, Government of India.
Captivating Storyteller: Harry's unparalleled knowledge of Delhi's history and empires makes him a masterful storyteller. He brings the city's rich heritage to life, captivating and engaging visitors with fascinating tales.
Care and Accountability: Harry takes full responsibility for the well-being and satisfaction of his tourists. He adheres to the highest standards of professional conduct and ensures your safety and comfort throughout the tour.
Charming and Welcoming: With Harry as your guide, you'll be greeted by his charming and friendly demeanor. As an added reassurance.
Best Places to Visit in Delhi
1. Qutub Minar: A Majestic Tower
A Towering Monument Reflecting History and Heritage. Qutub Minar is a mix of indo Islamic architecture and Guide will show around, well-known historical structure of India is Qutub Minar, Delhi which has been considered to be a highly important tourist destination in Delhi.
Experience the grandeur of the Qutub Minar with Harry, the best tour guide in Delhi. This magnificent monument is a testament to the rich history and architectural brilliance of India. As you climb up the spiral staircase of 379 steps, you will be mesmerized by the intricate designs and patterns that adorn the five slender floors of the tower. The influence of different rulers and families can be seen in the unique style of construction and design of each floor, making the Qutub Minar a truly fascinating marvel.
But the mysteries and stories of the Qutub Minar don't end there. Harry, with his exceptional storytelling skills, will take you on a journey back in time and unravel the intriguing history behind this iconic structure. From the influence of Afghanistan's Jam Ki Minar to the intricate lotus borders, necklaces, and bells that adorn the tower, every aspect of the Qutub Minar is a reflection of India's rich cultural heritage.
Join Harry on his Qutub Minar tour and let him guide you through the fascinating history and architectural beauty of this magnificent monument.
Enjoy Qutub Light Show at Night.
Humayun's Tomb: Splendor of Mughal Architecture in Delhi.
One of the most captivating stories that Harry, the Delhi Tour Guide, shares during the Humayun's Tomb tour is the love story of Emperor Humauyun and his queen Hamida Begum. According to legend, the couple shared an intense and deep bond, and Hamida Bau Begum was instrumental in the construction of the tomb. The story of her unwavering love for her husband and her involvement in the creation of this magnificent monument adds an emotional dimension to the visit.
Harry will narrate the story of Hamida Begum's contribution to the tomb's construction and take you to the cenotaphs of the Emperor and his queen, where you can witness their love story unfold. With Harry as your Delhi Tour Guide, the visit to Humayun's Tomb becomes not only a sightseeing tour but also a journey through time to a world of romance, intrigue, and architectural excellence.
Humayun's Tomb History Architecture Ticket and Timings.
Red Fort: Enjoy Historic Tour with Tour Guide
Explore a mesmerizing walk Private Delhi Tour Guide through the Red Fort. Harry is a wonderful storyteller who brings each palace alive, transporting you back in time to the grandeur of the Mughal era. As you explore the fort's sprawling 254.67-acre premises, marvel at its seamless blend of Persian, Timurid, and Indian architectural styles. With Harry's extensive knowledge of Mughal architecture, you'll be left awestruck as she guides you through famous places such as the Diwan-e-Aam, Diwan-e-Khas, Moti Masjid, and the Stream of Paradise. The defensive walls of the fort, measuring 2.41 km, are a testament to its effectiveness as a barrier against invaders. Don't miss out on this incredible opportunity to immerse yourself in India's symbol of freedom struggle with private Delhi Tour Guide.
See Red Fort of Delhi History Timing Ticket Nearest Metro.
Jama Masjid a Picturesque Splendor with Delhi Tour Guide
You'll really enjoy the Old World charm of Delhi when you embark on an amazing journey to the Jama Masjid, the largest mosque in India, with your knowledgeable and friendly Delhi tour guide, Harry. She will not only show you the mosque's stunning architecture and intricate details but also narrate the fascinating story of its construction and show you the relics of Prophet Mohammad, making your visit a truly unforgettable experience. If you're planning to explore Jama Masjid and Old Delhi, then there's no better way to do it than with Harry as your tour guide. Her passion and enthusiasm for Delhi's rich culture and history will leave you in awe and provide you with a unique perspective of this vibrant city. With Harry's guidance, you'll feel like you've traveled back in time to experience the real essence of Delhi.
Jama Masjid History Architecture Ticket and Timings.
Old Delhi Heritage Food Walk
If you're planning a trip to Old Delhi, then make sure to get your hands on the ultimate guide to street food in Delhi. Experiencing the best of Delhi's street food scene. The Tour guide covers everything from the iconic Chole Bhature to the mouth-watering Daulat Ki Chaat, with a focus on the most popular street food spots across the city. Delhi tour guide will let you know the rich history and stories behind the dishes. Make your experience of Old Delhi's street food a memorable one.
With Harry as your Old Delhi tour guide, you'll discover the rich history and culture of Old Delhi, while satisfying your taste buds with some of the best street food in India. Experience the bustling streets of Old Delhi with Harry, your best Delhi tour guide. You'll need at least half a day for this wonderful Old Delhi Walk, but it will be worth it. The aroma of mouth-watering street food, the colorful streets, and the grand Jama Masjid mosque will leave you in awe. Begin your tour with a visit to the famous Gurdwara, a place of worship for the Sikh community, and taste some delicious North Indian parathas at Paranthe iwali street. Then, take a brisk walk through the vibrant streets of Kinari Bazar or Shadi Bazar. The cobbled streets are full of the pungent aroma of spices, and the delicious scent of street food wafts through the air, making it impossible to resist.
Enjoy Famous Street Food of Delhi with Tour Guide.
Experience the charm of Chandni Chowk Old Delhi like never before with Rickshaw Tour. A unique way to explore the Mughal-built walled city experiencing its charm and authenticity like a true local. Discover the architectural marvels of old havelis, majestic mansions, and the captivating Sarai. Enjoy the diverse and multicultural world of heritage and culture at Old Delhi. It promises an enigmatic experience that you will cherish forever. This tour takes you through the charming streets and lanes of Old Delhi, letting you experience the city like a local. The ride is safe and secure, Join us for a truly unforgettable adventure with the best Delhi tour guide.
Guide for: Old Delhi Heritage Walk
Discover India's Political Pulse with New Delhi Tour Guide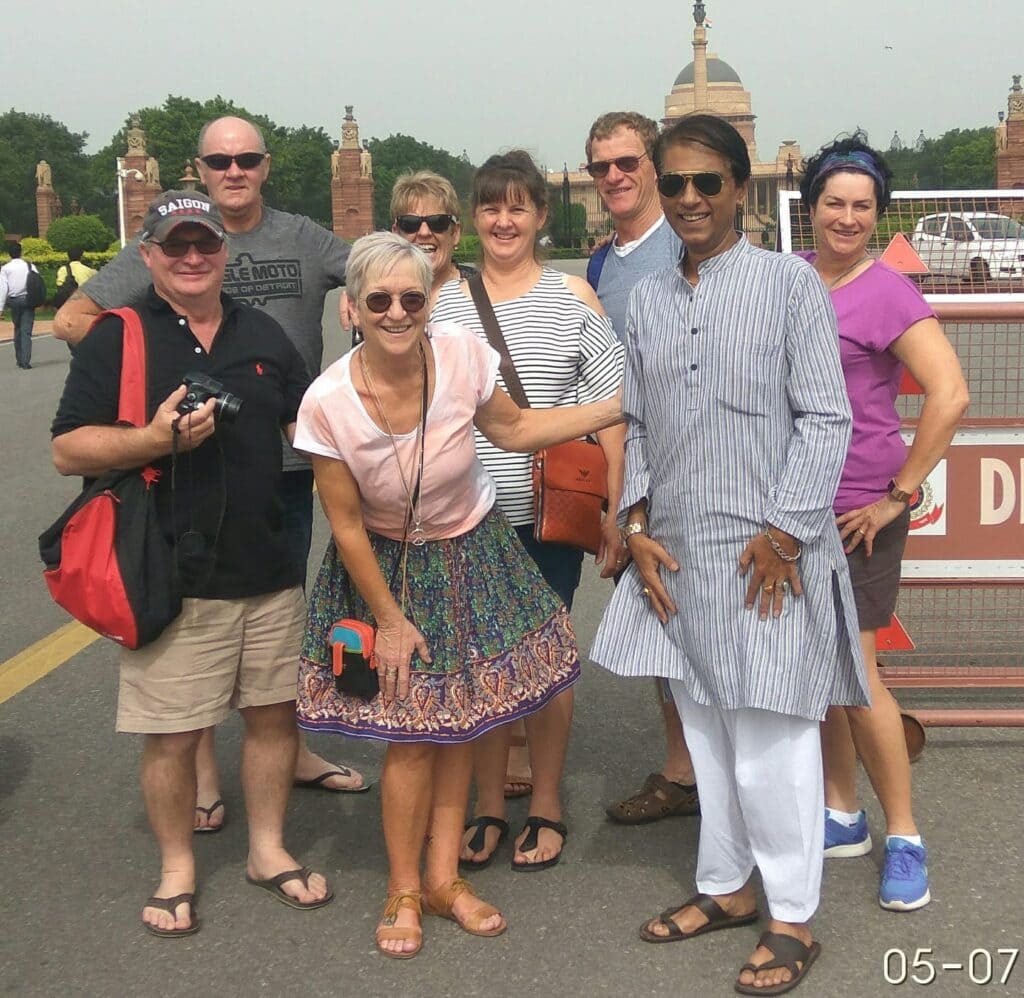 Embark on a New Delhi tour with the exceptional Private Delhi Tour Guide – Harry! She will take you on an exciting journey through the corridors of power in India and introduce you to the country's rich political history. Harry is an excellent storyteller who will captivate you with her knowledge and experience of Indian politics. During the tour, she will take you to visit the President's House, state bungalows, and important government ministries. Harry will provide you with a unique perspective on the city and its political significance. Don't miss out on this wonderful opportunity to explore New Delhi with Harry as your guide!
India Gate with New Delhi Tour Guide
I had an amazing time exploring India Gate in New Delhi thanks to our incredible Delhi Tour Guide, Ms. Harry. I wanted to share my thoughts on this fantastic adventure.
Visiting India Gate at night was delightful. The monument looked majestic against the dark sky, creating a captivating ambiance. The vibrant atmosphere and the presence of people, both locals and tourists, made it even more special.
The highlight of the evening was the street food extravaganza! With Ms. Harry as our guide, we indulged in the culinary wonders of the bustling street food scene near India Gate. From mouthwatering chaat to sizzling kebabs, we savored every bite. Ms. Harry knew all the hidden gems and introduced us to the best street food experience.
The stunning architecture, buzzing atmosphere, and tantalizing street food made our visit to India Gate truly magical. I'm grateful to Ms. Harry for her guidance and for adding so much fun to our Delhi tour. It was a special adventure shared with Ms. Lynn Sharpe and our amazing Delhi Tour Guide, Lindsay Noss.
Vibrant Charms of Connaught Place with Delhi Tour Guide
Embark on an exciting journey with Harry, your knowledgeable and friendly female tour guide in Delhi, recommended by Tours By Locals and Trip Adviser, as you explore one of Delhi's most iconic destinations, Connaught Place. Get lost in the hustle and bustle of this vibrant commercial and business neighborhood, named after a Duke of Connaught. Discover hidden gems such as the Hanuman temple, Gurudwara Bangla Sahib, Agarsen ki Baoli, and Jantar Mantar with Harry's expert guidance. Shop for affordable fashion, or explore the branded stores for a high-end shopping experience. Satisfy your taste buds with delectable cuisine from popular restaurants and cafes, and catch a movie at one of the many vintage cinemas and modern multiplexes like PVR Rivoli, PVR Plaza, and Carnival Cinema Odeon. Whether you're looking for adventure, culture, food, or shopping, Harry will ensure that your visit to Connaught Place is an unforgettable experience.
See: Janpath Market CP Shopping and Metro
Bharat Mandapam: Delhi Tour Guide Welcomes the World
Bharat Mandapam, the convention center, stands as a testament to India's unwavering commitment to progress and success. With its grandeur and modernity, it symbolizes the nation's ascent on the global stage. As a powerful building, it not only hosts international gatherings but also serves as a symbol of India's promise and potential. Within its walls, ideas are exchanged, partnerships are forged, and visions for a brighter future are realized. Bharat Mandapam, is more than just an architectural marvel, it is a beacon of hope and aspiration, showcasing India's determination. Visiting with a Best Delhi tour guide, one becomes a participant in this remarkable success story.
Dilli Haat INA Tradition Shopping with Delhi Your Guide
a delightful adventure with Delhi Your Guide as you explore the vibrant charm of Dilli Haat Market INA. This bustling market, designed to recreate the ambiance of a traditional village fair, is a treasure trove for shoppers and food enthusiasts. Lose yourself in a world of traditional crafts and handloom products, showcasing intricate carvings, stunning footwear, mesmerizing fabrics, and captivating metal crafts. Treat your taste buds to a culinary journey, indulging in a wide array of delectable cuisines from different regions of India. Immerse yourself in the rich tapestry of cultural performances, where daily showcases of folk arts and traditions unfold before your eyes. As the sun sets, the open-air theater comes alive with mesmerizing performances that will leave you enchanted.
Read More: Dilli Haat I.N.A. Shopping Restaurant Ticket and Timings Metro
Mahatma Gandhi Smriti with Delhi Tour Guide
Visiting Gandhi Smriti with Private Delhi Tour Guide – Harry was a unique and emotional experience. Harry's extensive knowledge and passion for Indian history and culture allowed us to gain a deep understanding of the ideology of Mahatma Gandhi. As we walked through the historic grounds and saw the exact spot where Gandhi was assassinated, Harry's storytelling made us feel a deep connection to India's history. The peaceful and serene atmosphere of the Gandhi Smriti provided a stark contrast to the hustle and bustle of Delhi, and left us with a sense of reverence for one of India's greatest leaders. A Delhi Tour with Harry is not just an educational experience, but an emotional and spiritual one as well.
Indira Gandhi Memorial with Delhi Tour Guide
In the history of Delhi, along with 75 sultans, emperors and kings, the mention of three queens is special. This queen had a great mastery in handling the government in a brilliant way, by getting hold of the power. Once upon a time, his name used to be in headlines on the pages of history. Even today those exciting stories are alive in the pictures of this memorial. As your Delhi tour guide Harry will tell you, Indira Gandhi was a woman who defied convention and challenged the status quo, leaving an indelible mark on Indian politics and society. Her life was marked by both triumphs and tragedies, and her legacy continues to inspire generations of Indians to this day. At the Indira Gandhi Memorial, you'll have the opportunity to learn about her remarkable journey, from her childhood years to her time in office as Prime Minister, and see firsthand how she changed the course of Indian history forever.
Enjoy Places to Visit in Jaipur with Tour Guide.
Akshardham Temple with Delhi Tour Guide
A blissful spiritual journey to the magnificent Akshardham Temple, guided by the expertise of the best Delhi Tour Guide. Located on the banks of the Yamuna River, this architectural marvel stands as a testament to India's rich cultural and spiritual heritage. As you step into the temple complex, be awestruck by the intricate carvings, grand structures, and serene surroundings. Learn about the temple's significance and the stories behind its creation. With the Delhi tour guide, delve into the spiritual teachings and experience a sense of tranquility. Discover the beauty of Akshardham Temple and immerse yourself in its divine ambiance, leaving with a profound sense of peace and enlightenment.
Nizamuddin Dargah Walk with an Spiritual Delhi Tour Guide
a Spiritual Journey to Nizamuddin Dargah with a Tour Guide in Delhi. Nestled in the heart of the city, Nizamuddin Dargah is a sacred Sufi shrine that holds immense significance for devotees and history enthusiasts alike. Accompanied by a knowledgeable tour guide, you'll be transported into the mystical world of Sufism as you explore the intricately designed mausoleum and soak in the tranquil atmosphere. Listen to soul-stirring qawwalis, the devotional music that fills the air, and witness the fervent devotion of the devotees. Your tour guide will share captivating stories and insights, bringing the rich history and cultural heritage of Nizamuddin Dargah to life. Immerse yourself in the spiritual aura and find solace in this serene oasis amidst the bustling city of Delhi.
Lodhi Garden Walk with a Private Delhi Tour Guide
Lodhi Garden is a perfect escape from the hustle and bustle of Delhi city. It is not just a park, but a treasure trove of history and nature. With a knowledgeable Delhi tour guide like Harry, you can learn fascinating stories and insights about the monuments and trees in Delhi. The garden boasts a unique blend of Mughal and British architecture and has been beautifully landscaped with blooming shrubs, flowers, and common trees. As you stroll through the garden, you can spot various birds and animals throughout the year.
Walking with a Delhi tour guide like Harry is an experience in itself. She not only shares interesting stories about the historical structures but also educates you about the different types of trees in Delhi. The garden is not just a recreational spot but also an educational one. The fearless stories about the history of this place often baffle tourists to know more about it. The garden also serves as a perfect location for pre-wedding shoots and is a favorite spot for locals and tourists alike. A walk in Lodhi Garden with a knowledgeable Delhi tour guide is a must-do activity for anyone visiting Delhi.
Delhi Tour Guide For: Lodhi Garden Walk with Nature and History.
Gurudwara Bangla Sahib with Private Delhi Tour Guide
Embark on a soul-enriching journey to Gurdwara Bangla Sahib in Delhi, accompanied by the Best Delhi Tour Guide. This iconic Sikh holy place is a must-visit destination that will leave you feeling connected to the divine. Known for its serene ambiance and peaceful atmosphere, Bangla Sahib holds immense spiritual significance.
As you enter the Gurudwara, you will be mesmerized by its magnificent architecture, constructed with pristine white and gold. The sanctity of this sacred place is further enhanced by the presence of Sarowar, a holy water tank, within its interior. The sparkling waters reflect a sense of purity and tranquility, inviting visitors to immerse themselves in the divine energy.
See More about: Bangla Sahib History Langar Timings Metro
Isa Khan Tomb with Delhi Tour Guide
Visiting the tomb of Isa Khan is a wonderful garden complex in Delhi. With the help of a knowledgeable Delhi tour guide like Harry, visitors can learn about the fascinating history of Isa Khan and his contribution to the Mughal empire. The tomb was constructed by Isa Khan himself in the mid-16th century and is a fine example of Mughal architecture. The octagonal tomb is located at the center of a beautiful sunken garden complex. The tomb boasts a majestic arched gateway and a small mosque built adjacent to it. Inside the tomb, there are six graves, including that of Isa Khan, but it is difficult to spot which one is his. The intricate lattice stonework and frescoes on the walls and the circular fresco on the ceiling are breathtakingly beautiful. The mausoleum is built mainly with gray quartzite and decorated with red sandstone and colored tiles.
Hidden Places in Delhi Tour Guide for Exploring Monuments-Lost in Time
Lotus Temple a Spiritual Gem with Delhi Tour Guide
During our trip to Delhi, my friend Sara and I had the pleasure of visiting the Lotus Temple with Delhi Tour Guide, Harry. With her extensive knowledge and passion for the Baha'i faith, Harry guided us through a soulful and serene experience at this magnificent architectural marvel.
The Lotus Temple, with its remarkable resemblance to the iconic Sydney Opera House, beautifully showcases the finesse of Indian artistry. As one of the seven Baha'i shrines worldwide, this temple holds immense significance and is a must-see attraction in Delhi.
Stepping inside the lotus-shaped structure, we embarked on an inward journey of self-discovery. The peaceful ambiance of the temple allowed us to find solace and connect with our inner selves. With Harry as our Best tourist guide in Delhi, she encouraged us to embrace moments of silence and reflection, enabling us to fully immerse ourselves in the tranquility of the surroundings.
Exploring this extraordinary place of worship with Harry's guidance was truly an unforgettable experience. It provided us with a deeper understanding of the Baha'i faith and offered a glimpse into the rich and diverse culture and traditions of India. Our visit to the Lotus Temple will forever remain a cherished memory of our spiritual journey in Delhi. Sara & Cristie
See More about: Lotus Temple Architecture History Timing Metro
Agrasen ki Baoli a Haunted Tour with Delhi Tour Guide
A haunting tour in Delhi with a knowledgeable Delhi tour guide like Harry can be both fun and little scary. Agrasen ki Baoli, one of the haunted places in New Delhi, is a beautiful stepwell with a mysterious past. According to many anecdotes, the well was once full of black water and people were forced to jump in and commit suicide. This place gained a lot of popularity after it was shown in the movie PK. With her expertise and storytelling skills, Harry can take you to many other such spooky places in Delhi and tell you several haunting stories associated with them. Whether you believe in ghosts or not, a haunting tour in Delhi is definitely an unforgettable experience.
Agrasen ki Baoli History and Haunting Stories.
Tughlaqabad Fort with a Delhi Tour Guide
Explore the captivating saga of Tughlaqabad Fort, accompanied by an expert Delhi tour guide, as you step into an era of grandeur and mystery. This historical marvel, founded by Sultan Ghiyas-ud-din Tughlaq in the 14th century, stands proudly as a testament to Delhi's rich past. A journey through its sprawling ruins unveils the remarkable architectural prowess of its time. Your knowledgeable guide will tell you stories woven into every stone, from the towering walls to the majestic citadel.
The Tughlaqabad Fort, surrounded by an air of enigma, has witnessed the rise and fall of empires. As you walk along its pathways, let the guide's insights transport you back to an era of power struggles, conquests, and legends, where the past comes alive amidst the weathered stones. With the Delhi tour guide by your side, Tughlaqabad Fort becomes a captivating journey, brimming with tales of valor, ambition, and the echoes of time.
Read More about the Tughlaqabad Fort History in Hindi
Delhi's Iconic Jantar Mantar with Delhi Tour Guide
When visiting Delhi, exploring Jantar Mantar with a knowledgeable Delhi tour guide is a must. Jantar Mantar, an astronomical observatory built in 1724 by Maharaja Jai Singh II of Jaipur, offers a fascinating glimpse into India's scientific progress. With the guidance of your Delhi tour guide, you can delve into the history and significance of the instruments used for astronomical observations. Located near Connaught Place, Jantar Mantar's unique architecture, shaped like a sundial, sets it apart. As your trusted Delhi tour guide, I can ensure your visit is enjoyable and informative. The site welcomes visitors from 9:30 am to 5:30 pm daily, allowing for easy inclusion in your travel itinerary. Explore Jantar Mantar and unlock the wonders of India's astrological heritage with a Delhi tour guide by your side.
Best Couple Places in Delhi for Romantic Moments
Hauz Khas Village: Delhi's Cultural Gem with a Tour Guide
Hauz Khas Village, a captivating neighborhood in South Delhi, with the expertise of a knowledgeable Delhi Tour Guide. This vibrant destination seamlessly blends the remnants of Islamic architecture with contemporary urban elements, offering a unique and enchanting atmosphere. Experience the lively nightlife scene with its diverse range of cafes, bars, pubs, art galleries, and boutiques. Explore the historical Hauz Khas Fort, surrounded by a picturesque reservoir and a well-maintained park, adorned with majestic domed structures that serve as tombs for ancient royalties. Immerse yourself in the infectious energy of this cultural hotspot, where weekends come alive with live events featuring stand-up comedy and soulful jazz performances. Discover the captivating allure of Hauz Khas Village and witness the perfect fusion of past and present in Delhi's cultural heritage.
Delhi Tour Guide for: Hauz Khas Village Walk
Mehrauli Archaeological Park Walk with Delhi Tour Guide
Exploring the Mehrauli Archaeological Park with a Delhi Tour Guide is an experience that combines history, nature, and health. Walking through the park and discovering the ancient culture, sculptures, and human remains is an awe-inspiring journey that takes visitors back in time. The park's collection of religious monuments, including tombs, mosques, step-wells, and fortifications from different periods of Indian history, is simply stunning. Spread over 200 acres, the Mehrauli Archaeological Park is the only area in Delhi known for 1,000 years of continuous habitation, making it a fascinating place to visit. With the expert guidance of a Delhi Tour Guide, visitors can learn about the park's historical significance and enjoy a healthy walk amidst the beautiful greenery. The Mehrauli Archaeological Park is a must-visit destination for anyone interested in Indian history and culture.
See More Mehrauli Archeological Park walk.
Rail Museum with Delhi Tour Guide
Embark on a thrilling journey through the history of Indian railways with the best Delhi tour guide! With their extensive knowledge and passion for trains, the tour guide will take you on a captivating tour of the Rail Museum in Delhi. Discover the fascinating stories behind the first locomotives to run in India and the evolution of this incredible mode of transportation that has revolutionized the country's infrastructure. The tour guide will also entertain you with fascinating stories about the intersection of Bollywood and Indian railways, where steam engines played a significant role in many iconic films. They will guide you through the various galleries and exhibits that showcase the rich heritage of Indian railways, including rare steam engines, vintage coaches, and locomotives from different eras. Whether you're a train enthusiast or just curious about India's railway history, the Delhi tour guide will make sure you have a memorable experience. So, get ready to be transported back in time and witness the magic of trains with the Delhi tour guide as your companion! They will take you on a journey through time, where you'll discover the evolution of Indian railways from the early days of steam engines to the modern, high-speed trains of today.
Rail Museum Delhi Timing Engines Information.
Delhi's Partition Museum and Majestic Dara Shikoh Library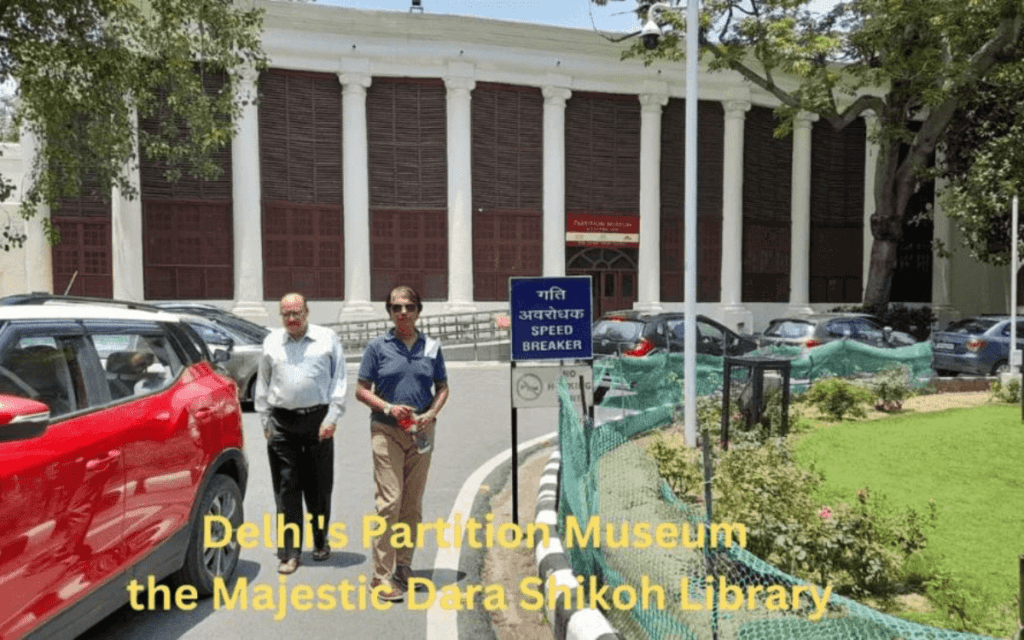 A captivating journey with the Delhi Tour Guide and be transported to the heart of Delhi's vibrant history. Begin at the Partition Museum, a moving tribute to the indomitable human spirit during the world's largest migration. Immerse yourself in the powerful stories, whispered secrets, and tangible remnants of those who navigated the tumultuous partition era. Marvel at the artifacts that bear witness to their courage and unity. As the emotional depth of the Partition Museum lingers, continue your expedition through the majestic Dara Shikoh Library. Prepare to be captivated as history comes alive with the Delhi Tour Guide.
Spiritual Splendor of Varanasi: A Soulful Places to Visit with Varanasi Tour Guide.
Cooking Class with Delhi Tour Guide
Cooking is a wonderful art that not only speaks the language of spices but also extracts the essence of love from your heart. Anyone can learn it, but the art of serving the food and connecting with its story, it forms an alliance with your heart. No one knows better than Harry Your Delhi Tour Guide. It touches your heart and makes it shine in your eyes. Let's enjoy cooking together, share the joys of life. Create a magic in your kitchen.
Experience the flavors of India like never before with a unique cooking class led by Delhi tour guide. Join a cooking class to learn traditional recipes, spices, and techniques. Explore the vibrant food culture of Delhi and discover the secrets of authentic Indian dishes. From aromatic curries to delicious bread, expand your culinary skills and gain insights into the cultural significance of Indian cuisine. A cooking class with a Delhi tour guide is an unforgettable opportunity to savor the authentic flavors of India and bring a piece of its culinary heritage back home with you.
Delhi Tour Guide: Places to Visit in Delhi at Night.
Crafts Museum with Delhi Tour Guide
Welcome to the National Museum of Handicrafts, a treasure trove of India's rich craft traditions. As the Best Tour Guide in Delhi, I invite you to explore this magnificent showcase of art and culture. Located at the sprawling Craft Museum complex of Pragati Maidan, designed by renowned architect Charles Correa, the museum offers a captivating journey into India's craft heritage.
With me as your guide, you'll gain deeper insights into the history and significance of each exquisite artwork. Don't miss the incredible Craft Demonstration Program, where 50 skilled artisans from different regions of India showcase their crafts at the Craftsman's Hostel Shilp Kutir. It's a unique opportunity to witness their mastery firsthand. Take a moment to indulge in a delightful lunch at Lota Cafe
A true haven for art enthusiasts and culture aficionados. The National Museum of Handicrafts is a must-visit destination, preserving India's centuries-old cultural heritage.
Ferozshah Kotla Places to Visit in Delhi for Jinn's
Ferozshah Kotla, a historical gem in the heart of Delhi, is a must-visit destination for history enthusiasts. As your Delhi tour guide, I recommend this site for its rich heritage and architectural marvels. Explore the ancient Feroz Shah Kotla Fort, dating back to the 14th century, with its stunning sandstone structures and intricately carved pillars. Don't miss the Ashokan Pillar, an iconic artifact from the Mauryan era.
When you're looking for the best places to visit in Delhi, this site stands out as a testament to Delhi's layered history. The serene atmosphere and historical significance make it an ideal stop for those seeking to delve into the city's past.
Feroz Shah Kotla Fort: Jinn Haunted story, Ticket,Timings and Nearest Metro
Safdarjung Tomb: Places to Visit in Delhi
As your trusted Delhi tour guide, I highly recommend a visit to Safdarjung Tomb, one of Delhi's hidden gems historic gems Surrounding it are picturesque Charbagh-style gardens, perfect for a leisurely stroll. Feels like stepping into a royal oasis amidst the bustling city. This 18th-century Mughal masterpiece is an architectural marvel, boasting exquisite marble inlays and a magnificent central dome. While exploring the top tourist places in Delhi, don't miss Safdarjung Tomb, a tranquil haven that encapsulates Delhi's regal past, making it a photographer's paradise and a serene escape for tourists seeking a taste of the city's rich history and natural beauty.
Read More: Safdarjung Tomb History Architecture Ticket Time.
Best Transport for Places to Visit in Delhi
Delhi tour guide, recommend hiring Tempo Traveler for Delhi Tour. Available for 9-12-14 people. These Tempo Traveler's are equipped with all necessary amenities including comfortable seating, air conditioning, music, LCD, ice box and ample legroom.
Discover the vibrant tapestry of Delhi's past and present, guided by the stories of its streets and the whispers of its monuments. Let Harry be your Delhi Tour Guide in this majestic city, unveiling its hidden gems and weaving together the threads of history, culture, and adventure. Together, we will create memories that will linger in your heart long after you bid farewell to Delhi's enchanting embrace.

Delhi Tour Guide
[…] Delhi Tour Guide will tell you the complete story of Gandhi to the father of the nation […]

[…] a Tughlakabad Fort Walk an Abandoned City with Delhi Tour […]

[…] Red Fort (Lal Qila) History, Architecture, Time Ticket Metro Station Tour Guide […]

[…] and Architecture of Red fort of Delhi Built by […]

[…] See: Qutub Minar Light Show at Night. […]