Taj Mahal Tour Guide welcomes you for a magical journey from Delhi to the Taj Mahal. . Immerse yourself in the awe-inspiring beauty of the world-renowned marble masterpiece while our guide ensures an enriching experience. But that's not all! Discover the splendors of Agra as you explore the majestic Red Fort, the charming Baby Taj Mahal, and indulge in delightful local cuisine and sweets. The adventure doesn't stop there – venture into traditional marble workshops, witnessing skilled craftsmen at work. Our Taj Mahal tour promises not just a sightseeing expedition but a positive and uplifting exploration of history, culture, and craftsmanship. Join us as we turn your journey into cherished memories, celebrating the magic of the Taj Mahal and the treasures Agra has to offer.
Delhi to Taj Mahal Trip With Tour Guide Overview
The day unfolds with a morning pick-up from your hotel, setting the stage for an immersive exploration of history and culture. As you traverse the expressway to Agra, the scenic drive provides glimpses of India's diverse landscape, building anticipation for the marvels that lie ahead. Embark on an enchanting Taj Mahal tour with our Best Taj Mahal Tour Guide, promising a seamless and memorable journey through the wonders of Agra.
A well-timed tea break along the way offers a moment to rejuvenate before reaching Agra. The journey continues with a battery bus ride to the Taj Mahal from the parking area, orchestrated by our knowledgeable guide to ensure a smooth transition.
Once past the ticket and security checks at the east gate, the Taj Mahal reveals itself in all its splendor. Spend a captivating 2.5 hours immersed in this architectural masterpiece, capturing moments against the backdrop of the iconic monument. Our guide, well-versed in the Taj Mahal's rich history, ensures you don't miss any fascinating details, providing insights into the symbolism and love story that echo through the ages.
The tour takes a delectable turn after exploring the Taj Mahal, offering lunch and an opportunity to savor the flavors of Agra, including indulging in popular local sweets. But the adventure doesn't end here. Our guide seamlessly transitions to the historical Red Fort, a UNESCO World Heritage site, allowing you to explore the intricacies of this imposing structure and glimpse into India's rich history.
Adding a unique dimension to the tour, a visit to a marble workshop becomes a highlight. Witness artisans dedicating themselves to their craft, shaping marble stones with remarkable precision and passion. Marvel at the intricate workmanship and gain a firsthand understanding of the artistry involved.
The journey concludes with a visit to the "Baby Taj," also known as the Tomb of I'timād-ud-Daulah, Red Fort adding another layer to the cultural tapestry.
Our Taj Mahal tour guide ensures that every moment is not just seen but experienced, creating memories that linger. From the morning pick-up to the exploration of the Taj Mahal, culinary delights, historical discoveries, and the immersive experience of a marble workshop, this tour is a holistic immersion into the wonders of Agra. Join us for a day filled with awe, cultural richness, and the timeless beauty of the Taj Mahal.
Best Taj Mahal Tour Guide Trip from Delhi
Reaching the iconic Taj Mahal is a seamless and picturesque journey, with Agra lying approximately 230 km away, accessible via a smooth drive on the express highway. The scenic route ensures a delightful experience, and the well-maintained expressway offers the best midways for a comfortable journey. As you approach Agra, the city of the Taj, the anticipation builds, and the drive becomes an integral part of the overall adventure.
With Taj Mahal Tour Guide by your side, every mile of the journey becomes a narrative of history and culture. She will not only ensure a smooth ride but will also regale you with tales of the Mughal era and the fascinating stories that surround this enchanting city.
Upon reaching the parking area of the Taj Mahal, your guide seamlessly orchestrates the next steps of your adventure, offering to choose a battery bus or a golf cart, Taj Mahal Tour guide ensures that the journey to the East Entrance Gate is not just practical but also an engaging prelude to the grandeur that awaits.
Once at the east entrance gate of the Taj Mahal, the starting point for your immersive exploration, there is a series of security checks. Your guide will efficiently navigate you through these measures, ensuring a hassle-free experience. These meticulous security measures are in place to preserve the sanctity of this historical site while offering you a sense of security during your visit.
As Taj Mahal Tour Guide is not just a companion but a storyteller, ready to unveil the layers of history and beauty that await. With her by your side, every aspect of your journey, making the road to the Taj Mahal as enchanting as the destination itself.
Call Taj Mahal Tour Guide: Call +91 9811500757
Best Tour Price Guaranteed: Car + Tour Guide + Tea Snacks Price 8500/ I.N.R.
See At Taj Mahal with Best Tour Companion
When visiting the Taj Mahal, prepare to be mesmerized by its unparalleled beauty and historical significance. The first must-see is, of course, the Taj Mahal itself, a breathtaking white marble mausoleum that stands as a testament to eternal love. As you explore the intricate details of the structure, the second must-see becomes apparent—the lush, meticulously manicured gardens that surround this architectural masterpiece. Taj Mahal, is not just a monument; it's an immersive experience that unfolds with each step. Admire the symmetrical perfection that defines the Taj Mahal's facade, and take in the intricate calligraphy, precious stones, and the serene reflection in the iconic pool. Don't forget to capture the Taj Mahal during different times of the day, as the changing light transforms its appearance. With our Taj Mahal Tour Guide, unlock the full spectrum of wonders this UNESCO World Heritage site has to offer, ensuring an unforgettable journey through history and romance.
Taj Mahal Ticket
Entry Fee: Foreign Tourist Type Amount Rs.1100/- + 200/-
Citizens of SAARC and BIMSTEC Countries Rs. 540/- + 200/-
Taj Mahal Tour Guide Best Time to Visit
The best time to visit the Taj Mahal is undoubtedly sunrise when it looks the most spectacular. It is also the most relaxing time to visit due to less crowds. Another magical time to see the Taj is at sunset. You can also visit it for five nights around the full moon. However, entry tickets are limited for the time being.
Taj Mahal Tour Guide: Visiting Timings
Taj Mahal opens 30 Minutes before sunrise and closes 30 Minutes before sunset during normal operating days). Taj Mahal is closed on Friday. only accessible to practicing Muslims to attend the prayers in the afternoon
Still Camera is Free, but professional photography prohibited inside the main Taj Mahal
Taj Mahal Tour Guide: Walk in The Museum
The Taj Mahal is one of the most iconic examples of Mughal architecture. Within the Taj Mahal complex is the small but important Taj Museum, which is home to many original miniatures from the Mughal era. A highlight of the museum is a pair of 17th century ivory portraits of Shah Jahan and his wife. The museum also has a number of Caledon plates that discolor or shatter into pieces if poisoned food is served on them.
Museum Timings: 10:00 am to 5:00 pm Entry is Free.
Taj Mahal: Time Required 2.5 hours.
Marble Artisans with Taj Mahal Tour Guide
Harry as our Taj Mahal guide was an absolute delight. His wealth of knowledge not only brought the Taj Mahal to life but added an extra layer of understanding as we explored the iconic monument. Harry's expertise didn't stop at the Taj; he took us to a workshop where we delved into the intricacies of an age-old art, providing us with insights and a hands-on experience that made our visit truly exceptional. The way he immersed us in the craft allowed us to not just witness but truly feel the historical significance of the artistry.
Harry's passion for storytelling and his ability to seamlessly weave history with our experiences made this journey one for the books. We wholeheartedly recommend Harry to anyone looking for more than just a guided tour; he transforms it into an immersive adventure filled with knowledge, culture, and unforgettable moments.
Agra Fort with Taj Mahal Tour Guide
Visit the historical marvel of Agra's Red Fort on your Taj Mahal Tour. This UNESCO World Heritage Site, often overshadowed by the Taj Mahal, holds its own grandeur and significance. The Agra Red Fort, constructed of red sandstone, narrates tales of Mughal emperors and echoes with the footsteps of history. As you wander through its impressive gates and intricate palaces, you'll witness the architectural finesse of the Mughal era. From the Jahangir Palace to the Diwan-i-Am and Diwan-i-Khas, each structure unveils a chapter of India's rich past. Include the Agra Red Fort in your itinerary for a comprehensive exploration of Agra's imperial legacy.
Tomb of I'timad-ud-Daulah with Taj Mahal Tour Guide
The Enchanting Tomb of Itmad-ud-Daula on Your Taj Mahal Tour, on the banks of the Yamuna River in Agra, the Tomb of Itmad-ud-Daula is a jewel that often stands in the shadow of its more famous counterpart, the Taj Mahal. As you embark on your Taj Mahal tour, don't miss the chance to explore this exquisite marble mausoleum with the guidance of a knowledgeable Taj Mahal tour guide.
Often referred to as the "Baby Taj," this architectural marvel predates the Taj Mahal and showcases a delicate fusion of Persian and Indian design. Commissioned by Nur Jahan, the wife of Mughal Emperor Jahangir, in memory of her father, the tomb is a testimony to the grandeur of the Mughal era.
Your Taj Mahal tour guide will regale you with tales of love, power, and artistry as you wander through the intricate lattice work, delicate inlay, and stunning gardens surrounding the tomb. The reflective pools add to the serene ambiance, providing a picturesque setting for capturing timeless memories.
With the expert insights of your Taj Mahal tour guide, you'll gain a deeper understanding of the historical significance and architectural nuances that make the Tomb of Itmad-ud-Daula a must-visit destination. Revel in the tranquility of this hidden gem and let the stories of the past transport you to a bygone era, enriching your Taj Mahal tour with a tapestry of cultural and historical
Agra Fort (Red Fort) 3.2 km.
Jehangir's Palace 3 km.
Jama Masjid 4.1 km.
Mankameshwar Temple 4.5 km.
Tomb of Itmad-Ud-Daulah (Baby Taj) 6.7 km.
Chini-ka-Rauza 7.2 km.
Mehtab Bagh Garden 7.8 km.
Dayal Bagh 8.5 km.
gurudwara guru ka taal 11.5 km.
Photography Tips by Taj Mahal Tour Guide
Elevate your Taj Mahal photography game with these expert tips, ensuring your shots mirror the enchantment of this iconic monument. While the classic bench shot is timeless, consider infusing creativity by exploring diverse angles, making your Taj Mahal album truly unique.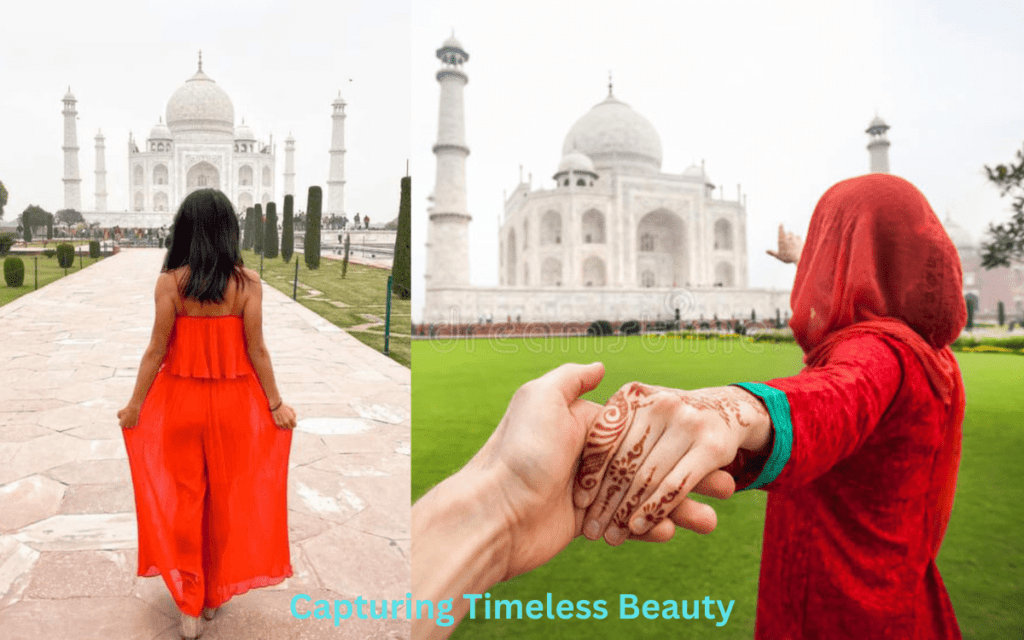 Let your lens capture the Taj Mahal's grandeur from the arch of the main doorway, providing a distinctive perspective. Play with reflections by immortalizing the fountains that grace the path to the Taj Mahal's main platform, creating a serene backdrop guided by your Taj Mahal Tour Guide.
For a picturesque scene, follow your guide's lead and capture the Taj Mahal from the riverside, allowing its reflection to pirouette on the gentle ripples of the river. Venture to 'Mehtab Bagh' on the other side, guided by your Taj Mahal Tour Guide, for a sneak peek of the Taj in a tranquil setting.
Surprisingly, the Red Fort becomes a canvas for mesmerizing shots of the Taj Mahal, adding a different dimension to this architectural marvel. And don't overlook the charm of Agra's skyline – the rooftops of nearby restaurants recommended by your Taj Mahal Tour Guide offer splendid views. While Agra's winter may bring smog, adding a unique atmosphere to your photographs, your guide ensures your shots transcend mere images, turning them into dreamlike compositions.
Whether you're an amateur or seasoned photographer, these tips, guided by your Taj Mahal Tour Guide, ensure your shots not only capture the iconic beauty of the Taj Mahal but also tell a story of the diverse perspectives and moods of this timeless monument. So, with your camera in hand and your guide by your side, turn your Taj Mahal visit into a visually stunning adventure.
Taj Mahal Tour Guide's Expertise, Kalakriti Spectacle, and Sweet Pumpkin Delight
Absolutely enchanted by the expertise and warmth of our Taj Mahal Tour Guide! Her deep knowledge and insightful commentary made the visit to the Taj Mahal an unforgettable experience. Not only did she guide us through the breathtaking architecture and history of the monument, but she also added a delightful touch by recommending the Kalakriti show—an absolute wow experience that added a new dimension to our journey. Moreover, her local expertise extended to suggesting a visit to a sweet pumpkin, where we savored delightful treats. I highly recommend her for anyone eager to explore the Taj Mahal with a blend of historical depth, cultural insights, and a touch of local flavor. Thanks to her, our visit was not just a tour but a magical immersion into the wonders of Agra
Taj Mahal and Red Fort in Day Trip With Tour Guide
Exploring the wonders of the Taj Mahal and the Red Fort with Harry, our Taj Mahal Tour Guide, was an enriching experience. Her deep knowledge, coupled with a passion for historical narratives, added a vibrant layer to our journey. From the intricate details of Mughal architecture to hidden gems in Agra, Harry's insights were invaluable. She personalized the tour, ensuring each moment resonated with cultural significance. Harry's storytelling transformed the visit into a living history lesson, leaving us with not just memories but a profound connection to the heritage of Agra. Beyond being a guide, Harry is a Taj Mahal Story teller, weaving tales that linger in the heart. Her positive energy and warm demeanor made our exploration not just educational but a joyful adventure. If you seek more than a guide, Harry is the key to unlocking the cultural richness of Agra's iconic landmarks.
Taj Mahal Tour Guide: Full Moon Light
Night viewing of the Taj Mahal is a cherished way to appreciate the splendor of this iconic monument.
The night viewing schedule for the Taj is meticulously planned by the Archaeological Survey of India, aligning with the full moon night and the two nights preceding and following it. To maintain an intimate atmosphere, only a limited number of about 400 individuals are permitted to behold the monument at night. For security purposes, visitors are required to deposit all their belongings at the designated counter and arrive at the Shilpgram complex half an hour before their scheduled viewing time. Please note that video cameras are not permitted inside the monument during night viewing.
For a memorable and insightful night viewing experience of the Taj Mahal, consider seeking guidance from a knowledgeable Taj Mahal Tour Guide. They can enhance your understanding of this incredible monument's history and add depth to your night viewing adventure.
Delhi to Taj Mahal by Train
The Taj Mahal is located in Agra, which is well connected by train. Here are a few options from Delhi
Take Gatiman train no. (12050) from Nizamuddin Railway Station: Starts 8.10 Am Reaches 9.50 Am
Take Taj Express train No. (12280) From New Delhi Railway Station: Starts 6.20 Am Reaches 9.20 Am
Take Neta Ji Express train No.(12312) From Old Delhi Rly Station: Starts 6.15 Am Reaches 9.50 Am
It is recommended to book your train tickets in advance, as trains to Agra can get booked up quickly. You can book your tickets through the Indian Railways website or through a travel agent.
Taj Mahal Wikipedia : Click http://www.tajmahal.gov.in/
Taj Mahal Guide and Information call +919811500757 Best Tourist Guide in India .
Have wonderful time and will remember it for the rest of the years. Wish to see you soon Good Bye.