Discover the enchanting Pink City with the best Tour Guide in Jaipur! Our expert guides are your gateway to the rich history, culture, and heritage of Jaipur. Whether you're a history enthusiast, a culture buff, or a couple seeking a romantic escape, our Jaipur tour guides will tailor your experience to perfection. Discover the secrets of Amber Fort, wander through the bustling markets, and immerse yourself in the royal grandeur of City Palace. Let us be your compass in this vibrant city. Join us for an unforgettable journey through Jaipur's iconic landmarks and hidden gems. Your adventure begins with a seasoned Tour Guide in Jaipur.
Tour Guide in Jaipur for Places to Visit in Jaipur
Exploring Jaipur with a Tour Guide is an incredibly enriching and rewarding experience. A knowledgeable guide provides valuable insights into the city's history, culture, and hidden gems, making your visit truly memorable. Their passion for Jaipur's heritage shines through, ensuring you have a fantastic time while exploring the Pink City. From the majestic Amber Fort to the intricate Hawa Mahal, a Tour Guide in Jaipur transforms your trip into an educational and enjoyable adventure. Embrace the opportunity to learn and be inspired with a trusted Jaipur Tour Guide by your side.
1.Amber Fort 2. City Palace 3.Hawa Mahal 4. Jantar Mantar: 5. Jal Mahal: 6 JaigarhFort 7.Nahargarh Fort: 8. 9.Govind Dev Ji Temple 10.Albert Hall Museum 10.Birla Mandir 12.Kanak Vrindavan Valley 13.Sisodia Rani Ka Bagh 14. Jantar Mantar 15. Elefantastic 16. Chokhi Dhani 17. Raj Mandir Cinema.
Tour Guide in Jaipur Benefits
A Tour guide in Jaipur can provide a variety of benefits to visitors, including:
Knowledge of the local culture and history: A Tour Guide in Jaipur can provide in-depth information about the history, culture, and traditions of Jaipur, which can enhance the overall experience for visitors.
Access to special or inaccessible places: A Tour Guide in Jaipur can help visitors navigate the city and plan their itinerary, ensuring that they see all the important sights and experiences in the most efficient way possible.
Your security: A Tour Guide in Jaipur can also help ensure visitors' safety and security by recommending safe and reputable places to stay, eat, and visit.
Local Contacts: A Tour Guide in Jaipur can also provide visitors with access to places that may not be accessible to the general public, such as private palaces or cultural events.
Language assistance: A Tour Guide in Jaipur can also help visitors navigate language barriers, as they will likely be fluent in both the local language and English.
Stress-free tour: Having a Tour Guide in Jaipur will save visitors from the stress of planning and navigating a new place.
Hiring a tour guide in Jaipur can be a great way to maximize your time in Jaipur and ensure that you have a memorable and enjoyable experience. Tour guide in Jaipur will help you plan your trip as per your budget, time and other preferences.
Tour Guide in Jaipur: The Amer Fort Experience
Your friendly tour guide in Jaipur welcomes you, to visit an incredible journey through the captivating Amer Fort. You get amazed by the sheer beauty and rich history that awaits you within its majestic walls of Amer Fort.
Let me be your storyteller as we explore the fascinating life of Raj Man Singh, the visionary ruler behind the creation of this architectural gem. Experience the thrill of his heroic conquests and the bravery that echoes through the ages.
Immerse yourself in the opulent world of Amer Fort as I reveal the intriguing stories of the queens who graced its private palaces. Transport yourself to a time of regal splendor, where their elegance and power shaped the destiny of this grand fortress.
As we walk through the enchanting lakes palaces, marvel at the shimmering waters that reflect the beauty of this royal abode of the Jaipur Rulers. Feel a sense of tranquility wash over you as we uncover the hidden secrets tucked within these sacred halls.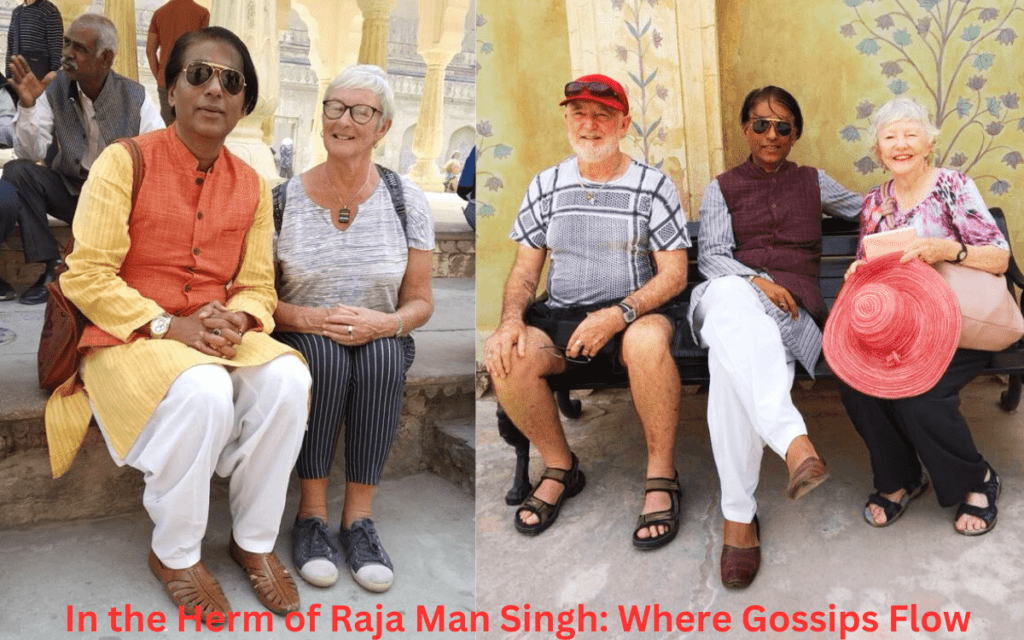 Discover the unwavering devotion of Raj Man Singh as we visit the revered temple dedicated to his beloved patron goddess, Sheila Mata. Experience the spiritual aura that fills the air, immersing yourself in the peacefulness of this cherished place of worship.
Let the allure of Amer Fort captivate you, with its intricate architecture and breathtaking views. With me as your trusted tour guide in Jaipur, we will unravel the mysteries and treasures that make this fortress a true marvel.
So, dear travelers, don't miss this opportunity to visit Amar Fort with your friendly tour guide in Jaipur. Together, we will create unforgettable memories, uncover rich history and immerse ourselves in the awe-inspiring beauty that awaits within these magnificent walls.
See Taj Mahal History and Architecture.
A fifty-minute long light and sound show is organized every evening at Amar Fort, depicting the history of Jaipur and the fort. The show celebrates local legends, folklore and folk music with an aim to bring alive the rich history, tradition and culture of the state
Tour Guide in Jaipur: Panna Meena ka Kund A Hidden Charms
Explore the enchanting Panna Meena Ka Kund (ancient Step Well) with your tour guide in Jaipur and uncover the secrets behind the Amber Fort. This hidden gem provides a breathtaking setting for an unforgettable photo shoot. Built in the 16th century by Rajput chief Panamena, this sotila served as a gathering place and water source. Made of red sandstone, its unique geometric design features intricate sculptures and carvings that depict Hindu mythology and daily life.
Notable are the double helix staircases, located on opposite sides of the stepwell, which allow separate entrances for men and women. The Kund of Pana meena stands as a remarkable architectural feat, a testament to the ingenuity of the ancient Amir. Today, it is a popular tourist attraction and an important source of water for the local community.
Don't miss the opportunity to take great photos and enjoy the rich history of this enchanting site. Your tour guide in Jaipur will provide information about its cultural significance, making your visit to Panna Meena Ka Kund truly memorable.
See Varanasi Tour Guide for Soulful Experience.
Sagar Lake:
After about half a kilometer from this pond, you will reach another hidden gem Sagar Lake. If you are going to visit in monsoon or post monsoon, you will see lush green mountains around this beautiful lake and a small island inside the lake. Some tourists go with Tour guide in Jaipur.
Explore Jai Ghar Fort with a Tour Guide in Jaipur
you can visit Jaigarh Fort Enjoy an unforgettable adventure as you visit Jai Ghar Fort with a Tour Guide in Jaipur. Mesmerized by the breathtaking Aravalli hills, adorned with a zigzag path that unveils picturesque landscapes at every turn. Witness the grandeur of the Jai Ban Cannon, an imposing symbol of power within the fort walls. Engage in captivating stories and fascinating anecdotes shared by your knowledgeable Tour guide in Jaipur, delving deep into the rich history of this majestic fort. Allow yourself to be transported to a bygone era as you explore the architectural marvels and soak in the awe-inspiring surroundings. A visit to the Jaigarh Fort promises a wonderful and mesmerizing experience that will leave you awestruck by its magnificence.
Best Places to Visit in Delhi: Tour Guide in Delhi
Tour Guide in Jaipur: Kanak Bagh and Old Govind Devji Temple
A tour guide in Jaipur can enhance your visit to the city by taking you to some of the most fascinating places around. One such place is the Kanak Bagh and Kanak Vrindavan Garden, which offer a mesmerizing view of Jaipur's beauty. Additionally, your tour guide can show you the Govind Devji Temple, where you can learn about the religious and cultural traditions of the city. The Natarajaji Mandir is another noteworthy destination that your tour guide can take you to, known for its picturesque surroundings and tranquil ambiance. After exploring these attractions, your tour guide can lead you to the lush green gardens at the foothills of the Aravallis, where you can enjoy a moment of peace and relaxation.
With the help of a tour guide in Jaipur, you can discover more about the city's history, architecture, and culture. They can offer insights into the city's iconic landmarks, as well as the hidden gems that only a local expert would know about. So if you want to experience Jaipur in the most meaningful and memorable way, hiring a tour guide is highly recommended.
Tour Guide in Jaipur: Jal Mahal Palace a Walk Around
Immerse yourself in the serene beauty of Jal Mahal as you walk around this enchanting water palace with friendly Tour Guide in Jaipur. Admire the captivating views of the palace and the surrounding Man Sagar Lake, which create a picturesque setting. Indulge in the unique experience of a camel ride, adding a touch of adventure to your Jaipur Tour. Explore the vibrant street Shopping fun, where you can find traditional handicrafts, colorful textiles, and local delights.
Let your Tour Guide capture your precious moments with memorable photographs, ensuring you have lasting memories of your visit. Jal Mahal, with its fascinating history, stunning architecture, and natural surroundings, offers a truly immersive experience for every traveler. Don't miss the opportunity to witness the cultural and historical significance of this captivating site with the guidance of a knowledgeable Jaipur Tour Guide.
See Nanital Tour Guide.
Tour Guide in Jaipur: Gator
Let yourself be transported back in time as you walk with trusted tour guide in Jaipur through this tranquil enclave, relishing the thrilling tales of Jaipur's historic past. Immerse yourself in the hidden wonders of Gator Ki Chatriya fascinating Secrets , a wonderful hidden gem in the heart of Jaipur. As an experienced tour guide in Jaipur, I invite you to immerse yourself in the fascinating tapestry of history and culture that this extraordinary site holds. Gator umbrellas are a testament to Jaipur's royal heritage, attracting history buffs and intrepid explorers alike.
Jantar Mantra with an Astrologically Proficient Tour Guide Jaipur
Discover the wonders of Jantar Mantar, This celestial sanctuary was designed to explore the mysteries of space and time. Jaipur's renowned stone observatory. Your Jaipur tour guide will unravel the secrets behind each instrument, offering insights into their purpose and functioning, into the ancient art of astrology and explore the intricate instruments that measure time, track stars, and predict celestial events. This UNESCO World Heritage site offers a fascinating journey into the realms of astronomy. Marvel at the architectural brilliance and scientific precision of the instruments while gaining insights into your zodiac sign's significance. Let your Jaipur Tour Guide unlock the secrets of the cosmos, providing a unique and enlightening experience at Jantar Mantar.
Tour Guide in Jaipur: Explore the Majestic City Palace
The magnificent City Palace in Jaipur is a must-visit attraction for tourists. Built by Maharaja Sawai Jai Singh in the 18th century, this historical palace complex showcases the opulent Rajput and Mughal architecture. With its stunning buildings like the Chandra Mahal and Mubarak Mahal, and a fascinating museum displaying royal artifacts and paintings.
The City Palace offers a glimpse into the rich heritage of Jaipur. Exploring the Diwan Khas, Diwan Aam, and the beautiful courtyards and gardens within the palace grounds is a delightful experience. A knowledgeable tour guide in Jaipur can enhance your visit, providing fascinating stories and insights that bring the City palace to life.
Tour Guide in Jaipur: Hawa Mahal famous landmark
Discover the Magnificent Hawa Mahal: Immerse yourself in Jaipur's famous landmark with a tour guide in Jaipur, take breathtaking photos and enjoy a stroll through the bazaars!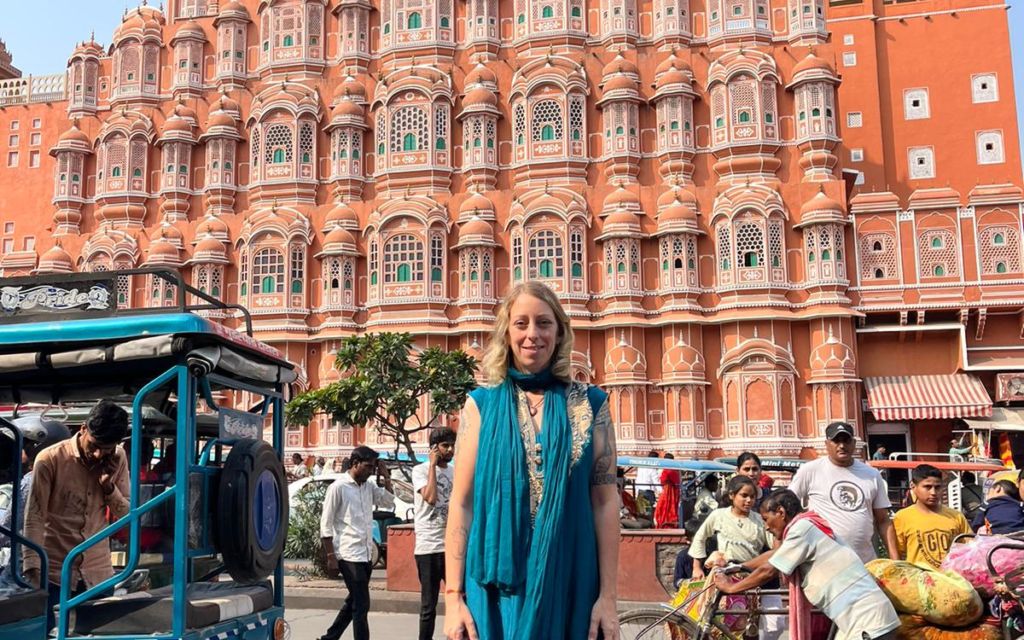 Hawa Mahal, the famous "Palace of Winds", is located in the center of Jaipur, Rajasthan, India. This architectural gem attracts countless tourists with its distinctive design and fascinating history. A visit to Hawa Palace is a photographer's paradise, as you get to click breathtaking photographs from its elevated vantage points.
A visit to the Hawa Mahal reveals the opulence of the Rajput era, providing a fascinating glimpse into the lives of kings and queens. Enrich your Jaipur experience with the architectural marvel of the Hawa Mahal, and immerse yourself in the vibrant markets surrounding this magnificent historical site. Let a knowledgeable tour guide in Jaipur shed light on the history of the palace, and an unforgettable trip back in time is sure to happen.
Tour Guide in Jaipur: Magnificent Birla Temple
Birla Mandir, also known as Lakshmi Narayan Mandir, is a tourist attraction in Jaipur. Located on the Moti Dingri Hill, With the expertise of a tour guide in Jaipur, visitors can learn in-depth about the historical and architectural significance of the Birla Temple. The guide can reveal the stories behind the construction of the temple and provide information about the Hindu deities – Lakshmi and Narayana.
The exterior of the temple has magnificent stained glass windows depicting scenes from Hindu mythology, skillfully decorated with exquisite sculptures. Inside, a large marble panel depicting legendary events captivates visitors. The temple's white marble structure, ornate carvings and grandeur of the main dome along with the mesmerizing illumination of the smaller domes at night create an awe-inspiring sight.
Surrounded by carefully manicured gardens, Birla Mandir provides a serene environment for visitors to admire its fascinating architecture. Exploring this spiritual sanctuary in Jaipur with a knowledgeable tour guide adds a rich layer to the experience, allowing visitors to appreciate the temple's historical, religious and architectural significance.
Tour Guide in Jaipur: Sisodia Rani's Garden:
As a tour guide in Jaipur, I highly recommend visiting the Sisodia Rani garden. It's a stunning three-story garden that's perfect for taking memorable photos. In fact, many couples choose this location for their pre-wedding and post-wedding photo shoots. Located just 6 km away from the majestic Jaipur City Palace, Sisodia Rani garden is a great place to escape the hustle and bustle of the city and immerse yourself in nature. The garden's well-manicured lawns and vibrant flower beds provide a picturesque backdrop for your photos
As your tour guide in Jaipur, Sisodia Rani garden is a must-visit destination for anyone interested in history, nature, and photography.
Vidyadhar Garden:
This garden is a less touristy place but it also has a very beautiful spacious garden with many amazing architectural canopies. It is also a popular place for many kinds of photo shoots. Here you will find two tiered lush gardens which are truly amazing to spend some time in. It is very close to Sisodia Rani Bagh Bagh.
Shri Govind Dev Ji Temple:
Jaipur Aradhya Dev Govind Devji Temple is also one of the most important places of interest in Jaipur city.
Tour Guide in Jaipur: Galta Ji Temple
You also visit Galtaji Temple with Tour Guide in Jaipur. This temple is also known as Monkey Temple. The beauty of this temple situated on the Aravalli hills is remarkable.
You will find many such temples in India, where the deep faith of the people of Hindu religion can be seen. Thousands of devotees come to the Galta ji with their wishes. Here you will find many temples, which are still associated with the cultural heritage of India. One such temple is 'Galatji Temple', which is known for its many beliefs. Devotees come here to take a dip in the holy pond. Sunset is the best time to visit magnificent temple as this time there are fewer monkeys.
See: The Holy City of Varanasi with Varanasi Tour Guide
Tour Guide in Jaipur: Albert Hall Palace Museum
It is one of the oldest museums in the state of Rajasthan and one of the most beautiful buildings in Jaipur. We suggest you visit after 7pm as it looks more amazing with colorful lights. Timings: 9:00 am to 5:00 pm, 7:00 pm to 10:00 pm; every day Entry Fee: ₹ 20 for Indians; ₹ 150 for foreigners
Tour Guide in Jaipur: Enjoy A Camel Ride
Embark on an exhilarating camel ride by the tranquil waters of Jal Mahal, where the majestic backdrop and gentle sway of the camel create a memorable adventure. As you traverse the picturesque landscape, the allure of the Pink City's architectural gem, Jal Mahal, is truly enchanting. It's a ride that blends history, nature, and excitement all in one.
Tour Guide in Jaipur: Photography in Rajasthan Dress
Immerse yourself in the vibrant and colorful culture of Rajasthan as you, with the guidance of a knowledgeable Tour Guide in Jaipur, don traditional Rajasthani attire for an unforgettable experience. Dressing up in traditional attire not only allows you to connect with the rich heritage of the region but also offers the perfect opportunity for a glamorous photoshoot. Capture these cherished moments to share with your Instagram friends, showcasing the regal splendor of Rajasthani clothing, intricate jewelry, and ornate turbans. Whether you choose a royal Rajput look or the graceful attire of Rajasthani women, each outfit tells a story of tradition and opulence. As you strike poses against the backdrop of Jaipur's majestic palaces or amid the bustling markets, you're bound to have a blast and create envy-inducing memories with your Instagram followers. Enjoy every moment of this unique and fun experience as you, with the help of a Tour Guide in Jaipur, step into the shoes of Rajasthan's royalty and revel in the spotlight.
Tour Guide in Jaipur: Shopping and Fun
Tour Guide in Jaipur: Enjoy Cycle Tour
Tour Guide in Jaipur: Fun with Elephants
The experience of riding, painting, and bathing elephants with our Tour Guide in Jaipur was truly transformative and will forever hold a special place in our hearts.
During our trip to Jaipur, we had an incredible and unforgettable experience with a Tour Guide in Jaipur. We rode, painted, and bathed elephants, creating lifelong memories and deepening our appreciation for these majestic creatures.
Our adventure began at an elephant village at Amber old Jaipur, where our Tour Guide shared fascinating insights into the stories of elephants in Indian culture. We embarked on an enchanting elephant ride, admiring the beautiful landscapes and feeling a sense of harmony with nature.
Tour Guide in Jaipur: Discovering Gems & Jewelry Factory
During our visit to Jaipur, we had the privilege of exploring a jewelry factory with the assistance of a Tour Guide in Jaipur. Together, we delved into the world of precious and semi-precious stones, immersing ourselves in the deep knowledge of gemstones and the art of creating exquisite ornaments.
Accompanied by our Tour Guide in Jaipur Pink City, we learned about the intricate craftsmanship and the meticulous process involved in crafting each piece of jewelry. The experts shared their expertise and passion, enlightening us about the quality and characteristics of different gemstones.
With the guidance of our Tour Guide in Jaipur, we carefully selected a few rings and pendants that caught our eyes. Each piece showcased the exceptional skill and dedication of the artisans. These precious ornaments would not only serve as cherished mementos of our visit to Jaipur but also as timeless adornments. It was a delightful journey into the realm of precious gems, made even more special by the expertise and guidance of our Tour Guide in Jaipur.
Tour Guide in Jaipur: Food and Restaurant
So this is the list of famous and best tourist places of Jaipur. Experience Jaipur through its rich culinary traditions You can make your own decision and visit the selected places accordingly. Also, if you have any questions about where to eat and what to eat, we recommend that you ask anyone within the city about the best dining options nearby as there are many options available. For more food we recommend you to try Rajasthani food like "Potato-Onion-Paneer Ki Sabzi and Raita with Seed Bread" "Dal Bati-Churma" "Gatta Ki Sabzi" "Rajasthani Thali" "Lal Maas" etc. Also you will find all the fast food options easily. Like Burger King, Domino's etc. Also there is a Jaipur Chowpatty (like Mumbai) near Jaipur city in Ram Bagh Circle where you will get variety of dishes with good taste at one place.
Tour Guide in Jaipur: How to Reach
There are many ways to reach Jaipur, the capital of Rajasthan, India.
By Air: Jaipur has its own international airport, Jaipur International Airport, which is well connected to major cities across India and many international destinations. Rail to major cities across India. Several trains run from Jaipur daily, making it a convenient option for commuters.
By Bus: Jaipur is well connected by road to major cities in Rajasthan and neighboring states. . There are several bus services, both public and private, that operate from Jaipur Drive to Jaipur Once in Jaipur, public transport such as buses, auto-rickshaws and taxis can be used to get around the city. The city has bike and car rental services as well as Uber, Ola and other taxi services.
Tour Guide in Jaipur: F.A.Q.
Q1. Do I need a Tourist Guide in Jaipur?
A: It is recommended to have a guide in Jaipur as some of the monuments you will not be able to understand without a tour guide.
Q2. How many days do you need in Jaipur?
A: Two days are enough to visit the main places of Jaipur. There are plenty of places to choose from though. Most of the tourist attractions are associated with history such as forts, palaces and temples.
Q3. Which month is best for Jaipur?
A: The best time to visit Jaipur is during the winter months from November up to March.
Q4. Is it worth getting a tour guide in Jaipur?
A: Key Benefits of Hiring a Private Tour Guide we definitely recommend hiring a private tour guide in Jaipur for your trip. A guide can save you time and money and help you get the most out of your trip.