Tour Guide in Jaipur/Enjoy Best Places to Visit in Jaipur
Tour Guide in Jaipur Discover the Soul of Indian Culture and Uncover Hidden Gems. Your trip to India would be incomplete without experiencing the enchanting state of Rajasthan, known as the soul of Indian culture. And Jaipur, the stunning pink city, is a must-visit destination for any traveler. With our expert Jaipur Tour Guide, you'll discover the best places fit for a Maharaja, from grand royal palaces and forts to vibrant pubs and exquisite restaurants. Tour Guide in Jaipur is committed to uncovering hidden gems that will leave you in awe. Take you on a journey to Jaipur's best-kept secrets, places that you've never heard of before but will undoubtedly become the highlight of your trip. So keep reading till the end, and let us show you the true beauty and magic of Jaipur.
Tour Guide in Jaipur for Places to Visit in Jaipur
Jaipur is a magical city, with a rich history, vibrant culture, and stunning architecture. These are some of the most popular historical places to visit in Jaipur, each of them having its own unique charm and significance. A visit with Tour Guide Jaipur is a journey through time, and a chance to experience the true essence of India. Jaipur also has many other tourist attractions that visitors can enjoy. A visit to the many palaces and royal forts will make you feel like a Maharaja. Some of the most popular tourist attractions in Jaipur are:
1.Amber Fort 2. City Palace 3.Hawa Mahal 4. Jantar Mantar: 5. Jal Mahal: 6 JaigarhFort 7.Nahargarh Fort: 8. 9.Govind Dev Ji Temple 10.Albert Hall Museum 10.Birla Mandir 12.Kanak Vrindavan Valley 13.Sisodia Rani Ka Bagh 14. Jantar Mantar 15. Elefantastic 16. Chokhi Dhani 17. Raj Mandir Cinema.
You will also see many multistoried buildings. Big malls will also be visible. And let's not forget the city's welcoming atmosphere, a quality rooted in Rajasthan's royal culture and heritage.
Benefits of Local Tour Guide in Jaipur
A tour guide in Jaipur can provide a variety of benefits to visitors, including:
Knowledge of the local culture and history: A Tour Guide in Jaipur can provide in-depth information about the history, culture, and traditions of Jaipur, which can enhance the overall experience for visitors.
Navigation and organization: A Tour Guide in Jaipur can help visitors navigate the city and plan their itinerary, ensuring that they see all the important sights and experiences in the most efficient way possible.
Safety and security: A Tour Guide in Jaipur can also help ensure visitors' safety and security by recommending safe and reputable places to stay, eat, and visit.
Insider access: A Tour Guide in Jaipur can also provide visitors with access to places that may not be accessible to the general public, such as private palaces or cultural events.
Language assistance: A Tour Guide in Jaipur can also help visitors navigate language barriers, as they will likely be fluent in both the local language and English.
Stress-free travel: Having a Tour Guide in Jaipur will save visitors from the stress of planning and navigating a new place.
7. Safety: A tour guide in Jaipur can help you navigate the city safely and ensure you don't accidentally wander into an unsafe area.
8. Personalization: The tour guide in Jaipur can customize the tour according to your interests and ensure that you have an experience that is tailored to your needs.
9. Local Contacts: Tour guide in Jaipur will have relationships with local businesses, such as restaurants and shops, and can help you find the best deals and experiences.
10. Cultural Immersion: A tour guide in Jaipur can give you a deeper understanding of the local culture, customs and traditions and help you experience Jaipur in a more authentic and meaningful way.
11. Stress-free Experience: With a tour guide in Jaipur, you don't have to worry about navigating unfamiliar streets or figuring out transportation, which can make your trip more comfortable and enjoyable.
12. Access to special or inaccessible places: A tour guide in Jaipur may have access to special or inaccessible places that you cannot visit on your own.
13. Tour guide in Jaipur will help you plan your trip as per your budget, time and other preferences.
Hiring a tour guide in Jaipur can be a great way to maximize your time in Jaipur and ensure that you have a memorable and enjoyable experience.
Amer Fort:
If you're planning to visit Jaipur, make sure to hire a tour guide in Jaipur to explore the famous Amer Fort. This architectural masterpiece is situated on a hilltop near Jaipur and is one of the major tourist attractions in the city. Built in 1592 by Maharaja Man Singh I, the fort is made of pink and yellow sandstone and is part of a vast complex. The Amer Fort has labyrinth-like passages and serpentine staircases that make it a unique and magnificent palace in India. It served as the main residence of the Amar Rajput rulers and holds special significance in Indian history. To avoid the tourist rush, we recommend you to visit the fort early in the morning as it will take you at least 2 hours to explore the massive fort. The entry to the fort starts at 8 am.
At the top of the Amer Fort you can have a beautiful view of Mawta Lake and Kesar(Saffron) Kyari. The city of Amer was a small town built by a small tribe called 'Meena' before the rule of the Kachhwahas. Amar Fort is named after Ambekeshwar, another name of Lord Shiva, however, locals also believe that the name is derived from Amba, another name of Goddess Durga. Once named Dhuandar, the city was ruled by Kachhwahas from the 11th century to the 16th century, when the capital was finally moved to Jaipur.
The Amir fort is a historic fort that has stood against all odds for centuries. Built by Raja Man Singh in 1592 AD, the fort was extended and renovated by his successors for the next 150 years. The name of the ancient palace is 'Kadimi Mahal', which is considered to be the oldest palace in the country. Raja Mansingh even built a small temple dedicated to their patron goddess 'Sheila Mata' within the fort's walls. Despite the destruction of many old structures and the construction of new ones, the Amir Qila has stood the test of time.
Inside the fort, visitors can see intricate paintings in ancient hunting style and portraits of important Rajput rulers. The Amer Fort palaces are divided into four parts, each with its own separate entrance and courtyard. The main entrance to the fort is called 'Sun Pool' or Sun Gate, named for its east-facing position with respect to the rising sun. The grand staircase leads to an impressive courtyard called Jaleb Chowk within the palace complex, while the staircase to the right leads to the historic Saladevi temple. Jaleeb Chowk, which was used by the army to display its war booty, allowed women to watch the action from the windows. A tour guide for the Amir Qila can give you an in-depth understanding of the fort's rich history and cultural significance.
Panna Meena ka Kund
After seeing Amer Fort you can go down with Tour Guide in Jaipur and see behind Amer Fort you will find a beautiful place which is known as Panna Meena Kund. It is not so famous but a beautiful place for an amazing photo shoot. The stepwell was built in the 16th century by a Rajput nobleman named Panna Meena, and it was used as a community gathering place and a source of water. The stepwell is built of red sandstone and has a unique geometric design, with a series of steps and terraces leading down to the water. The walls of the stepwell are adorned with intricate carvings and sculptures, depicting scenes from Hindu mythology and daily life.

One of the most striking features of Panna Meena ka Kund is its double helix staircases. These staircases are located on opposite sides of the stepwell and lead down to the water at the bottom. They are designed in such a way that the people using the staircases would not meet each other. This was a unique architectural solution for the time, and it is thought to have been intended to provide separate access to the stepwell for men and women.
Panna Meena ka Kund is not only an architectural marvel but also an important cultural and historical site. It is a testament to the ingenuity and creativity of the people of ancient Amer, and it continues to be a popular tourist attraction today. The stepwell is also an important source of water for the local community, who still use it to this day.
There you will find a very ancient Hindu temple which is not worshiped nowadays as it is not in good condition but it is a great place for some unique photos.
Sagar Lake:
After about half a kilometer from this pond, you will reach another hidden gem Sagar Lake in the affluent area of ​​Jaipur. If you are going to visit in monsoon or post monsoon, you will see lush green mountains around this beautiful lake and a small island inside the lake. Some tourists also go there.
Jaigarh Fort and Nahargarh Fort:
you can visit Jaigarh Fort with Tour Guide in Jaipur. where a huge 18th century cannon "Jeevan Cannon" is preserved. And you can also visit Nahargarh Fort where the scene of the movie "Rang De Basanti" was shot. If you are not interested in these things and as you have already visited Amir Fort then you can skip these two places as they are a little far from Amer Fort.
Jaigarh and Nahargarh Forts are popular tourist destinations in Rajasthan, India. Jaigarh Fort is located in the Aravalli Hills, and is known for its architectural beauty and rich history. It was built in the 18th century and was used to protect the city of Amber from invading armies. Nahargarh Fort, also located in the Aravalli Hills, offers beautiful views of the city of Jaipur and is a popular spot for sunset viewing. Both forts are open to visitors and offer a glimpse into the history and culture.

Forts offer visitors a variety of activities and attractions. Jaigarh Fort features several museums and exhibitions showcasing the history and culture of the region, as well as a variety of weapons and artifacts used by the Rajput warriors who once protected the fort. The fort also has a large cannon, named "Jaivana", which is one of the largest cannons in the world.
Nahargarh Fort, on the other hand, offers visitors breathtaking views of the surrounding city and countryside from its high-altitude location. There are several terraces and balconies that offer panoramic views and is a popular spot for photography. The fort also features several palaces, courtyards, and gardens that offer a glimpse into the lifestyle of the Rajput kings who once lived there.
Both forts are also famous for the Rajasthani food, the forts have many local restaurant which serves the traditional Rajasthani cuisine.
Visiting Jaigarh and Nahargarh Forts is a great way to learn about the history and culture of Rajasthan and to experience the beautiful architecture and natural beauty of the region. It is a must-visit place for any tourist visiting Jaipur.
Kanak Bagh and Old Govind Devji Temple:
A tour guide in Jaipur can enhance your visit to the city by taking you to some of the most fascinating places around. One such place is the Kanak Bagh and Kanak Vrindavan Garden, which offer a mesmerizing view of Jaipur's beauty. Additionally, your tour guide can show you the Govind Devji Temple, where you can learn about the religious and cultural traditions of the city. The Natarajaji Mandir is another noteworthy destination that your tour guide can take you to, known for its picturesque surroundings and tranquil ambiance. After exploring these attractions, your tour guide can lead you to the lush green gardens at the foothills of the Aravallis, where you can enjoy a moment of peace and relaxation.
With the help of a tour guide in Jaipur, you can discover more about the city's history, architecture, and culture. They can offer insights into the city's iconic landmarks, as well as the hidden gems that only a local expert would know about. So if you want to experience Jaipur in the most meaningful and memorable way, hiring a tour guide is highly recommended.
Jal Mahal Palace walk around with Tour Guide in Jaipur
Jal mahal is one of the most visited places in Jaipur. You must visit this beautiful water palace. Jal Mahal Beautifully set in the middle of Man Sagar Lake, it is mesmerizing to just sit with your tour Guide in Jaipur and watch and admire the beautiful views of the palace and the surrounding lake. . The palace was built in the 18th century by Maharaja Sawai Pratap Singh, and it was used as a hunting retreat for the royal family. Jal Mahal is a stunning palace located in the middle of Man Sagar lake in Jaipur, Built in 18th century by Maharaja Sawai Pratap Singh, it was used as a hunting retreat. The palace is constructed of red sandstone and features Rajput and Mughal architectural styles, with intricate carvings and paintings. Visitors can take a boat ride to the palace, admire the views and also enjoy bird watching. It is an important cultural and historical site and has undergone restoration work to preserve it for future generations. It is a must-see destination for tourists visiting Jaipur.

It is an important cultural and historical site that showcases the skill and ingenuity of the architects and builders of that time and it is a perfect example of the rich heritage of Rajasthan. The palace is surrounded by water on all sides and can only be accessed by boat. The palace is also an important habitat for various aquatic birds, making it a popular spot for bird watching. The boat ride to the palace is a unique experience in itself, and the view of the palace from the lake is truly breathtaking.
The palace is a perfect blend of Rajput and Mughal architecture, and its unique location in the middle of the lake is what makes it stand out from other palaces in the city.
You can start with Tour Guide in Jaipur to visit Best tourist spots of Jaipur as all the places are close to each other. It is the city that inspired Paul McCartney to write "Riding in Jaipur" and became the backdrop for the classic exotic Marigold Hotel films. It is a place to enjoy the performing arts, feast on sumptuous food at the banquet halls of royalty and reminisce on the bygone era of the Maharajas. Ride and explore elephants.
Gaitor ki Chattariyan with Tour Guide in Jaipur
As a tour guide in Jaipur, I highly recommend visiting Gaitore ki Chattariyan to experience the city's rich history and culture. This is a must-visit site for anyone interested in exploring the royal heritage of Jaipur. The monuments here are not just impressive in their architecture, but they also hold immense historical significance. The royal family of Jaipur chose this place as their final resting ground, and each monument is a tribute to their legacy. Gaitore ki Chattariyan is also an excellent spot for photographers looking for a unique backdrop for their photos. The serene atmosphere and beautiful surroundings make it a perfect photo shoot location. When you visit Gaitore ki Chattariyan, take a moment to appreciate the intricate carvings and unique designs of the monuments. As you wander around the site, you'll feel like you've stepped back in time and are witnessing a part of Jaipur's rich past.
Gaitore ki Chattariyan is a hidden gem in Jaipur that should not be missed. As your tour guide in Jaipur, I strongly recommend adding this site to your itinerary and experiencing the beauty and history of this magnificent place.
Jantar Mantra Observatory
Located near the City Palace in the royal city of Jaipur, Jantar Mantar is the world's largest stone astronomical observatory. Due to its rich cultural, heritage and scientific value, Jantar Mantar of Jaipur has also been included in the UNESCO World Heritage List. This ancient study boasts of nineteen instruments made of stone and brass and was commissioned by Raja Sawai Jai Singh in 1727-33. Your tour guide in Jaipur will tell you about each instrument.
The main purpose of building this huge observatory was to study and collect information about space and time. The Jantar Mantra in Jaipur is a collection of various architectural and astronomical instruments. It contains 19 large geometric instruments for measuring time, predicting eclipses, detecting planetary declinations, determining celestial altitudes, and tracking stars in their orbits. The main instrument here is the Samrat Yantra Sundial which can tell the local time with an accuracy of 2 seconds.
City Palace
The magnificent City Palace of Jaipur is one of the most popular tourist attractions located in the old part of the city. Built by Maharaja Sawai Jai Singh between 1729 and 1732, it was once the seat of the Maharaja of Jaipur. The palace is divided into a series of courtyards, buildings and gardens, including the Chandra Mahal and the Mubarak Mahal. The museum displays various unique handicrafts and other items related to the royal heritage of the City Palace.
City Palace in Jaipur, Rajasthan is a beautiful and historical palace complex that attracts many tourists every year. The palace was built by Sawai Jai Singh II, the ruler of Jaipur in the 18th century, and is a fine example of Rajput and Mughal architecture. It houses many magnificent buildings, including the Chandra Mahal, Mubarak Mahal and the City Palace Museum, which houses a collection of royal artifacts and paintings. Visitors can also see the Diwan Khas, Diwan Aam and beautiful courtyards and gardens within the palace grounds. The palace offers a glimpse into the rich history and culture of Jaipur and is a must visit for anyone visiting the city.
Hawa Mahal
Hawa Mahal, also known as the "Palace of the Winds," is a beautiful and iconic landmark located in the city of Jaipur, Rajasthan, India. It is a popular tourist destination and is known for its unique architecture and rich history. The palace is also a popular spot for photography, and the views from the top of the palace are truly breathtaking.
The Hawa Mahal was built in 1799 by Maharaja Sawai Pratap Singh, a Rajput king of the Kachwaha dynasty, as an extension to the City Palace. It was designed to resemble the crown of Lord Krishna, and was primarily built for the royal women of the Rajput court, who were not allowed to be seen by outsiders. The palace was used by the women to observe the activities in the city while remaining unseen.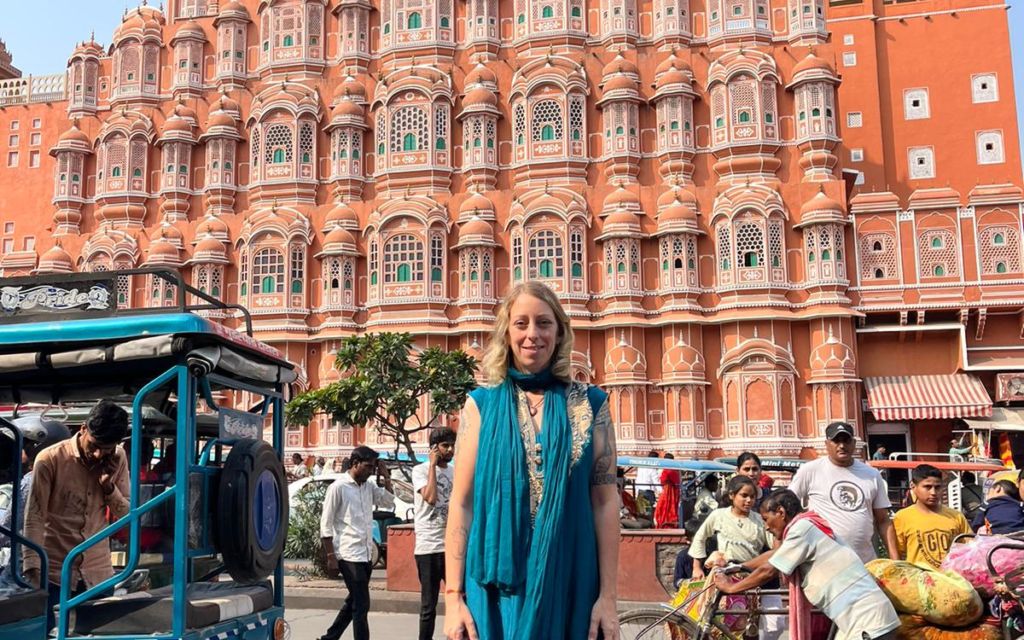 The palace is made up of five stories and is constructed entirely of red and pink sandstone. The most striking feature of the palace is its 953 small windows, called jharokhas, which are decorated with intricate latticework and carvings. The palace also features several courtyards and gardens, which were used by the women for leisure and relaxation.
Visiting Hawa Mahal is a great way to experience the beauty and architecture of Jaipur. The palace offers visitors a glimpse into the lifestyle of the Rajput kings and queens and provides a unique perspective on the culture and customs of the region. The intricate latticework and carvings on the palace are a testament to the skill and artistry of the Rajput builders and craftsmen.
Birla Temple
Birla Temple, also known as Lakshmi Narayan Temple, is a popular tourist attraction in Jaipur.The magnificent Birla Temple in Jaipur is a Hindu temple, also known as Lakshmi Narayan Temple, is located on the Moti Dungri Hill. The temple was built by the Birlas in 1988 when the Maharaja of Jaipur gave land for a token amount. The Birla Temple in Jaipur is famous for its exquisite carvings and delicate work. The three major domes of the temple represent three different aspects of religion. Outside the main temple, there are several stained glass windows that depict scenes from Hindu mythology and are carved with majestic sculptures. Inside, a large marble panel depicting legendary events greets you.
The temple is dedicated to the Hindu deities Lakshmi (goddess of wealth) and Narayana (protector of the universe). The temple is made of white marble and is decorated with intricate carvings and sculptures. It also has a large central dome and several smaller domes, which are illuminated at night. The temple is surrounded by well-manicured gardens and is a popular place for visitors to enjoy the beautiful architecture and peaceful atmosphere.
Sisodia Rani's Garden:
As a tour guide in Jaipur, I highly recommend visiting the Sisodia Rani garden. It's a stunning three-story garden that's perfect for taking memorable photos. In fact, many couples choose this location for their pre-wedding and post-wedding photo shoots.
Located just 6 km away from the majestic Jaipur City Palace, Sisodia Rani garden is a great place to escape the hustle and bustle of the city and immerse yourself in nature. The garden's well-manicured lawns and vibrant flower beds provide a picturesque backdrop for your photos. It was built by Maharaja Sawai Jai Singh II in 1728 as a gift for his queen, Sisodia Rani. The garden's stunning architecture and intricate design are a testament to the royal couple's love for each otherWhen you visit Sisodia Rani garden, take some time to explore the garden's numerous water fountains and beautiful murals depicting scenes from the life of Lord Krishna. You can also visit the garden's souvenir shop to buy some locally made handicrafts.
In conclusion, Sisodia Rani garden is a must-visit destination for anyone interested in history, nature, and photography. As your tour guide in Jaipur, I highly recommend adding this garden to your itinerary to experience the beauty and history of this magnificent place.
Vidyadhar Garden:
This garden is a less touristy place but it also has a very beautiful spacious garden with many amazing architectural canopies..It is also a popular place for many kinds of photo shoots. Here you will find two tiered lush gardens which are truly amazing to spend some time in. It is very close to Sisodia Rani Bagh Bagh.
Shri Govind Dev Ji Temple:
Jaipur Aradhya Dev Govind Devji Temple is also one of the most important places of interest in Jaipur city.
Galta Ji Temple
You must also visit Galtaji Temple with Tour Guide in Jaipur. This temple is also known as Monkey Temple. The beauty of this temple situated on the Aravalli hills is remarkable.
You will find many such temples in India, where the deep faith of the people of Hindu religion can be seen. Thousands of devotees come to the Galta ji with their wishes. The Indian state of Rajasthan is also famous for its many religious places. Here you will find many temples, which are still associated with the cultural heritage of India. One such temple is 'Galatji Temple', which is known for its many beliefs. In today's article, let us introduce you to some interesting facts about this temple.

Dewan Rao Karparam laid the foundation stone of the temple in the 18th century. Kirparam was a Diwan in the court of King Sawai Jai Singh. Built on the outskirts of the royal city of Jaipur, this temple is one of the famous religious places. Galataji Temple is very popular among tourists from all over the world. Galta ji temple is situated in the deep of Aravalli hills away from Jaipur's hustle and bustle. Galtaji's architecture is distinctive for its blend of Indian classical and Rajasthani elements such as the chhatri or curved canopies that adorn the roofs of the temples, as well as the beautiful murals depicting scenes from Indian mythology
Galtaji Temple is most revered for its natural water springs, from which water automatically flows into the temple premises and is collected in tanks. This natural spring never dries up which amazes the tourists and attracts them from all over. Galta Kund is the holiest of the seven ponds in the temple complex.
The beautifully designed temples are decorated with frescoes of Hindu deities, weddings and legends. You will get to see thousands of monkeys at this holy place. The interesting thing is that these monkeys do not harm the devotees who come here. These playful wild monkeys are found in and around the temple premises during morning and evening hours. Every year around the middle of January i.e. 'Makar Sankranti' people come here to take a dip in the holy lake. Sunset is the best time to visit magnificent temple as this time there are fewer monkeys. January, February, October and December are the best months to visit this temple
Albert Hall Palace Museum
It is one of the oldest museums in the state of Rajasthan and one of the most beautiful buildings in Jaipur. We suggest you visit after 7pm as it looks more amazing with colorful lights.
Tour Guide in Jaipur for Food and Restaurant
So this is the list of famous and best tourist places of Jaipur. Experience Jaipur through its rich culinary traditions You can make your own decision and visit the selected places accordingly. Also, if you have any questions about where to eat and what to eat, we recommend that you ask anyone within the city about the best dining options nearby as there are many options available. For more food we recommend you to try Rajasthani food like "Potato-Onion-Paneer Ki Sabzi and Raita with Seed Bread" "Dal Bati-Churma" "Gatta Ki Sabzi" "Rajasthani Thali" "Lal Maas" etc. Also you will find all the fast food options easily. Like Burger King, Domino's etc. Also there is a Jaipur Chowpatty (like Mumbai) near Jaipur city in Ram Bagh Circle where you will get variety of dishes with good taste at one place.
Enjoy a Camel Ride with Tour Guide in Jaipur
Jaipur Tour Guide Photography with Rajasthan Dress
Shopping at Jaipur with tour Guide
Enjoy Cycle Tour with Guide in Jaipur
Fun with Elephants at Jaipur with Tour Guide
Enjoy Jewelry Factory
How to Reach Jaipur
There are many ways to reach Jaipur, the capital of Rajasthan, India.
By Air: Jaipur has its own international airport, Jaipur International Airport, which is well connected to major cities across India and many international destinations. Rail to major cities across India. Several trains run from Jaipur daily, making it a convenient option for commuters.
By Bus: Jaipur is well connected by road to major cities in Rajasthan and neighboring states. . There are several bus services, both public and private, that operate from Jaipur Drive to Jaipur Once in Jaipur, public transport such as buses, auto-rickshaws and taxis can be used to get around the city. The city has bike and car rental services as well as Uber, Ola and other taxi services.
Tour Guide in Jaipur F.A.Q.
Q1. Do I need a Tourist Guide in Jaipur?
A: It is recommended to have a guide in Jaipur as some of the monuments you will not be able to understand without a tour guide.
Q2. How many days do you need in Jaipur?
A: Two days are enough to visit the main places of Jaipur. There are plenty of places to choose from though. Most of the tourist attractions are associated with history such as forts, palaces and temples.
Q3. Which month is best for Jaipur?
A: The best time to visit Jaipur is during the winter months from November up to March.
Q4. Is it worth getting a tour guide in Jaipur?
A: Key Benefits of Hiring a Private Tour Guide we definitely recommend hiring a private tour guide in Jaipur for your trip. A guide can save you time and money and help you get the most out of your trip.
Tagged:
Jaipur travel guide
Places to visit in Jaipur
Tings to do in Jaipur