Welcome to Majnu ka Tilla, a delightful neighborhood in Delhi that embraces the rich tapestry of Tibetan culture and spirituality. Majnu ka Tilla is not only home to Tibetan refugees but also boasts a beautiful Gurdwara, adding a unique dimension to its diverse landscape. Immerse yourself in the serene ambiance of the monasteries, where prayer flags flutter and chants resonate, creating an atmosphere of peace. Indulge in the mouthwatering Tibetan cuisine and explore the vibrant market, brimming with colorful handicrafts and traditional clothing. Conveniently located near the metro station, Majnu ka Tilla invites you to embark on a fascinating journey, where Tibetan traditions, Sikh heritage, and modern urban life blend harmoniously.
Majnu Ka Tilla Mini Tibet: A Historic Refuge for Tibetan Culture and Resilience
Majnu Ka Tilla, also known as Chung Town New Aruna Nagar, Delhi, is a significant settlement established in 1950 for Tibetan refugees. This neighborhood, situated along the picturesque banks of the Yamuna River, has had its legal status come under dispute. In 1995, residents received a formal assurance from the Centre that they could stay until the international dispute over Tibet was resolved. Majnu Ka Tilla Mini Tibet has been a sanctuary for refugees, attracting visitors with its vibrant blend of fashion, food, culture, and positive ambiance. The streets are adorned with monks, and the thriving community reflects the pride residents hold in their Tibetan heritage and culture. With strong ethnic identities and a dedication to preserving their traditions, Majnu Ka Tilla Mini Tibet remains a testament to resilience and cultural preservation.
Might be interested in: Old Delhi Heritage Walk.
The narrow streets encompass the journey of life through the transcendental medium of art, where graffiti on the walls reflect the clandestine commerce of words left unsaid, encouraging the traveler to discover the world within.
Majnu ka Tilla Delhi Monastery
Moving further into the labyrinth of narrow lanes, you'll find the sacred Buddhist temple. where monks live who practice the Buddhist philosophy of Tibet. The temple is open to all, always lit-up with diyas with the fragrant aroma of incense sticks wafting about – a meditative space of harmonic oscillations between creative action and introspection.
At the heart of the Mini Tibet in Delhi stands a Buddhist temple with a wide front yard, crowded by people clicking pictures of the quintessential Tibetan architecture.
Majnu ka Tilla Prayer Wheel
A cylindrical wheel at the court yard opposite the monastery, mini Tibet in Delhi, on a spindle made of metal, wood, stone, leather or coarse cotton, widely used in Tibet and areas where Tibetan culture is predominant.
Traditionally, a mantra is written in the Ranjana script or Tibetan script. The mantra Om Mani Padma is the most commonly used, but other mantras can be used as well.
In addition, sometimes Dakini, guards and often eight auspicious symbols (ashtamangala) are also shown. In the center of the cylinder is a "tree of life" often made of wood or metal, around which certain mantras are written or wrapped. Several thousand (or in the case of large prayer wheels, millions) of mantras are re-wrapped around this tree of life.
According to Tibetan Buddhist tradition, rotating such a wheel would have the same effect as praying orally, depending on the text relative to the prayer wheels. The first prayer wheels, which are driven by wind, have been used in Tibet and China since the fourth century.[1] The concept of the prayer wheel is a physical manifestation of the phrase "turning the wheel of Dharma", which describes the way in which the Lord Buddha taught.
A few kilometers from the North Campus of Delhi University, you can find this hidden gem – 'Mini Tibet in Delhi'. At first glance, it was as if one has been sent to another land. Music, fragrance, people – the whole scene changes once you enter the colony. People visiting here usually sit at these restaurants after a long stroll down the narrow shopping lanes
Majnu Ka Tilla Gurdwara: Tracing the Historical Tapestry of Sikh and Sufi Heritage
The Majnu Ka Tilla Gurdwara in Delhi holds a captivating story that intertwines Sikh and Sufi influences. The name "Majnu Ka Tilla" translates to "a hill of Majnu," referring to the Iranian Sufi Abdullah, also known as Majnu, who encountered Sikh Guru Nanak Dev in 1505. Majnu, a hermit, traversed the Yamuna River, freeing himself from worldly attachments in the name of God. The gurdwara is situated on the right bank of the Yamuna River, opposite Timarpur Colony.
This historical gurdwara was constructed by Sikh military leader Baghel Singh Dhaliwal in 1783 to commemorate the establishment of Guru Har Gobind. Guru Nanak Dev blessed Majnu during a chance encounter near the river, and the once feeble guardian transformed into a devoted disciple. During Guru Nanak's stay on this hill, numerous Sufi elders from Delhi visited to engage in spiritual discussions with the Guru. Notably, Hazrat Nizamuddin, the Sajjad Nashin of the Saints' Dargah, had a profound impact on his conversation with Guru Nanak.
Majnu's radiant spirit and unwavering love for his Guru attracted countless individuals to this sacred place, turning it into an exceptional missionary center over the centuries. Legend has it that Guru Nanak Dev was so impressed by Majnu's devotion that he proclaimed, "Your name will live on forever." Thus, the gurdwara was named Majnu Ka Tilla, in eternal remembrance of this once-Muslim saint.
Discover the Flavors of Mini Tibet: Majnu Ka Tilla's Irresistible Cafes and Restaurants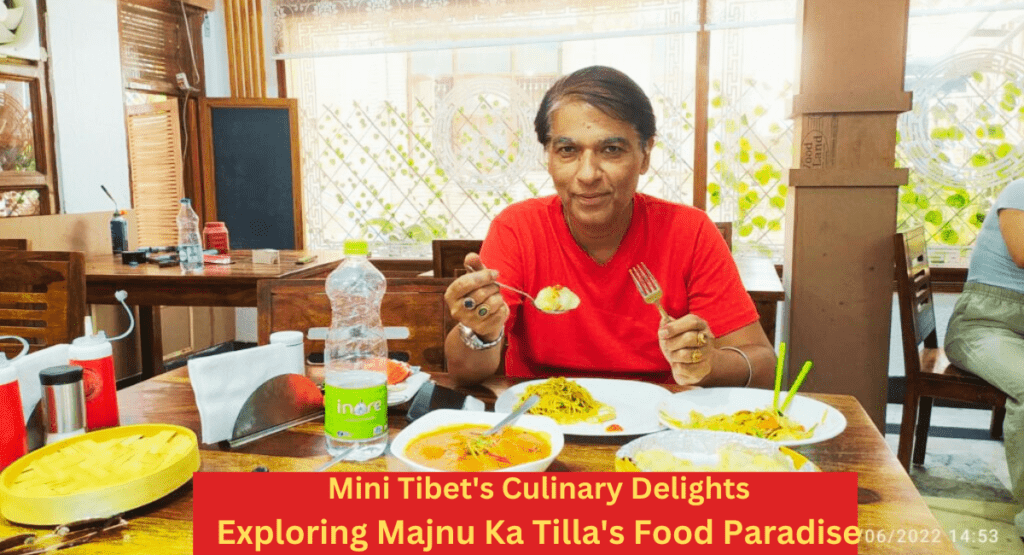 Majnu Ka Tilla (MKT) offers a serene escape from the city's chaos, nestled near Delhi University. This enchanting neighborhood, often referred to as 'Mini Tibet,' is a food and fashion haven for foodies and shopaholics alike. Indulge in a culinary adventure as you explore the myriad of pocket-friendly eateries and cafes that line the streets. From delectable momos to a variety of Tibetan delicacies, Majnu Ka Tilla satisfies every foodie's cravings. With its vibrant atmosphere and affordable dining options, this place has become a favorite among students and locals. Prepare to embark on a gastronomic journey through the charming lanes of 'Mini Tibet.
Romantic Places for Couples in Delhi.
Dolma House Restaurant: New Camp Majnu ka Tilla
Try their fried momos and chili chowmein once here, just outside the market on Chamomile Lane you will find Hot Yak Cafe, which specializes in making a variety of momos like Buff Momo, Fried Momo, Swimming Momo. Make sure you try the Thantok (cold soup with noodles and vegetables) which is offered here in different varieties. This restaurant has a simple seating and casual ambience, but the food served here is truly delectable. The menu offers Chinese and Tibetan cuisines, which are very authentic. Thukpa and Dimsums Jhol are recommended here.
Tee Dee Restaurant: Majnu ka Tilla
A beautiful place in Tee Dee MKT that serves some of the best momos with a warm and cozy atmosphere! You can always count on Tee Dee for breakfast and if you're looking for a non-vegetarian meal, you must try the Shredded Pork with Mushrooms. Visit the TD Restaurant, located on the first floor of the Tee Dee Cyber ​​Cafe. This restaurant is famous not only for its momos but also for guma,
Tee Dee Café at Mini Tibet in Delhi. IN the crowded streets of Majnu Ka Tilla, walls have been painted red to protest the Chinese occupation of Tibet. On the walls was written, "Indo-Tibet border, not India-China border." In the national capital, 'Mini Tibet' echoes the demands of an independent Tibet. In addition, a portrait of His Holiness the Dalai Lama hangs at the top inside every shop.
Mini Tibet in Delhi, is a paradise for foodies. You'll find authentic Tibetan and Chinese Cuisine here. popular for Tibetan breakfast and my go-to place at Majnu ka Tila. Although the restaurant opens at 9:30 am, they start serving around 11:00 am. Therefore, plan your visit accordingly. Shabalay, Shapta, Tingmo, Momos, Stuffed bread and non-alcoholic Fruit beer are a few of the must-try dishes at Tee Dee is the place for good, cheap food. Most of the restaurants are run by Tibetans, and while conversations can get difficult sometimes, the food is always amazing.
AMA Restaurant: 40, New Tibetan Camp, Majnu ka Tilla New Delhi
AMA Restaurant Not to be confused with Ama Cafe, this restaurant caters to your cravings for authentic Tibetan and Asian cuisine. With dishes such as Thanthuk, Tingmo, Chilli Fish and many more, Uma is everything you could want for an Asian meal. Don't miss their thumbs!
Himalaya Restaurant: House 26, New Tibetan Camp, Majnu Ka Tilla, New Delhi
Himalaya Restaurant is not as popular, but Himalaya Restaurant definitely offers the most extensive menu to choose from, filled with authentic dishes from all over the mountains. Choose from Shaptak, Shable, Mokathuk and more!
Coffee House: 39, Basement, Majnu Ka Tilla, New Delhi
Coffee House A perfect place for those with a sweet tooth, the Coffee House serves one of the best mud cakes and banana muffins! With fresh and homemade sweets and drinks to choose from, the coffee house is a place where you can sit and relax for hours.

Yamuna Café: D-34, East House, Majnu Ka Tilla, New Delhi
Yamuna Cafe Perhaps the only place in Delhi located on the banks of the Yamuna, this cafe really sets itself apart. Spacious and airy with an incredible look, Yamona Cafe serves some of the best pizzas and pastas in MKT!
Rigo Restaurant: 180, Tibetan Old Camp, Majnu ka Tila, New Delhi
Looking for more than just Tibetan restaurants? Rego is your savior as it serves shakes, mocktails, tea and coffee as well as most of our cuisine, from Italian to Asian. One of the few places to offer a special Japanese menu that serves drool-worthy sushi!
AMA Cafe: House 6, New Colony, Majnu Ka Tela, New Delhi
AMA Cafe Ask any foodie in Delhi what they love most about 'Little Tibet' and the first one will be this small cafe that serves delicious breakfast. In addition to the nutritious Himalayan meal of mashed potatoes, eggs and Tibetan bread, you can also enjoy delicious pizzas and a typical English breakfast of chicken sausage with bacon strips, pancakes and coffee. And in the meantime, click some Insta-worthy pictures too!

Kham Coffee House: 158, Tibet Colony, Majnu ka Tilla New Delhi
House of kham will surely transport you to a cafe in the mountains with its chic, exquisite Tibetan ambience. You must try their desserts including the sinful carrot cake!

Kori's: House No. 18-19, Sampa Guest House, Majnu Ka Tilla Delhi
More popular than anything else for Korean cuisine including a specialty Korean platter, Kori is a great place to spend a long day sipping on good food.

Mini Tibet's Shopper's Delight: Exploring Majnu Ka Tilla's Budget-Friendly Shopping Haven
Majnu Ka Tilla, often referred to as Mini Tibet in Delhi, is a shopaholic's paradise and a favorite hangout spot for students from Delhi University. The area is renowned for its authentic Tibetan restaurants that serve tempting culinary delights. When it comes to shopping, Majnu Ka Tilla offers a wide range of budget-friendly options. From clothing and shoes to bags and jewelry, you can find good quality products at reasonable prices. Leading brands are also available, catering to various tastes and preferences. Additionally, the area boasts a diverse array of offerings, including perfumes, Korean-Chinese films, honey, beauty products, handicrafts, decorative items, and paintings. For those seeking cultural immersion, Mini Tibet houses a small monastery and a Buddhist temple. The shops here sell Tibetan handicrafts, herbal teas, and Tibetan herbal cosmetics renowned for their healing properties. With its guest houses and budget hotels, Mini Tibet has become a popular choice for tourists seeking an authentic and affordable experience in Delhi. Call Best Delhi Tour Guide.
Tempting Taste of Tibet: Delight in Laphing at Majnu ka Tilla, Mini Tibet
When exploring the vibrant market of Majnu ka Tilla, Mini Tibet, one cannot miss the small stalls that tempt the taste buds with a beloved Tibetan dish called Laphing. Whether enjoyed dry or with soup, Laphing captivates the senses with its unique flavors. Known by various names like Laping or Laffi, this dish boasts a simple yet delicious recipe, primarily featuring chili oil and garlic.
Laphing's charm lies in its minimalistic combination of ingredients that create a burst of flavors. The dish carries the perfect blend of spiciness and garlic-infused goodness. As you savor each bite, you'll be transported to the narrow lanes of Tibet, where Laphing holds a special place in the culinary traditions.
For those seeking a delectable and authentic taste of Tibet, the stalls offering Laphing at Majnu ka Tilla Mini Tibet are a must-visit. Indulge in this delightful dish and experience the tantalizing flavors that capture the essence of Tibetan cuisine.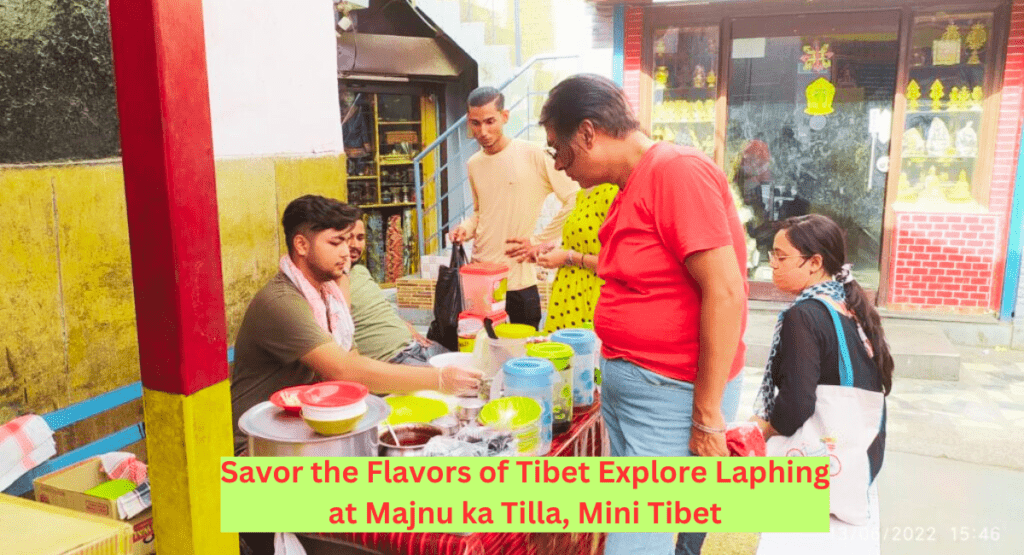 Laping is 50/ for one Roll cut and served.
At Mini Tibet in Delhi, all things Korean, led by its vibrant entertainment industry. Korean culture is duly reflected here as several shops selling Korean products 
Majnu ka Tilla Nearest Metro Station How to Reach?
Majnu ka Tilla Nearest Metro Station – Vidhan Sabha on Yellow Line
Majno's Hill is just a rickshaw ride from Delhi University (North Campus), Kashmiri Gate or Vidhan Sabha. The nearest metro station to Majno Ka Tila is Vidhan Sabha (Yellow Line / Jahangirpuri-Huda city centre). You can also get off at Vishwa Vidyalaya or Kashmiri Gate metro stations to reach Majno Ka Tila.
You have to transfer from Central Secretariat Station to Yellow Line and then exit Vidhan Sabha Metro Station. The distance to this metro station is only 1.8 km. Far from the mound of madmen. You can take an auto or a rickshaw from Vidhan Sabha to Majnu Ka Tila. This is a 10 minute walk. Auto fare is Rs. 10-20.
Hope you Enjoyed Majnu ka Tilla a Mini Tibet. Good Bye