Golden Temple Amritsar Tour Guide
Golden Temple Amritsar attracts millions of visitors every year and is considered one of the most important cultural and spiritual sites in India.one of the most important religious and cultural sites for the Sikh community. This is a best tour Guide to the Golden Temple Amritsar with interesting places to visit nearby and best food to taste.
Amritsar Tour Guide An Overview
Golden Temple Amritsar is a city in the northwestern Indian state of Punjab. The city was founded in 1577 by Guru Ramdas, the fourth Guru of the Sikhs. It developed over the centuries as the center of Sikh political power and became an important center of trade and commerce. During British rule, Amritsar was a center of Indian independence activism.
After India's independence in 1947, Amritsar remained an important center of Sikhism and culture. Today, the city is a thriving metropolis and a major tourist destination, attracting millions of visitors each year to its historical sites, religious shrines, and vibrant markets.
History Of Golden Temple Amritsar

The Golden Temple, also known as Sri Harmandir Sahib, is a Sikh Gurdwara located in Amritsaris considered one of the holiestand is an important pilgrimage sites for the Sikhs. The temple was originally built in the early 1600s by Guru Arjun Dev, the fifth guru of the Sikhs. Over the centuries, it was destroyed and rebuilt several times, with the current structure built in the mid-19th century. The temple is known for its magnificent golden dome, which gives it its name, as well as its ornate architecture and intricate carvings.
The Golden Temple also serves as a symbol of the resilience and determination of the Sikh community, as well as its commitment to equality and justice. The temple serves as a langar, or community kitchen, which serves free food to all who come, irrespective of their religion, caste or background.
Golden Temple Tour Guide: Benefits of Hiring
Amritsar tour guide can benefits you in several ways: can advise on the best times to visit the Golden Temple to avoid peak crowds and ensure a peaceful experience.
Golden Temple Amritsar tour guide is a skilled storyteller, has in-depth knowledge of the history, culture, and significance of the Golden Temple, providing you with a deeper understanding of the sacred site.
Amritsar tour guide with a good sense of humor can make your tour more fun and entertaining by local stories, sharing interesting anecdotes, and making light of situations.
Golden Temple tour guide can help you navigate the complex grounds of the Golden Temple and avoid long lines, saving you time and hassle. Share his knowledge of the city and its hidden gems, helping you discover things you may not have found on your own.
Amritsar tour guide can arrange for you to participate in local experiences, such as participation in langar, a food walk, a visit to a local market, that are both entertaining and educational.
What to See in Golden Temple Amritsar
The first glimpse of Golden Temple with Tour guide, open white-lit courtyard, the beautiful golden shining through the mirror like in the middle of the lake, illusion a jha or sudarshan chakra in closed eyes.
The crowd of thousands of devotees, the music of melodious divine hymns, the fragrance of the desi ghee with flowers, that's the beautiful sight of Shri Harimandar Sahib. It will remaines in your heart forever.
Golden Temple Tour Guide: Places to Visit Within The Complex
The Golden Temple Amritsar is a vast complex that includes many important Sikh places of worship and historical monuments, as well as facilities for pilgrims.
Sri Harmandir Sahib (Golden Temple): The main temple of the complex, it is a splendid example of Mughal architecture, with its dazzling golden domes and intricate marble carvings.
Darshan Deori: The gateway to the Golden Temple, this magnificent arch offers a breathtaking view of the temple and the pond surrounding it.
Sarovar: A large, rectangular reservoir surrounding the Golden Temple, it is considered sacred to Sikhs and is used for rituals such as baptism. One can immerse oneself, in this soul full experience. Listen to hymns playing from the inner sanctum as you take a dip in the Amrit Sarovar or the lake at the center of the complex. Note that you have provision for wet clothes and covered room for women. According to Sindhu, bathing under a tree, as most people do, has a special significance.
Baba Atal Rai Tower: A nine-storey tower that houses a museum dedicated to the memory of Baba Atal Rai, a young Sikh saint who died at a young age.
Guru Ka Langar: The community kitchen of the temple, it serves free food to all visitors irrespective of their religion, caste or background.
Akal Takht: The central seat of Sikh political authority, it is located directly opposite the Golden Temple and is considered one of the five Takhts of Sikhism.
Museum: A museum within the complex that showcases the history and culture of the Sikh community, including its art, manuscripts and historical artifacts.
Visitors can spend hours exploring the Golden Temple complex, enjoying its architectural beauty, participating in its spiritual activities and learning about its rich cultural heritage.
Tourist Attraction In Golden Temple Amritsar
The Golden Temple, also known as Sri Harmandir Sahib, is one of the most popular tourist attractions in India and a must-see for travelers visiting Amritsar. Here are some reasons why the Golden Temple is a tourist attraction:
Spiritual Significance: The Golden Temple is considered one of the holiest sites for Sikhs and is an important pilgrimage site. Pilgrims come to the temple to worship, participate in religious ceremonies and soak in its spiritual atmosphere.
Magnificent Architecture: The Golden Temple with its gleaming golden dome and intricate marble carvings is a splendid example of Mughal architecture. Tourists are often amazed to see its beauty and grandeur.
Rich Cultural Heritage: The Golden Temple symbolizes the rich cultural heritage of the Sikh community and its commitment to equality, justice and compassion. Visitors can learn about the history and culture of the Sikh community through guided tours and visits to the temple museum.
Community Kitchen: The temple serves as a langar, or community kitchen, which provides free food to all who come, irrespective of their religion, caste or background. It is a unique experience for the visitors and gives a glimpse into the commitment of the Sikh community towards hospitality and service.
Peaceful Surroundings: The Golden Temple is surrounded by a large, serene pond called the Sarovar, which provides a peaceful and serene environment for the visitors. Many people visit the temple to meditate, meditate and find inner peace.
Overall, the Golden Temple is a unique and fascinating destination that offers visitors the opportunity to experience India's rich cultural heritage, immerse itself in its spiritual atmosphere, and witness its commitment to equality and compassion.
Palki Saheb at Golden Temple Amritsar Timings
The Palki Sahib ceremony is when the holy book 'Guru Granth Sahib' is taken to a room for the night. This is a very symbolic gesture. The sacred song closes, some hymns are read by the revered priest, then the book is closed.
As the Golden Temple Amritsar is open round the clock, there is no specific time to visit the Golden Temple. Shri Harmandir Saheb has no fixed timings as the holy place is open day and night. The same applies to the langar timings of Golden Temple Amritsar as it is available 24 hours.

Timings Of Routine Worship at Golden Temple
Kiwad (Divine Doors) Opening Time – 2.15 a.m.
-Kirtan in Amrit Vela (early morning) – 2.30 a.m.
Asa di Var – 3.15 a.m.
Departure of Shri Palki Sahib from Sri Akal Takhat Sahib – 4.15 a.m.
First Hukamnama (Guru Granth Sahib) – 4.45 a.m.
First Ardas – 5.15 a.m.
Asa Di War Samapti – 6.15 a.m.
Second Ardas & Hukamnama – 6.30 a.m.
Holy reading of Path Shri Rehras Sahib starts at sunset.
Hukamnama at night – 10.15 p.m.
Departure of Palki Sahib from Sri Harimandir Sahib – 10.30 p.m.
Sukh-Aasan Sahib at Sri Akal Takhat Sahib – 10.45 p.m.
The best time to visit Golden Temple Amritsar is from October to March. The months of November and April are the best time to visit Golden Temple as devotees visit this Gurudwara during Guru Nanak Jayanti and festival of Baisakhi. See official Golden Temple Amritsar Routine.
Golden Temple Amritsar: Places to visit Near
Amritsar is a vibrant and historic city, with a rich cultural heritage and many tourist attractions. Some of the Top places to visit in Amritsar are:
Jallianwala Bagh: A historic garden Jallianwala Bagh close to Golden Temple Amritsar that was the site of a massacre in 1919, where British soldiers opened fire on a peaceful gathering of Indians, killing hundreds of innocent people.
Durgiana Temple: Shri Durgiana Tirth, near Golden Temple Amritsar a Hindu temple dedicated to mother Goddess Druga, Built in the third decade of the 20th century, it echoes not only the architecture of traditional Hindu temples but also that of the Golden Temple and similarly rises from the center of a tank and has a chhatra and central dome in the Sikh style. The foundation of the temple was laid by Pandit Madan Mohan Malaviya, one of the greatest reformers and political leaders of the rising India. Known for its intricate carvings and beautiful marble sculptures.
Wagah Border: Most visitors go after Golden Temple Amritsar to the Wagah border between India and Pakistan. The main attraction there is the flag hoisting ceremony, which takes place at the post every evening at sunset. It has been running since 1959 with great fanfare. A ceremonial border crossing between India and Pakistan, famous for the daily "Beating Retreat" ceremony, a military parade by soldiers from both countries.
Ram Bagh Garden: A beautifully landscaped garden which is a popular place for picnics and leisurely strolls.
Maharaja Ranjit Singh Panorama: A museum dedicated to the life and legacy of Maharaja Ranjit Singh, the great ruler of the Sikh Empire.
Partition Museum: A museum dedicated to the partition of India and Pakistan in 1947, showcasing events and stories from that historical period. The Partition Museum is the first museum in the world dedicated to the 1947 Partition. It is a public museum that aims to tell the stories of the millions of people affected through oral histories, refugee artifacts, personal artifacts, letters, photographs, and original documents.
The entry fee for foreigners is INR 250 per ticket, and for Indian residents, it is INR 10. Children below the age of five are admitted free of charge.
Gobindgarh Fort: From Golden Temple its only 2.1 k.m. Historic fort that was once the center of power of the Sikh Empire, it has now been converted into a museum that showcases the rich cultural heritage of Punjab. Fort was built in 1760 AD by the Sikh army of Gurujar Singh Bhangi. The Gobindghar fort was rebuilt by Maharaja Ranjit Singh between 1805 and 1809 AD. It was captured by the British authorities in 1849 and remained under military occupation for nearly 150 years. Prince Naonihal Singh (grandson of Maharaja Ranjit Singh) was magnificently married in the fort in 1837. The fort also had a watch tower which was fifty meters high and was completed in 1874.
Rama Tirtha Temple: A historic temple complex dedicated to the Hindu deity Rama, and the place where he is believed to have performed the Ashomedha Yagya. An important pilgrimage site for Hindus, the Ram Tirtha temple dates back to the Ramayana period. It is believed to be the abode of sage Valmiki, where mother Sita took refuge after being abandoned by her husband Lord Rama. It is believed that Lord Rama's sons Lo and Kush were born here. Located 12 km west of Golden Temple Amritsar.
Overall, Amritsar offers a rich and varied range of tourist attractions, from its famous Golden Temple to its historic gardens, museums and temples, making it a must-see destination for any traveler to India.
Golden Temple Amritsar: Best Food
Amritsar is famous for its rich and delicious cuisine, which combines the flavors of Punjabi and Sikh culinary traditions. Here are some popular food items to try in Amritsar:
Amritsari Kulcha: A type of spicy, leavened bread stuffed with mashed potatoes, onions, or paneer and served with spicy chickpeas. Try at Kulcha Land Amritsar.
Langar: A free community meal served at the Golden Temple Amritsar, consisting of simple but delicious vegetarian dishes such as roti, dal and vegetables. Every day at the Sri Harmandir Saheb, thousands of people eat a simple yet delicious vegetarian dish called Guru Ka Langar. Food is prepared in a community kitchen spread over three different floors. According to Sewadars, visitors can see how food is prepared in large vessels and transported to the service floor.
Butter Chicken: A creamy and flavorful dish made from tender pieces of chicken in a tomato and butter sauce.
Tandoori Chicken: A dish of marinated chicken roasted in a traditional clay oven, resulting in a crispy exterior and succulent meat. Try for lunch Beera Chiken House at Amritsar.
Chole Bhature: A classic Punjabi dish made of spiced chickpeas served with fried bread, perfect for a hearty and filling meal. In the labyrinthine lanes of old buildings near the Golden Temple tour guide This is your first encounter with a famous Lahore Dal Makhani sure a relationship with taste. Its is different 😀 Try century old Kesar da Dhaba is an iconic eatery in the Old City near Golden Temple for dinner.
Lassi: A refreshing and creamy yogurt-based drink flavored with spices, sugar or fruit, perfect to beat the heat on a hot day.
Aloo Tikki: A popular street food dish made of mashed potatoes shaped into patties and deep fried till crisp and golden brown.
Saag: A hearty and nutritious dish made from pureed spinach, often served with roti or rice. Next to Town Hall at golden Temple Amritsar, Bharawan da Dhaba , since 1912 and is best known for its winter specialty of "sarson da saag" mustard greens with "makki ki roti" cornmeal flatbread.
Kulfi: A traditional Indian ice cream that is thicker and creamier than Western ice cream, flavored with cardamom, pistachio or mango.
Amritsari Fish: Go with Golden Temple tour guide for popular Fish at Amritsar and taste at Makkhan Fish corner. People who are fond of eating fish. Knows the taste inside out, their favorite is the famous Makhan Fish. The rest of the crowd here and the line of cars will prove that ❤️.
These are just a few of the many delicious and flavorful dishes to be tasted in Amritsar, and there are many regional specialties and street food options to explore in this vibrant and delicious city.
How to Reach Golden Temple Amritsar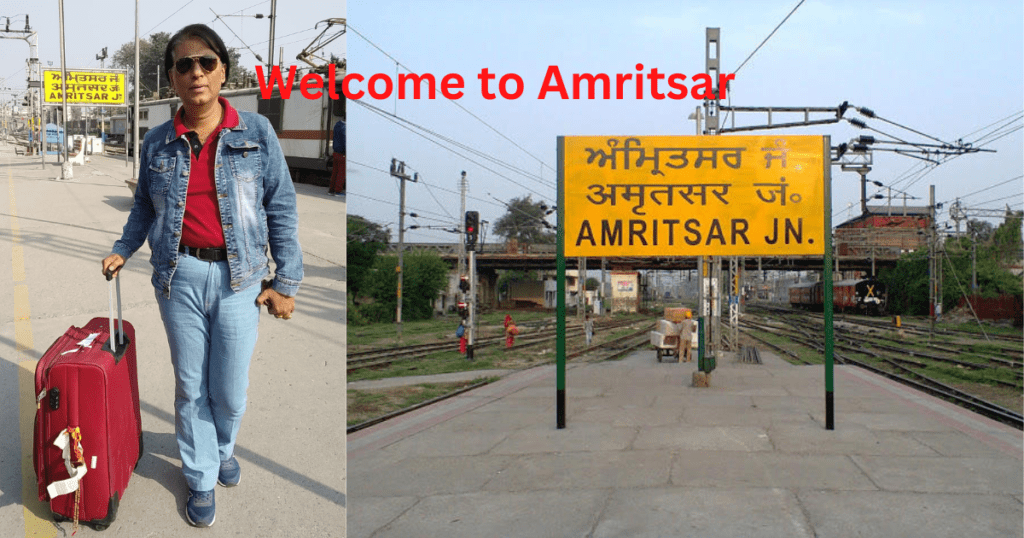 There are 5 direct trains from New Delhi to Golden Temple Amritsar. This/these trains are 02925, 02903, 04673, 02715, 04649, etc. The minimum train time from New Delhi is 7 hours 55 minutes. The cheapest way to reach Amritsar from New Delhi is by Shatabdi train to Amritsar Junction and it takes 6 hours 55 minutes. The fastest way to reach Amritsar from New Delhi is to fly to Sri Guru Ram Das ji International Airport and takes 1 hour 10 minutes. The recommended way to reach Golden Temple Amritsar from New Delhi distance is 445 k.m. bus takes 7 hours 45 minutes.
Advice by Tour Guide

Golden Temple tour guide is essential for a seamless visit to the Golden Temple in Amritsar. They provide information, ensure safety, and minimize waiting times. Without a guide, tourists may face difficulties such as language barriers, navigating the complex, and lack of information. Hiring a guide enhances the experience and provides a deeper understanding of this important religious and cultural site.
Tagged:
golden temple amritsar photos
golden temple amritsar timings
Golden Temple Darshan
Golden Temple Tour