Best Ayodhya Tour Guide and Package
Ayodhya tour package guide provides a spiritual and cultural experience for Hindu pilgrims and tourists. The package includes a tour of the Ram Janmabhoomi temple complex, where the Ram temple is located, as well as other important religious sites in Ayodhya such as the Hanuman Garhi temple and the Kanak Bhawan temple. The Ayodhya tour guide allows tourists to explore the rich cultural heritage of the city through visits to local markets, museums, and historical sites.
Ayodhya Tour Package Guide: Ram Jinaka Nam hai, Ayodhya jinaka Dham hai, Aise Raghunandan ko, Mera pranaam hai. Spend some quiet moments in this holy City of Shri Ram.
Ayodhya Tour
Package

Guide: Places to Visit in Ayodhya
Ayodhya is an ancient city considered to be one of the Seven Holi Cities of the Hindus, related to the birth of Shri Rama and the reign of his father Dashrath in the great Indian epic poem Ramayana. According to this source, the city was prosperous, fortified and had a large population. A city of great religious and spiritual significance. Ayodhya is a city located on the banks of the holy river Sarayu in the state of Uttar Pradesh, India. It is mentioned in the Ramayana and is one of the seven holiest cities in India. Ayodhya is home to many temples, Islamic institutions, holy Ghats, which attract large crowds of tourists and pilgrims.
Some other temples where you can pay your respects on your Ayodhya tour package include Hanumangarhi dedicated to Lord Hanuman, Nageshwarnath Temple where Lord Nageshwarnath is worshiped and Trita Ke Thakur where you can find idols of Lord Rama, Hanuman, Lakshmana, Bharat Can see got it. , Sugreev et al. Visit Tulsi Smarak Bhawan, where poet-scientist Goswami Tulsidas composed the Ramcharit.
Apart from the temples, Ayodhya tour guide also recommends for a visit to the Gulab Bari, a rose garden, the tomb of Nawab Shuja-ud-Daula and his parents. Apart from this, you can also visit Bahu Begum Ka Maqbara, a beautiful mausoleum dedicated to Begum Anmat-ul-Zahra Banu, the wife of Nawab Shuja-ud-Daula. Located in Faizabad, about 20 minutes from Ayodhya, it was built in 1816 and is known for its Old architecture.
Ayodhya Tour Package Guide: Ram ki Pedi River Sarayu
The Ram Ki Pedi is a series of Ghats along the Sarayu River in Ayodhya A large number of devotees come daily to take a holy bath in the waters of the holy Sarayu. The riverfront offers a spectacular view, especially on flooded nights. Ram Ki Paidi is the attractive bathing ghat built for the convenience of multitude of Ram devotees to have a sacred bath in holy Sarayu waters. Visit this early morning or during sunset with Ayodhya Tour Guide. It is beautiful. It is the bathing ghat (area) built for all the people who come there.
The source of all is Lord Vishnu (Skanda Purana). It is one of the seven tributaries of the Ganges and is considered so sacred that it removes the impurity of mankind. Ayodhya – The birthplace of Lord Sri Rama (the seventh incarnation of Supreme Lord Vishnu) and the capital of the state in Treta Yuga, Ayodhya is situated on the banks of the Sarayu River, thus it is extremely important in India. There is a series of ghats on the Ram ke Pedi survey which includes rows of temples along with ghats and gardens. It is attended by lakhs of devotees throughout the year and is a holy place for various religious ceremonies and festivals. Evening Aarti is a wonderful experience at the ghat of Sarayu.
Visit: Holi City with Varanasi Tour Guide for a Soulful Experience.
Ayodhya Tour Package Guide: Shree Hanuman Gahri
The son of Pawan, Anjani Soot, Kesari Nandan, Mahavir etc. is known to his Bajrang bali by many names. Whoever pronounces his name, its glory is inexhaustible. In Kali Yuga, only Hanuman ji is considered as a deity. Lord Hanuman himself is the storehouse of knowledge, intelligence, strength etc. By worshiping him, the devotee becomes fearless, happiness and sorrow etc. never come around him. He works with a steady intellect even in adverse times.
Hanuman Garhi in Sai Nagar is a 10th century temple dedicated to the Hindu god Hanuman. It is one of the most important temples of Ayodhya as it is customary to visit Hanuman Garhi before visiting Ram Temple in Ayodhya tour package. It is believed that Lord Hanuman lived at the site of the temple that protected Ayodhya. Hanuman Garhi is 1 km away from Ayodhya Railway Station. Vikramaditya built a temple which later became known as Hanuman Garhi. It is believed that Lord Hanuman (son of Pawan) protected Ayodhya here. Here in the main temple you will see a beautiful statue of hair (youth) sitting on the lap of Mata Anjani.
When Lord Rama returned to Ayodhya after conquering Ravana, Hanumanji started living here. That is why it was named Hanumangarh or Hanuman fort. From here Hanumanji used to protect Ramkot. In the main temple, Hanuman ji sits on the lap of Mata Anjani. This huge temple and its residential complex are spread over 52 bighas. There are many temples in the country including Vrindavan, Nashik, Ujjain, Jagannathpuri. There is a 76-step path to enter the temple built on the top of the hill. Within a panoramic view of the surrounding hills lies a 6-inch tall statue of Hanuman. The main temple has an inner cave which houses several idols of Lord Hanuman and his mother Maa Anjani. Ram Navami and Hanuman Jayanti, which celebrate the birth of Lord Rama and Lord Hanuman respectively, attract thousands of devotees to Hanuman Garhi.
Ayodhya Tour Package: Dashrath Mahal Near Ram Mandir
Dasharatha Mahal is located in the heart of Ayodhya. It is believed that this building was built on the exact spot where King Dasharatha used to reside and the existence of Lord Rama's father is also connected with this place. The temple of this building has idols of Sri Rama, Lakshmana and goddess Sita. The entrance of this temple is very big and colorful. Devotees gather in large numbers in this complex and keep on chanting hymns. Ram ji was also born here.
'Dasharath Mahal' is located in the heart of Ayodhya. . According to legends, King Dasharatha founded this palace in the Treta era. Dashrath Palace in Ayodhya is an extraordinary place to visit , It is located at a distance of 50 meters from Hanuman Garhi. Incredible architecture make this place an amazing and famous place. Dasharatha Mahal is It is believed that this building was built on the exact spot where King Dasharatha used to reside and the existence of Lord Rama's father is also connected with this place. The temple of this building has idols of Sri Rama, Lakshmana and Sita. The entrance of this temple is very beautiful and charming. You can find various interesting themes, fabulous designs and various merchandise under one and the same roof at the nearby stores of Dashrath Palace. This is truly a wonderful place to visit on your Ayodhya tour to hang out have some tea snacks and littel lunch with friends and family. There are other names of Dashrath Mahal by which it is known. Bada sthan .
Dashrath Bhavan open at 08:00 AM to 12:00 Noon and then again 04:00 PM to 10:00 PM.
Surprised to see innumerable devotees meditating on Sanskrit hymns and prayers in their own or known languages. A common feature of all these prayers is the pronunciation of "Rama Ram".
Ayodhya Tour Package Guide: Ram Mandir Temple site
After Dasharatha Mahal one can proceed towards the temple site visit. Its just a walking distance, pass through security barricades. Lockers are available on the road side. One has to deposited their watch mobile any electronics devices but keep wallet with you. Once you enter inside the security corridor one can see the construction site of ram janam bhumi , where Larsen and turbos cranes were busy carrying stone panels. Stop in front of the ghrabh Grah pay your respect take ashirwad also collect your prasad and back to your locker and collect your belongings. This is your main focus of at Ayodhya tour.
Soulful Experience with Harry +91 9811500757 Best India Tour Guide.
Ram Darbar in Ayodhya Tour Package Guide
Ram Darbar temple is located at Janki Ghat, Bada Asthan, Ayodhya, Uttar Pradesh. The facade of the temple is quite large but the temple can be reached only through a narrow door. Along with Sita and others, Lord Rama is the main deity of the temple. The temple is open from 8 am to 12 noon and from 4 pm to 8 pm. Every eleventh day of every Hindi month, Ram Navami and Sharavan attracts a large number of devotees. If you are visit Ram Darbar Temple take some time relax sit silently for some time.
Ayodhya Tour Package Guide: Guptar Ghat
Guptar Ghat is 10 km from Ram Janam Bhumi. It is a very interesting and attractive place for tourists to enjoy boating and beautiful gardens. This is the most beautiful and serene place of tranquility . You can experience great happiness and peace here which is said to be the place of niryan of Lord Rama. Every tourist must visit this place on there Ayodhya tour and take a ride in the holy river and go on the sandy island spent some time enjoy the view of the Guptar ghat and feel the cool breeze. There are ample restaurants, You can taste litti Chokha.
The ghat is located at the banks of the Sarayu River and is an important pilgrimage Dham for the Hindus. Guptar Ghat is considered to be the place where the Lord Ram is said to have drowned himself in a 'Jal Samadhi', to leave for his holy abode went back to Vaikuntha. Therefore, the believers believe that having a dip at this ghat, they will be freed from all their sins and they will be saved from all their worldly worries. The ghat also has various temples and you can enjoy the aarti in the evening. At Guptar Ghat there are some steps to reach the water flowing into the Serio River and some of the steps are submerged in water, which varies from time to time on the water level and depends on the pressure of the upper water source. One can also visit the famous Raja Mandir and Chakra Harji Vishnu Temple which are located around the Guptar Ghat.
Mani Parvat in Ayodhya Tour Package Guide
Mani Parvat in your Ayodhya tour package is very unique located on a small hill of 65ft. It is believed to be a part of the hill of Sanjeevani booti that lord Shree Hanuman carried. It is said that it was fallen from Hanuman when he was carrying the hill in his hand in order to heal and save the life of shree Lakshman. It gives a great panoramic view of of the city from the hill atop. The view is mesmerizing for photo lovers. There are many shrines atop the hill for the visitors to worship. It is said that Vishakha, a worshiper of Lord Buddha, took the education of Dhamma in the company of Buddha. A Buddhist vihara was established near this Mani mountain. There are small Tea shops nearby but CRPF security is very high.
Visit Nandi Gram in Ayodhya Tour Package Guide

It is said about Nandigram, Bharat Kund that here Lord Rama did penance to return from exile. It is believed that when Rama left the palace for 14 years of exile, Bharat also accompanied him. After being told by Ram, he was stopped at Nandigram itself. It was here that Bharata started running the royal palace of Ayodhya by taking the kadauw of Shri Ram as a symbol. When Ram returned to Ayodhya after 14 years of exile, he met Bharata here. For the father's pind daan (charity), a kund (resorvier) was constructed in Nandigram, which was considered as Bharatkund.
It was here that Bharat and Hanuman met and hugged each other. It is a peaceful and serene place. People also come here to perform Shradh ceremony (prayers for the departed souls) and take a dip in the sarovar. At the other end of Bharatkund is the Gaya altar. Before going to Gaya (Bihar) to offer obeisance's to ancestors on this altar, this place has great importance in Hinduism due to the obligatory donation of Pind here. on Ahyodhya tour, Just relax under the banyan tree on the banks of Bharat Kund and have a cup of tea and enjoy the music of silence
Grand Bell of Ram Mandir is must to see on Ayodhya Tour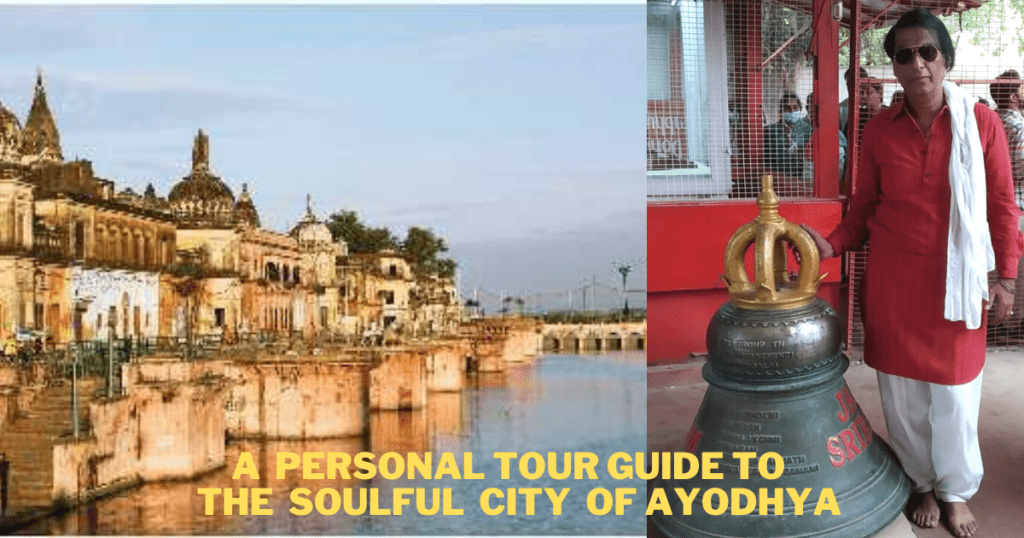 This Grand Bell is one Sacred thing for Darshans and Blessings in Ayodhya tour package.
Ayodhya's Ram Mandir Gets 4-Feet Tall Bell Weighing 613 Kg From Tamil Nadu
A Ram Rath Yatra, that wheeled off from Tamil Nadu's Rameswaram on September 17, reached Ayodhya on Wednesday along with a gigantic bell weighing over 600 kg that would be installed at Ram temple ( must visit at your trip to Ahyodha. The Yatra was organized by Chennai-based 'Legal Rights Council'. The 'Grand Bell' is 4.1 feet tall and has "Jai Sri Ram" embossed on it. When the 613 kg bell would be rung, the sound would be heard within the periphery of 10 km of the temple town. Also, the sound of the bell will echo 'Om', Raj Laxmi Maada, who drove the Ram Rath all the way from Rameswaram to Ayodhya, a distance of 4,500 km spanning 10 states. Raj Laxmi, who also holds a world record of pulling 9.5 tons of weight, is popularly known as Bullet Rani.
Ayodhya Tour Package and Guide: Trains from Delhi
Best Trains from Old Delhi to Ayodhya Cantt:
15623 Bhagat ki Khothi Kamakhaya Express : Departure 0455 and Arrival at 1630
15116 Loknayak Express : Departure 1400 and Arrival at 1435
14206 Delhi Ayodhya Cantt Express: Departure 1820 and Arrival at 0715
15718 Ajmer Kishan Ganj Garib Nawaz: Departure 2035 and Arrival at 0746
15026 From [Anand Vihar] Mau Express goes to Ayodhya Junction: Departure1630 Arrival at 0636
Check Latest Trains update with Indian Rail Info
Ayodhya Tour Package: Enjoy Best Place to Eat
There are many places to eat and drink on your Ayodhya tour, but most of them are vegetarian restaurants. You can visit Makan-Malai restaurant which is established in the basement of Hotel Ramprastha. The restaurant serves delicious Indian and Chinese food. If you are looking for a great ambiance, you can always head to Avantika Restaurant. It has a lounge like atmosphere which is liked by the youth. Other eateries include Chandra Madwadi Restaurant, Shri Kanak Bhawan Prasad Griha and many more within the city. Enjoy chaat, samosas, aloo chaat and other snacks on the streets of Ayodhya.
Ayodhya Tour Package Guide is a fulfilment of the Soul
Faith is not clinging to a temple, but an endless pilgrimage of the heart. Your knowledge will be of no use. Two legs are enough and big eyes to see. Walk the streets of Ayodhya alone. Wishing shri Ram ji accept your prayers and may be pleased with you. Filled with joy and happiness. May Prabhu Ram make all your dreams and wishes come true. "Pilgrimage is a powerful metaphor for any journey with the purpose of finding something that matters deeply to the traveler." ~ Phil Cousin au …
Ayodhya Tour Guide is a little Pilgrimage. If you like, write Jai shri Ram in the comment bellow..
Tagged:
Ayodhya tour package
Jai Shree Ram
Ram Janam Bhumi Temple Visit
To see in Ayodhya
Trip to Ayodhya from Delhi
Visit Ayodhya