Art of Kashmir Carpet Making in Delhi Tour Guide
Handmade Carpet Making in Delhi Tour Embark on a captivating journey into the heart of Kashmir craftsmanship. This immersive tour offers a unique blend of demonstration and hands-on learning, providing you with a deep understanding of the intricate art of carpet making. Led by skilled artisans hailing from the enchanting valley of Kashmir, this tour invites you to witness the mesmerizing process of creating handmade carpets. Over the course of four enriching hours, you'll not only observe a demonstration of the art but also get your hands directly involved in the process. Feel the soft yarn between your fingers as you knot the threads on the loom, under the careful guidance of these master artisans.
Join us for this unique 4-hour carpet-making tour that goes beyond mere observation, offering you the chance to actively participate in the timeless tradition of Kashmiri carpet making. Explore the art, discover the culture, and create memories that will stay woven into your heart forever. Whether you're a fan of shopping tours in Delhi or seeking exciting things to do, this experience promises an unforgettable adventure.
Kashmir Carpet Making in Delhi Tour Overview
Your convenience and comfort are our priorities. We arrange a seamless pickup from your hotel, ensuring a stress-free start to your day. After your immersive experience concludes, our team will drop you back at your hotel, allowing you to reflect on your newfound insights and skills during the journey.
To make your experience even more delightful, we offer the chance to savor authentic Kashmiri tea, also known as "Kahwa." This aromatic beverage serves as a refreshing interlude, allowing you to soak in the cultural ambiance while indulging in a sip of tradition.
Moreover, your taste buds are in for a treat as we present you with a delectable Kashmiri lunch. Immerse yourself in the flavors of the region, savoring dishes that mirror the rich cultural heritage of Kashmir.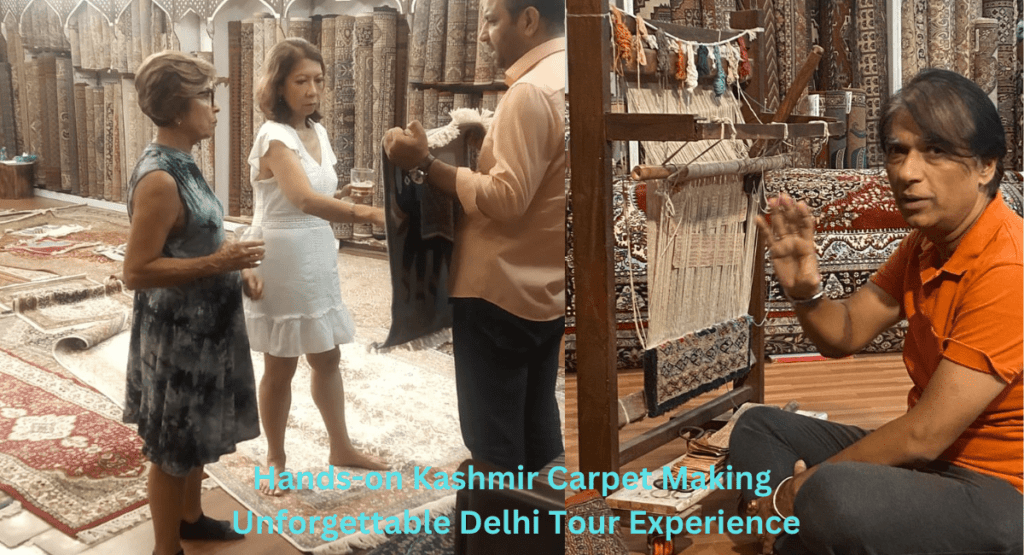 Delhi Carpet Making Tour: Your Comfort Begins with Hassle-Free Hotel Pickup
Your convenience and comfort are our priorities. A dedicated Delhi tour guide will come to pick you up from your hotel, ensuring a stress-free start to your day. Your journey begins with a hassle-free pickup in an air-conditioned car from your hotel in Delhi. Our friendly driver will ensure a comfortable and punctual journey to the carpet-making destination.
Expert Artisan Guidance in Carpet Making in Delhi
Your Learning commences with a warm welcome from a seasoned master artisan, a custodian of generational expertise in carpet making. This encounter promises an immersive experience as they bestow patient and personalized guidance. Drawing from their wealth of knowledge, they offer profound insights into the captivating world of carpet making. With a nurturing approach, they introduce you to the very tools and materials that are integral to this age-old craft. This unique opportunity not only deepens your understanding but also establishes a hands-on connection to the art of carpet making in Delhi. Embrace this chance to learn directly from a master, carrying home not just memories, but also newfound skills in the timeless craft of carpet making.
Explore the Unique Language of 'Talim' in Carpet Making in Delhi
Learn the fascinating realm of "Talim", a complex coding language that serves as a guide for carpet weavers. This mysterious system reveals its secrets, revealing its vital role in transforming complex designs into solid and appealing patterns. By combining art and mathematics, "teaching" creates a bridge between imagination and creation.
This ancient method, passed down from generation to generation, enables artisans to intricately weave stories and motifs on looms. Witness the magical process of translating intricate designs into carefully arranged patterns, the harmonious dance of threads that bring the carpet to life. Once you understand the importance of "learning" you will gain a deeper appreciation for craftsmanship that embodies both creativity and precision.
Participating in this experience helps you explore the intricacies of "Talim", which reveals a world where art and mathematical theory are intertwined. When you watch these artisans at work, you will witness the embodiment of centuries-old wisdom and innovation, resulting in mesmerizing rugs that pay tribute to the combination of human ingenuity and creative expression.
Learn Carpet Making in Delhi A Hands-On Experience
this is your chance to immerse yourself in the world of carpet making. With the guidance of a master artisan, you'll engage in a hands-on learning experience. Discover fundamental techniques as you explore the art of crafting carpets. With the expert's watchful eye, you'll gradually practice crafting intricate patterns, gaining a genuine understanding of the precision and dedication needed for this craft. This hands-on opportunity allows you to truly appreciate the artistry behind each knot and weave. By participating, you not only learn but also contribute to the preservation of this age-old tradition. Uncover the secrets of carpet making in Delhi as you weave your way into the heart of this captivating craft, leaving with cherished memories and newfound skills.
Sip a Kashmiri Tea 'Kahwa' during Your Carpet Making in Delhi
As a delightful break, enjoy a cup of traditional Kashmiri tea known as "Kahwa." This aromatic blend of spices cardamom and saffron not only tantalizes your taste buds but also offers a moment of relaxation amidst the creative process.
Crafting Magic Hands-On Knotting on the Loom in Carpet Making in Delhi
it's time to apply your learning practically. Seated at the loom, you'll immerse yourself in the meditative rhythm of knotting, as your creation begins to materialize under the expert guidance of the master artisan. This hands-on phase not only cements your understanding but also connects you deeply with the art of carpet making in Delhi. As you weave intricate patterns, you'll witness the magic of transformation, turning yarn into a tangible masterpiece. Experience the joy of creation and the sense of accomplishment that comes with each knot, as you contribute to the rich heritage of carpet making.
Threads to Landmarks Exploring Landmarks After Carpet Making in Delhi
As your captivating carpet-making in Delhi concludes, the adventure doesn't end there. Our skilled driver will accompany you on a short, engaging sightseeing tour of Delhi. Immerse yourself in a kaleidoscope of iconic landmarks, vibrant local culture, and intriguing facets of the city's heritage. These snapshots offer a delightful contrast to your hands-on experience, providing a holistic view of Delhi's allure.
After this enriching exploration, our team will ensure a seamless drop-off back at your hotel, allowing you to savor the blend of memories from your immersive carpet-making venture and the captivating charm of Delhi. The departure leaves you with a tapestry of memorable moments, linked with the colors and vibrancy of the city.
Delightfully Satisfied: A Wonderful Tour of Carpet Making in Delhi
Indulging in the 'Learning Carpet Making in Delhi' tour was truly a memorable and joyful experience. The delightful break extended to savoring a delectable Kashmiri lunch that immersed us in the flavors of the region. As the day drew to a close, the enthralling sightseeing tour encapsulated the essence of Delhi's charm. The tour was a harmonious blend of creativity, culture, and curiosity. As we returned to our hotel, cherished memories of crafting carpets intertwined seamlessly with the allure of Delhi's landmarks, leaving us with a treasure trove of experiences to carry forward.
Village Carpet Making: Weaving Stories
In the village, a unique tradition thrives. During the day, while men care for the fields and animals, women continue a legacy. They skillfully weave vibrant carpets at home, adding colors and stories to their surroundings. With their hands, they nurture both the soil and their artistry. The carpets they create tell tales of their land and culture. This harmonious balance between agriculture and creativity forms the heart of the village. As the looms clatter, these carpets become a bridge between tradition and daily life. It's a beautiful sight: women crafting art during the day, men tending to fields and animals, all in a rhythm that defines their village. This art of carpet making not only preserves heritage but also sustains a way of life, creating a tapestry of authenticity that weaves the village together.
Tagged:
Carpet making tour in Delhi
Delhi art and craft tour
Delhi Shopping Tour
Delhi sightseeing tour
Delhi tour guide
Handmade carpet experience
Kashmiri carpet Rugs
Memorable Delhi tour