Lotus Temple (Bahai Temple) in Delhi Architecture-Timings-History-Reach
Lotus Temple (Bahai Temple) Over View
Visit the Lotus Temple/ Bahai Temple (Kamal ka Mandir) in Delhi. The Lotus Temple is a Bahá'í faith of worship and is open to people of all communities and faiths. It is one of the best places for inner peace, tranquility and renewal of one's mind and soul. If you are tired and looking for some quiet place to sit around. Lotus Temple is probably one of the best place to visit in Delhi with Best Delhi Tour Guide. Here You will find the complete information about Lotus Temple in Delhi Architecture its timing history and reach.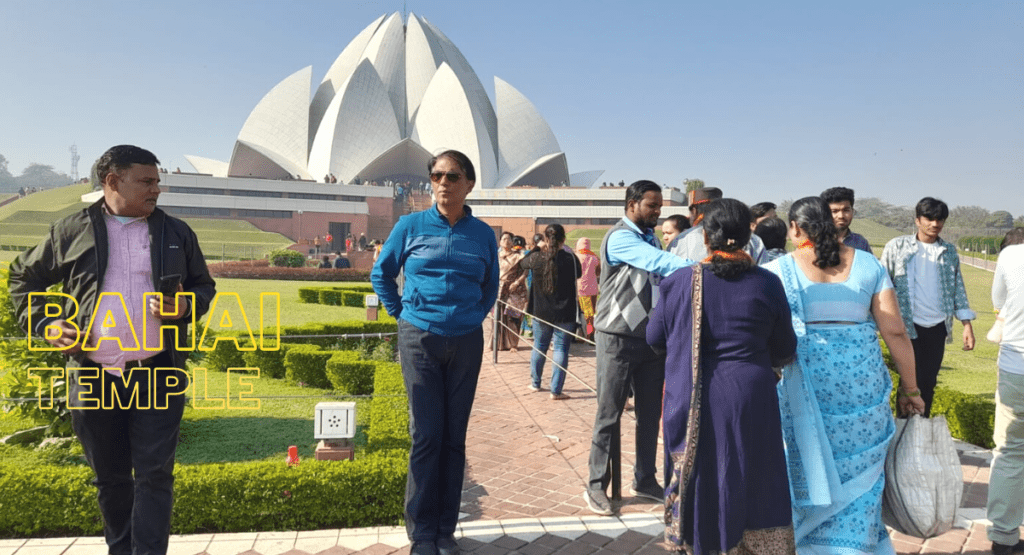 Lotus Temple Bahai Temple History
The Lotus Temple–Kamal ka Mandir is associate with the Bahai faith which promotes harmony among people through a common place for worship. You may view and read the sacred texts of the Bahá'í Faith as well as other religions, but reading non-classical texts and performing rituals are prohibited, regardless of the specific set of patterns of worship services. The Lotus Temple of Delhi is famous for its inter-religious significance. Lotus Temple prominent tourist attractions in New Delhi
Lotus Temple / Bahai Temple Architecture
The temple wins of several architectural awards and has been featured in popular magazines and books. The Lotus Temple /Kamal Mandir is made of Greek white marble in the shape of a lotus flower. The Bahai Lotus temple was designed by Iranian architect Fariborz Sahb. The lotus was chosen as a symbol because it was common in religions such as Jainism, Buddhism, Hinduism and Islam. The synagogue structure in New Delhi consists of 27 free-standing marble "petals" arranged in groups of three and nine sides. The nine gates of the Bahai Temple open into a central hall that has a seating capacity of 2,500 people. The temple is designed in such a way that no external light is needed to illuminate the large hall. Light filters through the inner layers of the lotus and spreads throughout the temple hall, acting as a skylight. With nine ponds and gardens around it, the Lotus Temple property is spread over 26 acres. Lotus Temple was built at the cost of 10 million dollars. Ardashir Rustampour, a Bahá'í follower from Hyderabad in Pakistan's Sindh province, donated his entire savings to buy land for the temple in Delhi.
Architectural genius and representative of Indian artistic finesse, in Delhi that has been attracting tourists from all over the world, also an important landmark of India. The construction of the temple was completed in 1986. It is like a lotus flower but in white color and the main feature of the temple is that it is open to all people irrespective of religion and caste. Twenty-seven free-standing marble petals form the nine sides in groups of three, which are the strong pillars of the structure. You can enter the temple through nine doors opening into the main hall. It will house about 2500 people at a time.
The ventilation system at Lotus Temple is recycled the air inside sanctum. Hence, an optimum temperature is maintained inside the temple in all seasons.
The nine reservoirs are not just for decoration. They play an important role in the ventilation of many structures and keep the area cool even during the hottest months of the year.
Why Lotus Flower? Lotus Temple (Kamal ka Mandir)
The Lotus Temple has gained prominence since the year of its inception and has received a lot of recognition from different parts of the world for its unique architecture Lotus Temple/ Bahai Temple. The International Bahá'í Faith Community adopted the lotus symbol in the design of the Lotus Temple in New Delhi, India
The lotus has already been a symbol of purity since the time of the Lord Buddha, and it blooms abundantly in Buddhist art and literature. Its roots are in muddy water, but the lotus flower rises above the mud and is clean and fragrant. Lotus represents purity of body, speech and mind, as if floating above the murky waters of material attachment and sensual desire. According to traditional biographies, lotus flowers appeared on the first seven feet of Gautama Buddha. Lotus thrones are common pedestals in Buddhist art and often for the most important figures of other Indian religions. The lotus flower that grows out of muddy water without taint, as it rises from this world, is free from the vices taught in particular suttas.
Hindus worship her along with Vishnu and Lakshmi, who are often depicted on a pink lotus in iconography. Historically, several deities, namely Brahma, Sarasvati, Lakshmi, Kubera, are usually seated on a stylized lotus throne. Representing Vishnu as Padmanabha (lotus navel), a lotus emerges from his navel with Brahma on it.
Inside Lotus Temple
After removing your shoes enters the Lotus Flower and sit on the benches for silent meditate without speaking? You are expected to maintain complete silence, once you step inside, free to follow your faith and chant mantras, you will find immediate peace and calm. Silent meditation, as its name suggests, involves shutting out any noise around you, including music or the guidance of a teacher, and creating an awareness of your body in the present moment.
Vipassana techniques involve moving your attention systematically around your body, paying attention to physical sensations but not reacting to them. Buddhists have practiced this type of meditation, also known as unguided meditation, for over 2,500 years.
The goal of silent meditation practice is to gain insight into the true nature of reality. The name Vipassana means seeing things as they are and essentially not letting talk, noise or other forms of communication get in the way.
1. Lotus Temple /Kamal ka Mandir is a place for silent prayer and meditation for people of all religious backgrounds. So one should not make noise.
2. Prayers timings are 10:AM, 12:00PM, 3:00PM and 5:00PM for five minutes and a few prayers from different religions are chanted or read out loud. People are requested to not leave the Prayer Hall during this time, but wait until the prayers are over.
As you enter the Bahai temple premises, you see an imposing entrance gate, beautiful flower gardens and sparkling ponds. The road leading to the temple gates is lined with lush green bushes and a sense of serenity pervades the atmosphere despite the sweltering crowds. With approximately 4.5 million visitors per year, it is one of the most visited structures in the world. Once inside, the mesmerizing architecture lulls you into an introspective silence. You can read and chant religious texts of any religion, and music from religious texts can be sung without hindrance in the temple premises. The Bahai Lotus Temple is undoubtedly one of the must-see places in the capital. Not only for its amazing architecture but also to experience a new way of meditation in a completely different, pleasant environment.
As to enter inside the Lotus Temple one has to remove his/her shoes and keep inside a bag which is available there and deposit the bag with the shoe room underneath and collect the token. Once your visit is over you collect your shoe bag from the opposite window.
Best time to visit Lotus Temple
Dusk and evening hours are the best time to visit this temple, as its beauty is even more enhanced by the floodlights during this hour.
Photography at Lotus Temple
Photography is allowed out side but not inside the temple.
Lotus Temple Information Centre
The Information Center is built to the latest specifications and provides information on various aspects of the Baha'i Faith in the form of photo panels, written texts and films. In the center is the visitor's gallery. The gallery focuses on the history of the Bahá'í Faith, its philosophy, and the socio-economic development activities of Bahá'ís around the world. The information center serves as a venue for ongoing discussions on topics such as gender equality, the constructive role of religion in society, and more.
The information center is open Monday through Saturday. Visiting time 9:00 AM to 5:00 PM.
Lotus Temple/ Bahai Temple Nearest Metro How to reach
Reach Metro – Kalkaji Mandir Station, Nehru Place Station -Lotus Temple is well connected by the bus and Metro. The nearest metro station is the violet line, Kalkaji station. Kalkaji bus stop is near the temple where DTC buses ply from all parts of Delhi.
Lotus Temple Timings
Timings: 09:00 AM to 07:00 PM in summer. 9:00 am to 5:30 pm in winter. Closed on Every Mondays.
Lotus Temple/ Bahai Temple Facts & Information
Lotus Temple Built in: November 13 th 1986
Material used Greek White marble
Lotus Temple Height 34 meters
Lotus Temple Architect Fariborz Sahba an Iranian Architect
Number of ponds: 9
Number of Lotus petals 27 lotus petals
Lotus Temple Hall Capacity: accommodates 2500 people
Lotus Temple Located Near Kalkaji Temple, Behind Nehru Place
Nearest Metro Station for Lotus Temple is Kalkaji Mandir
Lotus Temple Address is Bahapur, Kalkaji, New Delhi, Delhi 110019
FAQ Questions
Question 1. Where is the Lotus Temple located?
A 1. The Lotus Temple, the only center of Baha'i worship in Asia, is located in Kalkaji, New Delhi, India.
Question 2. Who got the fame and popularity of Lotus Temple?
A2. The architecture of the Lotus Temple is one of its kind and is shaped like a true white lotus flower, complete with outer and inner petals and leaves at the base. The Lotus Temple is open to all, and the ticket price is zero. These are the two reasons why the Lotus Temple is so famous.
Question 3. When and by whom was Kamal Mandir built?
A 3. Sri Faribrose Sahiba, Architect of Lotus Temple. Construction began in 1980 and was completed in 1986 when it was opened to the public.
Question 4. When is the best time to visit Lotus Temple?
A 4. The Lotus Temple is open throughout the year, and you can visit it at any time. The best time to visit the Lotus Temple is during the winter season between October and March when the weather is pleasant and you can make the most of the natural beauty of New Delhi.
Q 5. Lotus Temple is dedicated to which deity?
A 5. This Bahá'í is dedicated to practicing the teachings of the Prophet Bahá'u'lláh. Thus the Lotus Temple is not dedicated to any particular deity or idol. Best PART IS , it is a temple of worship for all religions. And Baha'is support the teachings of the Prophet Baha'u'llah.
Question 6. How to reach Kamal Mandir?
A 6. To reach the Lotus Temple, you need to take a train or a flight to New Delhi. Several modes of public transport are available from the railway station and airport, including buses and the metro. You can rent a car or book a car to reach the Lotus Temple.
Question 7. What is the architecture of Lotus Temple?
A 6. The Lotus Temple is a modern architectural marvel and is known for its distinctive lotus shape. It was designed by an Iranian architect named Fariborz Sahba and was inspired by the lotus flower, which is a symbol of universal love, purity, and peace in the Bahá'í faith. The temple is made of white marble and consists of 27 free-standing marble "petals" arranged in clusters of three to form nine sides. The petals are arranged in such a way as to create nine entrance gates, which lead to the central hall. The central hall is a large, open space that can hold up to 2,500 people at a time. It is a place for people of all faiths to come together to pray, meditate, or simply reflect in a peaceful environment.
Question 8. What is the Special about Lotus Temple?
A 8. There are several things that make the Lotus Temple unique:
Its architectural design: The temple is shaped like a lotus flower and is made of white marble. Its design is meant to symbolize the Bahá'í ideals of unity and the oneness of all religions.
Its message of inclusivity: The Lotus Temple is open to people of all faiths and is a place where people can come together to pray, meditate, or simply reflect in a peaceful environment.
Its landscaped gardens: The temple is set in beautiful gardens with a number of water features, making it a serene and peaceful place to visit.
Its popularity: The Lotus Temple is a popular tourist destination in Delhi and attracts millions of visitors each year.
Its environmental sustainability: The temple was designed to be environmentally sustainable and uses a number of energy-efficient features, such as solar panels and rainwater harvesting.
Lotus Temple (Bahai Temple) in Delhi Architecture-Timings-History will help your Visit "Namest
Places to visit near Lotus Temple, Bahai Temple
Kalka JI Temple: The most sought after place to visit near Lotus Temple is the Kalkaji Devi Temple. One of the most popular temples not only in Delhi but in entire North India, Kalkaji Devi Temple is dedicated to Goddess Kali in the form of Goddess Kalka who was incarnated to kill the demon Raktabija. It is located opposite to the Nehru Place business centre. According to legend, the image of Goddess Kalka is self-manifested.
It is believed that this temple dates back to Satya Yuga of Hindu religion.
Astha Kunj District Park – Another place to visit near Bahai Temple is the Kalkaji District Park. A popular hangout place among locals, this park is a good place to relax after your visit to other sightseeing places. Its captivating terraced gardens and lush greenery offer a refreshing break from the concrete jungle of the city. It is popular venue for the Navratri festival as well.
Iscon Temple: Located at Hare Krishna Hills, ISKCON (International Society for Krishna Consciousness) Temple in Delhi was opened in 1988. Designed by Achyut Kanvinde, Iskcon Temple Delhi is one of the biggest temple complexes in India. Presenting a captivating architecture, this temple not only attracts devotees but also architecture lovers.ISKCON Temple is adorned with breathtaking interiors depicting instances from various religious epics while holy chanting create peaceful and spiritual atmosphere.
Tagged:
bahai lotus temple
kamal mandir
lotus temple
lotus temple address
lotus temple architect
lotus temple history
lotus temple inside
lotus temple nearest metro
lotus temple religion
lotus temple timings