If you're fascinated by trains and the history of Indian railways, then the Rail Museum Delhi is a must-visit destination for you. The museum offers a unique and informative experience, allowing visitors to explore the evolution of Indian railways and witness the treasures of the country's railway heritage. From vintage locomotives and carriages to interactive exhibits and informative displays, the Rail Museum Delhi has something for everyone.
Rail Museum Delhi an Overview
The National Rail museum in Delhi is spread over 10.5 acres of land and houses some amazing railway memorabilia. Established on 1 February 1977, under the advice of the rail enthusiast Michael Graham. The then President of India, Shri V. V. Giri laid the foundation stone of the building in Chanakyapuri New Delhi. The aim of the Rail Museum is to preserve the 165 years old railway history and heritage of India. The Rail Museum houses an interesting collection of around 100 life-size exhibits of the Indian Railways, including works and stationery, antiques, furniture, etc. Some dummies offer rides for both adults and children. In addition to a large outdoor gardens restaurant and sitting benches. The museum now has a 3D virtual train ride, animated steam locos and an indoor gallery.
National Rail Museum in Delhi is a must-visit destination for you. If you're a fan of trains and interested in learning about India's railway history and heritage. 1980 Bollywood film The Burning Train was shot at this museum. The museum offers a fascinating glimpse into the evolution of Indian railways, allowing visitors to step back in time and explore the treasures of the country's railway heritage. Whether you're a train enthusiast or simply looking for a unique experience, the Rail Museum promises an unforgettable journey through India's railway history. Take a ride through time to discover the magic of trains at the Rail Museum in Delhi.
Hire a Delhi Tour Guide for Rail Museum Delhi for a Wonderful Experience.
Rail Museum Delhi Location Nearest Metro Station
Rail Museum is Located near embassy area of Chanakyapuri, New Delhi, Popularly known as the National Railway Museum. Nearest Metro Station is Moti Bagh on Pink Line, Lok Kalyan Marg at Yellow Line. The museum is just about 3 km from the metro; you can either hire a local or a battery run rickshaw.
Rail Museum Delhi Timing and Entry Ticket
Rail Museum is always open through out the year, Except on Monday.
Timing : Tuesday to Sunday from 10:00 AM To 5:00 PM (Entry will be closed after 04:30)
National Rail Museum Delhi Entry Fee
50 per person for Adults (Weekdays)
10 per person for Children (3 – 12 years) (Weekdays)
100 per person for Adults (Weekend & Govt. holiday)
20 per person for Children (3 – 12 years) (Weekend & Govt. holiday)
Joy Train Ticket Charges
Adults- INR 50 Weekends
Kids (3 – 12 years)- INR 20
Note: Family and group concession also check other attractions are available before you buy the Ticket at Booking Window.
Ticket Charges for Night Entry (Friday to Sunday only)
500 per person for adults
300 per person for children (3 – 12 years)
Note:- Age proof may be required at the time of entry) With Complimentary Buffet Dinner and attractive Souvenir.
Rail Museum Delhi Things to See
At the National Rail Museum Delhi, visitors can explore an interesting collection of a variety of steam, diesel and electric locomotives as well as royal saloons, wagons, carriages, armored trains, railcars, and turntables. These original life-size exhibits have been well maintained and restored. The Vintage Coach line includes the Grand Prince of Wales Saloon, which was built in 1875. The Maharaja Salon of Mysore began in 1899 with brocade-covered chairs and an elegant rosewood bed. Visitors can peep inside through the windows. One special attraction here is the Ferry Queen steam engine which was built in 1855 and is considered one of the best-preserved steam locomotives of its time.
Apart from boating, the joy train, and Patiala state monorail, the oldest mono rail concept started in 1907 (PSMT) ride is the most thrilling experience. Don't miss the beautiful fire engine on your way. Spend a day out at Rail museum Delhi with your family and friends and enjoy fun and toy train rides.
The Patiala State Monorail Tramway (PSMT) at the National Rail Museum is a rare gem that captures the essence of India's colonial era. The only surviving steam-run monorail in the country, the PSMT is a marvel of engineering that continues to operate to this day. Using the unique Ewing system, the locomotive features an 0-3-0 wheel arrangement, with a single steel rail supporting 95% of its weight, and a balancing wheel to the right. Witnessing the PSMT being "steamed-up" every week is an experience unlike any other, offering visitors a glimpse into India's rich railway history.
Rail Museum Delhi Tour Guide
Hiring a guide at a Rail Museum is an excellent way for tourists to get the most out of their visit. With a knowledgeable guide by your side, you'll gain a deeper appreciation for the history and mechanics of steam engines, which played a vital role in shaping India's railway system. Your guide can bring the exhibits to life with fascinating stories and insights, making the experience more engaging and memorable. Additionally, by hiring a guide, tourists can efficiently navigate through the museum and see all the key exhibits, ensuring that they get the most out of their visit. Hiring a guide at a Rail Museum is an excellent way for tourists to learn, explore and gain a deeper appreciation for the history, culture, and technology of India's railways, as well as Bollywood's love for steam engines. A guide can also offer valuable local insights and tips, such as the best time to visit and other nearby attractions to check out.A guide can provide a unique perspective on the connection between steam engines and the Bollywood films. Visitors can learn about how steam engines have been used as a backdrop for some of the most iconic scenes in Hindi cinema and gain a better understanding of how Indian culture is represented in these films.
Steam Locomotive Runs by Rail Museum Tour Guide
To run a steam locomotive, first, you need to prepare the fire. This involves cleaning out the old ashes and adding new coal or wood. Then, you need to light the fire and wait for the boiler pressure to build up. Once the pressure is high enough, you can start the engine. This is typically done by moving the throttle lever or pulling a cord to open the valve that lets steam into the pistons. From there, you can control the speed and direction of the locomotive using the throttle and brakes. It's important to monitor the water level in the boiler and add more water as needed to avoid a dangerous situation. Operating a steam locomotive requires skill and experience, and it's an art form that has been preserved at the Rail Museum in Delhi. Visitors to the museum can learn about the history and mechanics of steam locomotives, and even take a ride on a restored steam train.
B 777 "DHR" at Rail Museum Delhi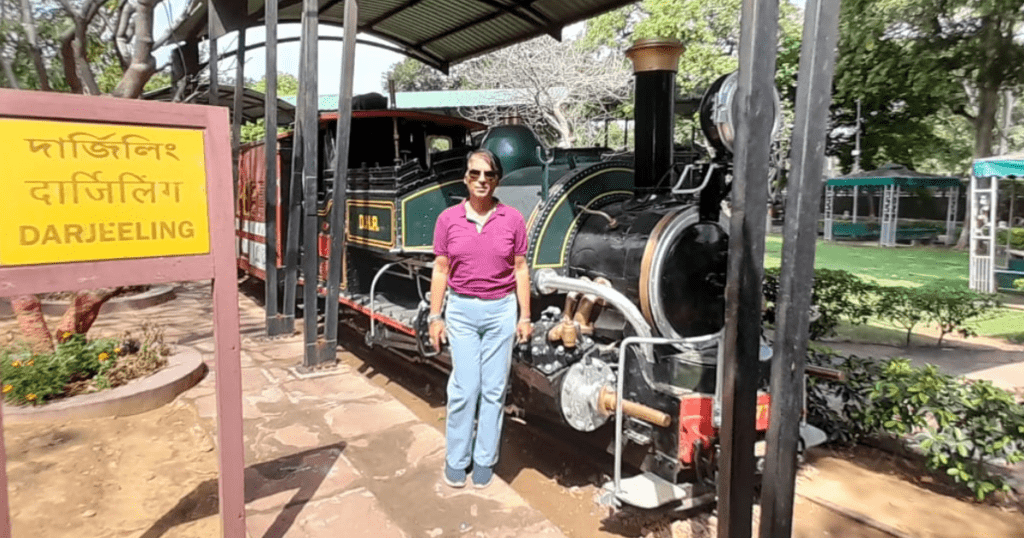 The Darjeeling Himalayan Railway, popularly known as the "Toy Train", is a narrow-gauge railway that runs between New Jalpaiguri and Darjeeling in West Bengal. The railway was built between 1889 and is renowned for its scenic beauty as it passes through the picturesque hill stations of Siliguri, Kurseong, and Darjeeling. The railway has been designated as a UNESCO World Heritage Site and is a popular tourist attraction, especially for those who enjoy vintage steam locomotives. The Darjeeling Himalayan Railway operates several steam locomotives, including the B-Class locomotives, which are over 100 years old and have been in service since the railway's inception.
Rail Museum Delhi Locomotives and Engines
The Rail Museum Delhi is an excellent place to witness the history and significance of steam engines. In the early days of Indian railways, steam locomotives were the backbone of the transportation system, carrying both passengers and goods across the country. As time passed, newer and more advanced locomotives were developed, and steam engines gradually lost their importance. However, the museum has preserved the legacy of these marvels of engineering, including the famous Thomason, the first steam locomotive to run in India. Visitors can explore the mechanisms and workings of these engines and learn about the challenges faced by engineers in designing and building them. The museum is a testament to the importance of steam engines in shaping India's railway system, making it a must-visit destination for history buffs and railway enthusiasts alike. Source Rail Museum Delhi.
Fairy Queen at Rail Museum Delhi
As soon as you step into Rail Museum Delhi, you are transported back in time as the history of Indian Railways unfolds before your eyes. Tall and proud is the fairy queen engine, whose story is as interesting as her name.
This famous steam engine is one of the oldest engines in the world. This steam engine, built in 1855, is a story of resilience and perseverance that spans more than 160 years. Ferry Queen is modeled after the internationally renowned luxury train Palace on Wheels. The Fairy Queen is not just a locomotive, but a symbol of the vital spirit that has driven railway travel in India since its inception. Get ready to embark on an unforgettable journey through time as you explore the Rail Museum and witness the glory of the Fairy Queen for yourself. The Ferry Queen locomotive weighs 26 tons and can reach a top speed of 40 km/h (25 mph). It is a 5 ft 6 gauge engine with a 2-2-2 wheel arrangement built in 1833 by Robert Stephenson & Co. The locomotive is coal-fired and powered by two external cylinders. Its tank can hold 3000 liters of water.
F743 at Rail Museum Delhi
The year was 1895 and the Ajmer Workshop of North Western Railway was bustling with activity. Workers were busy constructing a locomotive that would go down in history as the first to be built in India. This 38.25 ton machine had a unique 0.6.0 wheel arrangement and was equipped with 'Stephenson valve gear' and inside connecting rods. Once completed, it set the wheels in motion for future locomotive manufacturing in the country. Prior to its construction, steam locomotives use to assembled at Jamalpur Workshops and spare parts supplied by the original manufacturers in England. This new black beauty was a game-changer, designed for mixed traffic – both passengers and goods. It ran from Delhi to Indore and up to Ahmedabad, making its mark on the Rajputana Malwa Railway. The manufacturing cost was Rs. 15,369/-, but its value to the Indian railway industry was priceless.
E 207 at Rail Museum Delhi
In the year 1885, M/s Dubs and Company, Glasgow, manufactured a locomotive that would become a legend in the annals of Indian railways. standing majestically at Rail museum Delhi This 20 ton machine boasted a unique 04-2 wheel arrangement and was initially designed as a tender locomotive. It was introduced by the Rajputana Railway, and later transferred to the Jodhpur Railway. The locomotive's capabilities were enhanced in 1912, when it was modified by the skilled workers at Jodhpur workshops. It was transformed into a saddle tank arrangement, complete with increased height coal bunkers. Equipped with the renowned "Stephenson Valve" gear, this locomotive was a true marvel of engineering. Its maker's No. was 1175, later renumbered as ISR-E-107 and finally, after 1879, it was changed to E-207. This workhorse was initially utilized for mixed traffic up to 1912, but its usefulness did not end there. It was later employed for shunting service until its eventual phasing out in 1952. Today, this locomotive stands as a testament to the skill and craftsmanship of the railway workers who kept it running for over half a century.
Locomotive Fowler-1004 at Rail Museum Delhi
Once upon a time in India, diesel traction was a new concept that was gaining popularity. The arid regions of Saurashtra in Gujarat were one of the first areas to introduce diesel locomotives due to the perennial water shortage and the non-availability of sufficient water supplies for steam locomotives. This is where a diminutive diesel engine imported from John Fowler & Co. in Leeds came into play. Initially, the tiny locomotive was used to work light passenger trains on the areas of Gondal and Saurashtra state. Later it was utilized as a shunting locomotive in Ajmer Workshops of the Western Railway. It was one of the first diesels to run on Indian soil and played a vital role in the early days of diesel traction.
The diesel engine had a 4 stroke 4 cylinder 150 BHP diesel engine with mechanical transmission. Its maker number was 4200031, Saurashtra Railway No. 203, Western Railway No. 1004. It was imported at the cost of Rs. 5,936/-. Despite its small size, the engine was reliable and efficient, and it served its purpose well until it was retired in 1970. However, its contribution to the early days of diesel traction in India will never be forgotten, and it continues to be an important part of the country's railway history.
Locomotive HG/C-1598 at Rail Museum Delhi
The Rail Museum Delhi houses a remarkable piece of history in the form of locomotive engine number 1598, also known as the HGC class. This impressive 73-ton machine was built in 1909 at Vulcan Foundry in the United Kingdom, following the design standards set by the British Engineering Standards Association (BESA). Originally built as the HG class, it was later altered to a superheater design and reclassified as the HGC class in 1929. Equipped with two 22″x26″ outside cylinders, 'Walschaerts' valve gear and two 'Rosspop' type safety valves, it was used as a heavy freight locomotive on the North Western Railway, then on the East Indian Railway, and finally on the Northern Railway.
The locomotive, with its impressive 2-8-0 wheel arrangement, is a prime example of the exceptional engineering skills of the time. It was a workhorse of the railways, hauling heavy loads across long distances. After decades of faithful service, it was eventually retired from active duty and preserved as a part of Indian railway history. Today, visitors to the Rail Museum Delhi can see this incredible locomotive up close and appreciate the significance of its contribution to the country's transportation history.
Locomotive Sentinel BDR-8 at Rail Museum Delhi
Sentinel BDR-8 was one of the most popular on the light railways. This particular steam locomotive at Rai Museum Delhi has served on the 2'6″ narrow-gauge Bankura Damodar River light railway of West Bengal. The Sentinel BDR-8 was imported from Sentinel Wagon Works in Shrewsbury, UK, in 1930, and it weighed 16.51 tons.
One of the most unique features of this locomotive was its wheel arrangement, which included four chain-driven wheels out of a total of six. It was also fitted with a 'Wakefield's Eureka' type lubricator, two small 'Sentinel' type injectors, and 'Sentinel-mushroom' type valve gear.
The Sentinel BDR-8's maker number was 8135, which later changed to Indian Railway No. BUR-8. This locomotive served its purpose in India's railway industry and was a symbol of technological advancements in the transportation sector. Today, visitors can see the Sentinel BDR-8 and other historic locomotives at the Rail Museum in Delhi, a testament to India's rich railway heritage.
Locomotive ST-707 Rail Museum Delhi
Once upon a time, in the early 1900s, the Mughalpura Workshops were busy assembling locomotives using parts supplied from manufacturers in the U.K. This was a turning point for the Indian railway industry, as it allowed for more locomotives to be built locally. One such locomotive that was assembled at the Mughalpura workshops in 1904 was a 55 ton engine used for shunting purposes on the North Western Railway. The components for this engine were supplied by North British Locomotive Works in Glasgow. This broad-gauge locomotive had a unique 0-6-2 wheel arrangement and was equipped with 'Stephenson's' valve gear. It contained two 17"x24n inside cylinders and had a side tank. This locomotive, with its maker number ST-707, played an important role in the growth of the Indian railway industry and is now a valuable exhibit at the Rail Museum Delhi.
Phoenix Locomotive at Rail Museum Delhi
If you're a railway enthusiast, don't miss out on a chance to see the Phoenix locomotive in person at the Rail Museum Delhi. With its fascinating history and impressive engineering, this locomotive is sure to leave you in awe. And who knows, you might even catch a glimpse of its sister engine, Hercules, preserved at Jamalpur. So come on board and experience the magic of the Phoenix locomotive! Travel back in time and experience the marvels of Indian Railways with the Phoenix locomotive! This 22-ton beauty was originally built as a rail motor car in Manchester, UK, and was imported to India in 1907. It served as a rail motor air unit for branch line service of East Indian Railway, with a unique passenger compartment resting on the engine and one axle. After 20 years of service, the Phoenix was converted into a shunting engine in 1927. But despite the modifications, the locomotive still boasts an inside plate frame, two 9″ x 14″ inside cylinders, and two vertical combination-type injectors. And let's not forget the 'Salter balance' type safety valve fitted in the dome!
Locomotive EM-922-NWR at Rail Museum Delhi
Let me tell you a fascinating tale about one of the most legendary locomotives in Indian history, the Locomotive EM-922-NWR. This 90-ton beauty was built in 1907 at the renowned North British Locomotive Co., Atlas Works in Glasgow. Its 4-4-0 wheel arrangement and broad-gauge (5'6″) made it a popular choice for passenger, mail, and express trains on the Great Indian Peninsula Railway and later on North Western Railway. But what really set this locomotive apart was the VIP trains it had the privilege of hauling, earning it the prestigious names 'Lord Clyde', 'Roosevelt', and 'Queen Express'. Its powerful engine and luxurious amenities made it the go-to choice for high-profile passengers. Not content with just being a passenger train engine, the Locomotive EM-922-NWR was converted to a super-heated locomotive in 1922, boosting its speed and power. But that wasn't enough for this powerhouse, as it was rebuilt once again in 1941 at Mughalpura Workshops. Its class was changed from E-1 to EM, solidifying its status as a true legend in the world of locomotives.
If you ever find yourself at a railway museum, be sure to keep an eye out for Locomotive EM-922-NWR, as its maker number was 17780 and Railway Number was EM-922. This locomotive is truly a marvel of engineering and a symbol of India's rich railway history.
Locomotive L 2 at Rail Museum Delhi
Let me tell you the story of a steam engine that served the nation with utmost dedication for 88 long years. This 2-8-4 wheel arrangement broad-gauge (5'6″) steam engine was a true workhorse of its time. It was originally acquired by the Great Indian Peninsula Railway from the United Kingdom's North British Locomotive Co. in 1907, for operation as a banker engine on the Igatpuri Pune ghat section.
The engine was one of the pre-electrification engines on the arduous Bhor Ghat section of the erstwhile GIP railway. It worked tirelessly to push heavy trains up the steep inclines and dangerous curves of the ghat section. However, after the hill line was electrified in 1929, the steam bankers were no longer needed, and they were sold off. One of these banker engines, of class Y-2 (later L-2), found a new home at the public sector giant HINDALCO in Renukoot. Here, it continued to serve the nation and the industry with great reliability and efficiency. It became a familiar sight in the industrial town, puffing away tirelessly, day after day, for decades. Eventually, after 88 years of faithful service, the engine was retired and donated to the National Rail Museum by HINDALCO. On 13th December 1997, the engine entered the museum under her own steam, much to the delight of visitors and enthusiasts alike. The engine may have been retired, but it continues to live on in the hearts and memories of those who witnessed its greatness. Its legacy is a testament to the power and beauty of steam engines and the important role they played in shaping our nation's history.
Locomotive YB-2-429 at Rail Museum Delhi
In 1926, a new star arrived in the Indian railway scene, the Locomotive YB-2-429! Imported from Manchester, this 86-ton beauty with its 4-6-2 wheel arrangement and 'Caprotti' valve gear quickly became a fan favorite for its economical steam distribution. With its outside 16″x24″ cylinders, it effortlessly pulled passenger coaches across the tracks. Its maker number 1613 made it a legend in the railways.
Conclusion:
Rail Museum Delhi, one couldn't help but feel awed by the rich history of Indian Railways. From the oldest locomotives to the modern ones, the museum had something for everyone. It was fascinating to see how trains evolved over the years, and how they have become an integral part of India's growth story. The interactive exhibits and displays were informative and engaging, and I came away with a newfound appreciation for the role that Indian Railways has played in shaping the country. All in all, it was a truly memorable experience that I would highly recommend to anyone interested in history or transportation. Overall, the Rail Museum in Delhi is a must-visit for anyone interested in the history of Indian Railways and a great way to spend a day with family and friends.